Why our market is so intense
stories by Janet Lees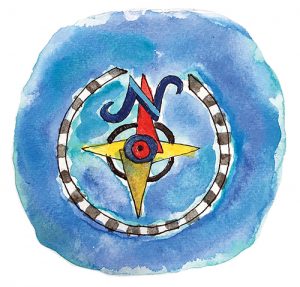 Last year at this time, the real estate market in Southern Georgian Bay had tipped into a seller's market, in which there were fewer homes available for sale than buyers looking to purchase homes in the area. Now that situation has become extreme – inventory is at an all-time low and can't come close to meeting the demand. Homes that do come on the market are snapped up swiftly, often at above asking price. Realtors and prospective buyers are frustrated and overwhelmed as competition for each property becomes frenzied.
"I have been in Collingwood for more than 45 years and have not seen the current situation in the real estate market in all that time," says Maureen Gowans, broker of record for Clairwood Real Estate. "An interesting dynamic has been set up that has caused a bottleneck in the market and hence a very hot seller's market." To put this into perspective, Gowans notes that at one point in January, the number of residential listings available for sale in Collingwood was a mere 36. "In a more balanced market, just one of my realtors alone could be managing that many listings and more."
As inventory fell and prices climbed, demand nevertheless continued to increase. As Chris Keleher, broker for Royal LePage Locations North, explains, "Many buyers who have been watching the market and waiting for better pricing for a while have now realized they missed out and will have to pay more. That is part of what is driving more urgency in the demand in our area: people feeling like they should have bought earlier. My best advice is, don't wait to buy real estate. Buy real estate and wait."
Several factors have contributed to the market shift and will likely continue to drive it forward. We asked Gowans and Keleher to share their insights on what is fueling the current market so you can navigate accordingly.
1. Supply & Demand
In a nutshell, what we are experiencing is a case of basic economics – lots of buyers creating high demand but very few sellers, leading to low supply. A seller's market is usually indicated by a sales-to-active-listings ratio of 20 per cent or higher. Our market ratio has been considerably higher, as overall supply sits at the lowest levels in more than a decade. According to the Southern Georgian Bay Association of Realtors (SGBAR), the sales-to-listing ratio passed the 70 per cent mark in 2016, up from 55 per cent in 2015, while the number of new listings dropped 9.5 per cent.
"The average sale price increased by 11.87 per cent, from $337,335 dollars to $377,392 dollars, meaning that there was an average gain by homeowners of over $40,000 in home equity year over year," notes Gowans. "Year-end dollar sales volume was up an astounding 29 per cent, while at the end of 2016 property sales were also up 15 per cent."
2. Motivation
Those looking to buy homes in Southern Georgian Bay are typically motivated by lifestyle. Our area offers a range of four-season recreational activities, gorgeous scenery and a sense of community without having to sacrifice culture or amenities. "The overall awareness of what life in this area has to offer has had the biggest impact on our market thus far," notes Keleher. "The four-seasons aspect, combined with all the amenities, shops, restaurants, events, groups and theatre and the entry point in dollars has begun to appeal to more people than an amazing two months a year in Muskoka."
There is also another group that doesn't necessarily fall into the above categories but is making a huge impact nonetheless. Keleher explains, "Those watching the Multiple Listing Service (MLS) looking for a 'good deal' started to see sales and prices climb as the inventory dropped, and suddenly their reason for buying changed. Instead of watching for price reductions, they were seeing sales. They realized they didn't want to buy here because it was a good deal; they wanted to buy here to change their life. Suddenly the time frame for ownership in our area was based on lifestyle and timing, not on getting a good deal. This is a huge market shift."
3. The GTA Market
The ongoing hot market in the Greater Toronto Area is another factor that has impacted sales and prices in Southern Georgian Bay. "For many buyers, Toronto and GTA home prices are becoming unaffordable," says Gowans. "We continue to experience a huge draw of clientele from the GTA, as our area still appears to be affordable."
Rising prices and lack of inventory are not a deterrent – these buyers are used to it, and compared to the GTA, our area is an attractive option. "They are coming from an inflated market with no inventory," says Keleher. "Young families, single millennials, semi retirees and so on are all wondering either when the bubble with burst in the GTA, so they are selling now, or they have so much equity in their home suddenly, that it is time to own a second home."
Some buyers are keeping their GTA home and borrowing against equity, some are selling and finding that they can't buy back into the GTA market due to inflated prices, and others are selling their GTA home in order to get more home for their money in Southern Georgian Bay, where prices are still substantially lower than GTA prices.
"People are finding now to be the time to move up north as they have always wanted to," says Keleher. "High sale prices in the GTA are providing excess equity to enable people to move north and start the next chapter."
4. Demographics
Retirees and semi-retirees from the Boomer generation are competing with families and working professionals for the available homes for sale as more and more of the latter find ways to work remotely or start a business in the area.
"Thanks to the glories of the mobile office," notes Keleher, "many of the younger Boomers are realizing they can work from home most days of the week, and why not do it from here? Let's sell our larger home in the GTA to get a bigger home in Southern Georgian Bay, and just grab a small condo in the city for when we need to be there. We can Air B&B it when not using it to cover costs. We can do the reverse cottaging thing – have a smaller place in the city we spend a
couple of days a week at, and a larger place up north we can base our life out of."
An even younger set is also starting to make the march northward. Millennials are now hitting their 30s and taking their place in the housing market. They have different priorities than their parents' generation, and Southern Georgian Bay suits them to a T.
"Millennials are coming of age," says Keleher. "They are entrepreneurs, risk takers and self starters. They want their kids to live outdoors, eat organic, be active and not be in the rat race. They have just sold their first business, and our area seems like the best place to start their next one. Ninety minutes to Pearson International Airport? Well, it was 90 minutes from downtown Toronto to the airport at times. At least this is a scenic journey. Have to be in the city two days a week? Thank you, Air B&B. The new generation of business owners will continue to populate this great area and capitalize on the lifestyle for their families."
Collingwood was recently named Canada's fastest growing entrepreneurial community. Entrepreneurs who are looking for lifestyle, perhaps flush with a nest egg from selling their home in the GTA, are primed to start a business in Southern Georgian Bay, whether it's a bricks-and-mortar business or a mobile business that can be operated from anywhere in the world.
5. Investors & Speculators
There are also more investors and speculators looking to our market, and while this is not as big of an issue here as in large cities like Toronto and Vancouver, local realtors are reporting that it is on the rise. "Buying an income property in Toronto now doesn't offer an ROI that makes sense, as rents do not match present value," says Keleher. "So, as capitalization rates decrease in the GTA, investors are looking for lower entry barriers in our area."
Investors are also being drawn to our area by the rapidly increasing prices in Southern Georgian Bay, and domestic, "homegrown" investors far outnumber the foreign investors who are having such a huge impact on the Toronto market.
"Many of the investors are not big players, but ordinary people who use the equity in their existing home to capitalize on the hot market and they don't need to sell another property," notes Gowans.
"This allows them to be very competitive. The increased number of investors results in an increased number of offers, bidding wars and increased prices."
Investors can often afford to bid higher and pay more for a home, as they can take advantage of tax write-offs available to them.
6. Rental Inventory
What does a shortage of rental units have to do with the resale home market? Plenty, according to Keleher.
"With very little to choose from for renters, the residential rental market is primed for the taking, particularly in Collingwood," he says. "The town needs more affordable rental units and they are offering grants accordingly. Investors from the GTA are buying homes and creating accessory apartments and getting a much better ROI here, with 20 per cent of the investment dollars. Lopsided supply and demand for rentals has had an impact."
7. The U.S. Market
A few years ago, the Canadian dollar was near par with the U.S. dollar, real estate prices in southern destinations were dropping and many Canadians were able to purchase properties well below market value, especially due to foreclosures and 'short sales.'
"We found many of our local clients were selling their Collingwood and area properties and buying that recreational property down south instead," recalls Gowans. "Now real estate prices in the southern U.S. markets have rebounded and the Canadian dollar has dropped significantly. Buyers no longer want to pay the increased prices nor the exchange on the dollar. So Canadians are no longer buying down south to the same degree, which means they are also not selling their properties in our area."
8. What's Next?
The impact of this "perfect storm" of factors has created gridlock in our local real estate market. "Very little is moving, and what is moving is attracting multiple offers and higher prices," says Gowans. "What will break the gridlock? The solution is for more inventory to come on stream into the market."
But where will it come from? An uptick in the spring housing market is a possibility as more sellers typically list their homes in the spring. An influx of new construction homes is another solution, and one that has already begun as developers scramble to build more new homes. As new homes are completed, those who purchased them will be in a position to sell their existing properties, or in the case of speculators, they will turn around and resell the new home to take advantage of the higher prices.
On the following pages are some expert tips to help you navigate today's challenging real estate market. The best advice: "Be mindful that crazy hot markets can generate risky scenarios," warns Gowans. "Navigating multiple offers is tricky from both the buyer's and seller's perspective. It requires a very skilled, knowledgeable and savvy realtor. You need to have expertise in any real estate market, but most importantly, in this very hot seller's market." ❧
Read the Stories: