Exactly how hot is the current resale home market?
stories by Janet Lees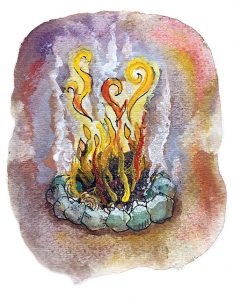 High demand for resale homes is usually a boon to local realtors. But when strong demand is coupled with record low inventory of homes for sale, the frustration for both realtors and prospective home buyers becomes palpable. That is what's happening in our local real estate market today, and it's driving prices skyward as buyers compete for the few available homes on the market.
After setting a new annual record in 2016, home sales tapered off in January due to lack of inventory, but February saw the second highest levels on record for that month, according to Stan Reljic, president of the Southern Georgian Bay Association of Realtors (SGBAR). "It was likely the rise in new listings in February that allowed for the increase in sales," said Reljic. "Hopefully this is the start of an upward trend for supply, because that is what this market needs most right now."
On The Bay interviewed Reljic to get his insights into today's resale home market in the SGBAR's Western District, which includes Wasaga Beach, Springwater, Clearview Township, Collingwood, The Blue Mountains, Meaford and Grey Highlands. Here are his insights:
How would you describe the current resale home market and why?

Stan Reljic: Strong demand is chasing a record-low number of properties for sale. The housing market is now at its tightest balance point between supply and demand on record. The shortage of supply has become something of a vicious circle throughout the GTA, Golden Horseshoe and Greater Golden Horseshoe regions. Existing owners who wish to sell face a scarcity of homes available for purchase.
What are some key numbers to illustrate the current state of the market?

SR: There are currently just two months of inventory. The 20-year average for the number of months of inventory is just over eight months (after removing regular seasonal fluctuations). Sales activity and average sale price set new annual records in 2016 (with average price up almost 11 per cent vs. 2015). At this time last year, the actual (not seasonally adjusted) number of homes for sale via MLS Systems was already low (540 properties). Since then, that number has been halved (having dropped to about 265 at the end of January). This shortage of supply is hemming in sales activity.
How are low inventory and other market forces affecting home prices in Southern Georgian Bay?

SR: The average price in our area is rising at an accelerating rate. It was up almost 11 per cent in 2016 vs. 2015. The rising quarterly trend for year-over-year average price growth began in Q1 2016 (at less than 6 per cent); in Q4 2016, the gain had swelled to almost 20 per cent year-over-year.
What are the challenges in the current market, for both buyers and sellers?

SR: For buyers the challenge is finding a home they can afford and qualifying for mortgage financing under newly tightened mortgage regulations. Moreover, given the shortage of listings and strong demand, buyers face stiff competition from other buyers. Sellers intending to stay in the region face an easier time selling than buying a different home, given the competition from other buyers. However, sellers with substantial equity in their current home may have an advantage over competing buyers and feel less pressured than first-time home buyers.
Do you have any real-world anecdotes or examples to illustrate the current market conditions, challenges, opportunities, changes, etc.?

SR: One that particularly stands out relates to vacant lots. For years we have had hundreds of vacant build-ready, fully serviced lots available, attracting little interest. With the recent shortage of homes on the market, those lots are all but gone, as buyers have shifted to building new. However, even that has become challenging as the builders are adjusting to the new demands, and timelines are becoming longer than they have typically been.
As president of the SGBAR, what is your forecast for the near-future real estate market in our area?
SR: There is little to suggest a slowdown in prices at this point; indeed, evidence points to the opposite, with continued price growth for the foreseeable future. On the sales side, it will be very difficult for the market in 2017 to match last year's sales record given the growing supply shortage.
What do sellers and prospective buyers need to know in order to navigate the current market?

SR: Give your realtor all the details; for example, your plans both short and long term, your needs and wants. The more the realtor knows you as a buyer, the more empowered they will be to navigate you through this market.
What specific advice do you have for sellers in this seller's market?

SR: Talk with your realtor about the process after the listing hits the market. Typically the focus is on pricing and staging the steps to get the house on the market. More conversation needs to be about what happens after. Talk about multiple offers, ask about conditional agreements. Today's market is fast paced and can be overwhelming; the more comfortable and knowledgeable you are about the process the less stressful the experience will be.
What advice do you have for prospective buyers with inventory at an all-time low?

SR: Of critical importance is, if you require financing, ensure that you have that in place before you jump into this market. Most offers will still be conditional on financing because of the way our banking system works; however, talking to your bank or mortgage broker and providing all the necessary paperwork they require to qualify you in advance will save you a lot of stress at offer time. Outside of financing, be prepared and have a plan B, and possibly even a plan C, because in all likelihood you may not be able to get everything on your list.
Do you have any other insights for our readers?

SR: The lifestyle we live here is spectacular, and this is the driving force of our market. Short and longer term we will maintain a strong, viable market in the Southern Georgian Bay area. ❧
Read the Stories: