10 trends to help buyers and sellers find the sweet spot
by Marc Huminilowycz
illustration by Shelagh Armstrong-Hodgson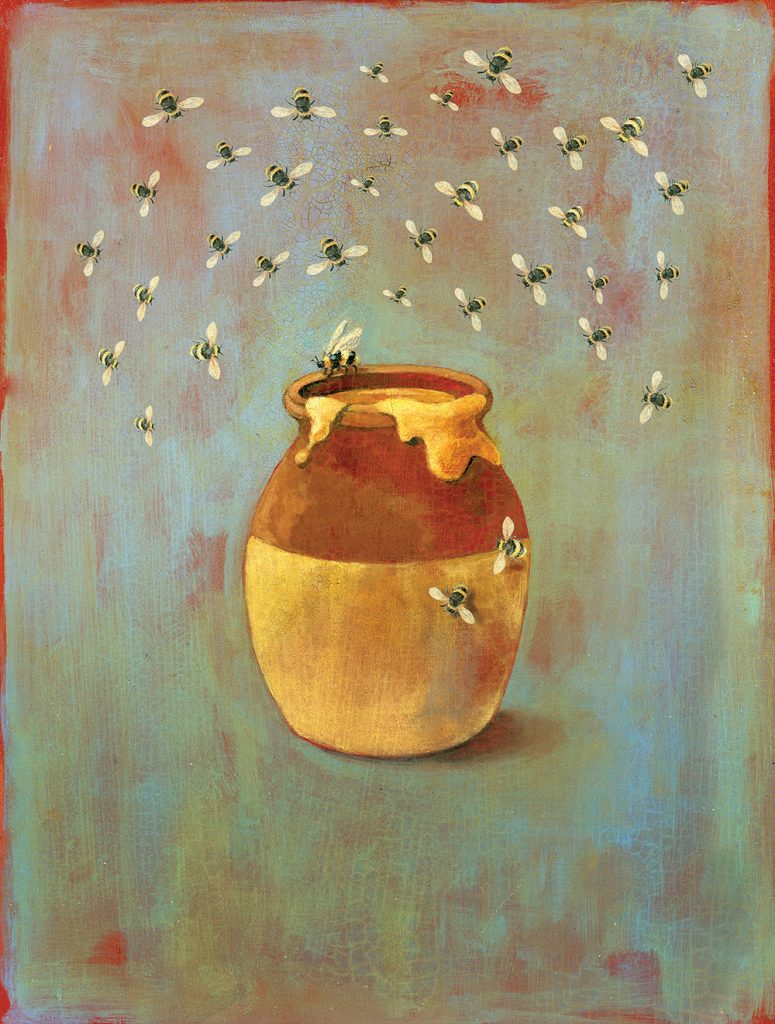 "I have fifty-seven active buyers, but virtually nothing to sell them!" This lament from Southern Georgian Bay real estate agent Marg Scheben-Edey exemplifies the frustration she and other agents in the region are experiencing as another spring real estate season arrives.
With record-low inventory, a seller's market and rising home prices, Southern Georgian Bay is headed for what may be the most challenging resale season in the region's history. What are some of the factors that got us here? What is driving our market? How can buyers and sellers navigate the challenges?
On The Bay spoke with several prominent agents in our region to get their observations on the current and future state of the local real estate market – the drivers, the trends, the challenges and the opportunities. Here is what they had to say.
Supply & Demand
Retirees and young families from the GTA looking for a seasonal or permanent home, local investors hoping to capitalize on the tremendous growth in the region, and local property owners wishing to downsize from their large homes to something more manageable – all of these buyers are vying for a piece of an ever-shrinking pie.
In terms of demand and inventory, Max Hahn of Engel & Volkers Collingwood Muskoka Brokerage doesn't see any difference between the communities in our region. "Each area appeals to a select crowd, for different reasons" he says. "As to price, homes in The Blue Mountains are the most expensive, followed by Collingwood, Clearview, Meaford and Wasaga Beach."
There's a perfect storm of factors keeping the market tight, observes Scheben-Edey. "Right now, local investors buying up multi-residential units and GTA migrants make up the bulk of single-family home buyers in the region," she says. "Meanwhile, existing homeowners would like to sell, but are reluctant to do so because they're worried about finding a new home that suits their needs and their budget."
Margaret Byrne of Century 21 Millennium agrees with this observation. "I think there is a degree of fear in the marketplace on the buying side, and a bit of a disappointment for sellers because there has been an adjustment in pricing," she says.
Sherry Rioux of Clairwood Real Estate Brokerage notes, "There is a general perception that home prices in Collingwood and The Blue Mountains are high, so buyers are venturing a little further west or east. Recently, I attended a meeting of local planners in the region, and one thing they predict is that Meaford, with much better deals on waterfront property for example, is ready for the next big boom. Whether or not this will happen, who knows?"
Frustrated by low inventory and high prices in our region, many buyers are adjusting their location expectations, spreading the net farther afield of their preferred community to places like Owen Sound, Midland/Penetanguishene and Oro-Medonte.
Demographics & Technology
"We have two buyer demographics here: young families who value their leisure time and want their kids to snowboard and hike, and active early retirees who enjoy theatre, culture and the arts," notes Rioux. "One of the biggest market drivers here continues to be baby boomers who are now reaching an age when they are starting to think about retirement, valuing their leisure time and being close to their children and grandchildren, who don't mind travelling to visit because there is so much for them to do here."
The key market drivers in Southern Georgian Bay are investors and GTA buyers who are moving here for a better lifestyle and price advantage, says Hahn. "It's not just the retiring demographic anymore," he says. "We recently worked with a young Toronto couple who purchased an older home off the Danforth six years ago $600,000, which they thought was outrageous at the time. They sold this home for $1.6 million seven months ago, paid off their $400,000 mortgage and came to Collingwood to embark on new jobs and a better lifestyle with $1.2 in their jeans."
Byrne observes that more young families are moving to Wasaga Beach than ever before. "I've been selling in Wasaga Beach for 14 years. When I first came here, there were hardly any young families," she says. "Now there are lots of them moving here because they can a get a large home and property for a good price. We're not a retirement community anymore."
Retirees and young families are also at the top of the demographic list for Karen Willison of Royal LePage Locations North. "I've had a lot of clients who needed to move away from our region because of a work transfer," she says. "They won't sell their homes here because they plan to come back in five years," she says. "In the meantime, they rent their places here and choose to either buy or rent in their temporary transfer location."
Willison also stresses the importance of technology as a major factor that allows buyers to locate to our region. "We have both demographics and technology working in our favour," she explains. "The internet has allowed small towns to develop, giving people the option of telecommuting to jobs in the city, living and working in their primary residence outside of urban areas and travelling to the city one or two times per week."
Location, Location!
Located within two hours of Toronto (the largest city in Canada and the fourth largest in North America), with plenty of road options and rarely a traffic jam travelling here, it's no wonder that the Southern Georgian Bay region, with the best skiing in Southern Ontario, a large body of fresh, clean water and plenty of outdoor activity options, continues to attract visitors and permanent residents from the GTA and beyond.
There was a time when Muskoka was the number one choice for a weekend retreat north of the city. But today, more buyers are choosing our region because of its easier access and four-season lifestyle.
"Several senior couple clients have told me they are selling their properties in Toronto and Muskoka and moving to Collingwood," says agent Hahn. "They're familiar with our region and their friends have already moved here. And this is interesting: they love lining up at the grocery store or the LCBO with all the weekend skiers because it makes them feel younger!"
A Tale of Two Markets
According to Desmond Von Teichman, broker of record and owner of Royal LePage Locations North, the current market focus in Southern Georgian Bay is on properties selling for $1 million or more, while at the other end of the price scale, municipalities are focusing on providing more affordable homes for first-time buyers and the lower-wage workers needed to staff the many businesses and restaurants popping up in the area.
"Dollar volume sales on the MLS (Multiple Listing Service) are up, trending to the higher $1-million-plus end, the biggest dollar volume category, mainly because there are a lot of these homes being built," says Von Teichman. "At the other end of the spectrum, we have a simultaneous lack of affordable homes. Towns are loosening up rules on secondary residences on a property. The Blue Mountains, for example, is offering homeowners money for renovating or building to accommodate apartments, granny flats and coach houses – spaces that could appeal to both retirees and twenty-somethings. This could be interesting."
Scheben-Edey agrees, adding, "The story now is about growth in the high end of the market contrasted with a demand for affordable homes. How can someone earning minimum wage or a downsizing senior on a fixed income afford to buy or even rent a home in the area? I have a real concern about this. The issue of a labour shortage directly tied to a lack of attainable housing needs to be addressed for the future of our region."
Buying for Investment
"We have a lot of domestic investors who live in our community buying in our community," observes Karen Willison. "People living and working here and part-time/weekend residents are putting together consortiums of five to seven investors to buy up properties, primarily in Thornbury, renovating them then selling or renting." She cites a few examples of this activity, such as the Diamond Studio and the Loft Gallery buildings and the former LCBO building, which was purchased, after beating out five offers, by an investor from Brampton who created three ground-floor commercial units and three residential units on the second floor.
Lorraine McDonald of Royal LePage Trinity Realty reports dealing with many investors from Toronto, but none from overseas. "This market is hot for domestic investors," she says. "They're looking for bargains and presenting low-ball offers which are not necessarily accepted." While most investors are local or from the GTA, Hahn has also seen an uptick in foreign investment, with many foreign buyers arriving via connections in the GTA. It's a trend he predicts will continue.
Meanwhile, Rioux has experienced an increasing demand for commercial property in Southern Georgian Bay. "The vacant land near Lighthouse Point, which was the site of the old Beacon Glow Motel, sold in five days," she notes. "During the 60-day period of due diligence following the sale, I must have had 15 different calls from investors wishing to build either a hotel, a retirement home or a condo on the site. I was really quite surprised, expecting the sale of this property to be a long haul. Another property I had for sale on Bruce Street in Thornbury a while ago was slow to sell when the market wasn't good. It's a hot property now."
Mortgage Stress Test, Higher Interest Rates
"Three mortgage rate hikes and new mortgage rules have knocked about 20 per cent of buyers out of the market," observes Scheben-Edey, while Willison warns that we need to pay attention to the fact that interest rates are changing, causing affordability to shift down slightly.
However, Von Teichman disagrees with these observations. "Mortgage rules, which change fairly regularly, are a non-monetary instrument the government uses to cool down an over-inflated housing market, particularly in places like Toronto and Vancouver," he says. "I don't think the new mortgage rules are going to have one iota of impact on our region. Our market is not being fuelled by first-time and immigrant home buyers, who are being affected most by the mortgage rules. Our market is driven by people who have cash."
Everyone Wants a Bungalow
Every agent interviewed for this story agrees that by far the most sought-after type of home type is a bungalow, a bungalow with loft or, at the very least a home with a master suite on the main floor. This type of home appeals to both aging boomers and young families.
"Everyone is looking for a nice bungalow – not only empty-nesters, but also younger families who love the raised bungalow design with a nice, big basement," says Byrne. "It's a style of home that is flexible for all ages, and it's easy to sell because the pool of interested buyers is going to be larger when you're ready to sell. I tell people, if you're planning to be in this house for the next twenty years, buy the house you like. If you're going to be there for only five years, it's going to be a lot easier to sell a bungalow than a two-storey home."
Rioux says she receives numerous calls every week from people looking for a bungalow or a main-floor master bedroom. "They are thinking about their future needs," she says. "It's not uncommon to get bidding wars with several offers on this type of home. When the market was at its peak last spring and summer, there was one bungalow property that had 16 offers."
Demand for Condos Steady
While demand for condos has not seen the dramatic increases experienced by other housing types, it continues to be steady, according to Lorraine McDonald of Royal LePage Trinity Realty.
"Anything under $500,000 is in high demand," says McDonald. "Condos are turnkey with nothing to renovate or maintain, so they're attractive for buyers. The condo market remains strong because we have a lot of seasonal buyers who may only want to be here for 10 weeks in the winter, then rent their home the rest of the year and not worry about it. On the other hand, we are seeing more retired people downsizing to condos as well."
The story of condo versus single family home sales in our region is really remarkable, adds Scheben-Edey. "According to the sales numbers from 2017, about 47 per cent of all residential sales in the region were condos," she says. "The difference I think is that 10 years ago, people were buying condos as vacation homes, but they are increasingly being purchased as full-time homes."
Higher-Density Downtown Living
"I believe that higher-density, tree-lined downtown living with the ability to walk to everything, is a trend that will continue," says Willison. "Years ago, I downsized and bought a home on the Millpond in Thornbury because I wanted to be front and centre in town – now and well into my golden years – yet be able to travel and rent out my home. If I had waited to buy this home, other boomers would have scooped it up."
Looking at Collingwood, other realtors noted that the Town is "growing up, not out" in line with the mandate of Ontario's Places to Grow plan. They see developments like The Shipyards, Monaco and Perfect World in Collingwood as examples of the trend toward small towns wanting to keep their downtowns populated and vibrant.
The Rising Cost of Vacant Land
"We're seeing the cost of vacant land increasing continually, primarily because people can't find the housing they want in either resale or new properties," observes Willison. "Forty years of vacant land inventory is shrinking rapidly, while volume sales are increasing dramatically, with an average price of $205,136 across our region. Size doesn't matter – this includes everything from large acreage without services to small in-town fully-serviced lots."
Competition/Bidding Wars
It is early in the season, and most realtors have not yet experienced the intense competition and bidding war activity so prevalent in the spring and summer of 2017. The consensus is that multiple offers will likely occur for properties that show well, are in a desirable area, and are priced right.
"I still think that if you have a really nice, well-maintained home and you've priced it competitively, you'll get multiple offers because we just don't have the inventory," says Byrne. "If you put your house on the market on Monday, you likely won't have 18 offers by Tuesday. You shouldn't expect to get $100,000 over your asking price, but you're still going to sell your home quickly, and for top dollar. It's still a good time to sell."
Scheben-Edey notes that many buyers in Southern Georgian Bay are from the GTA, where home values have soared, allowing for early retirement. "The common threshold for buyers downsizing to our region is about $600,000, so homes up to this price level have been scarce, and often sell with competing offers," she says.
In multiple offer situations, it all comes down to the right price, says Willison. "Sellers are wise to listen to their agents and price their homes in a range that will attract multiple offers – at market value or even 2 per cent below. Buyers should be prepared to write a deposit cheque for at least 5 per cent of the asking price – 'the queen of deposits.'"
Von Teichman proposes another strategy for buyers involved in a bidding war – a tug at the heartstrings of the seller with a sincere hand-written letter telling them why they should accept your offer.
Picture Perfect
What are buyers of a resale home in Southern Georgian Bay looking for? According to local real estate agents, most want a move-in property requiring little or no renovation.
"Gone are the days when you can slap a For Sale sign on any property, regardless of its condition, and expect to get top dollar," says Byrne. "If you want to sell your home for the best price, people are looking for a picture-perfect property – inside and out. If it needs work, your price should reflect that."
Willison estimates that about 40% of buyers want a move-in ready home, while another 40 per cent are open to doing minor renovations. "There is always a small pool of buyers – maybe 20 per cent – that ask me to let them know when a good 'fixer-upper' comes along," adds Willison.
Micro Homes, Airbnb
"One of the trends I've noticed recently is people asking whether or not they can build multiple mini or micro homes on a plot of vacant land," says Willison. "Right now, I don't believe our municipalities have planning regulations for this. Our planners are saying they're not ready for this type of housing option – yet. I'm curious to see where this goes."
Scheben-Edey says she receives eight to 10 inquiries a week from people looking to invest in a property to rent on Airbnb. "Basically, this type of use has very limited acceptance in our region," she says. "The Town of Collingwood does not allow it at all. In The Blue Mountains, Airbnb is permitted in a very limited number of areas – mostly in and around Blue Mountain Village, where you need a licence costing $2,000 that needs to be renewed every two years. I believe that the concept is permitted in and around Meaford. Condos at the mountain are in huge demand. Because short-term accommodations and Airbnb are permitted, some have sold for $100,000 over asking price."
The Crystal Ball: What's Ahead
The spring resale home market is typically strong, and the agents we spoke to see no reason this year will be any exception.
"Inventory is starting to increase as sellers are getting ready to list in the spring. Over the next year, I see steady, sustained growth in Southern Georgian Bay as people realize that our region has so much more to offer than it did even a few years ago," says Hahn. "A lot of new residential projects will mean more families, couples and singles, as well as a steady influx of retirees cashing out of the city and coming here to live."
Home prices will likely continue to climb, but with the U.S. dollar still high, local realtors predict buyers of second properties will choose to stay in Ontario rather than buying south of the border.
"The market here will stay strong – at least for the spring and summer months," forecasts Rioux. "We'll see what the fall brings." ❧