From Wasaga Beach to Meaford, our waterfronts have always been a key component of our region's identity. Today, towns across our region are making plans and investments to create shorelines that are accessible, enjoyable and sustainable. A look at the past, present and future of our waterfronts.
by Janet Lees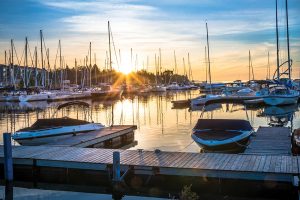 On any given summer day, our waterfronts are teeming with life, with sailors and paddlers setting out to ply the waters of the Bay, picnickers and sunbathers relaxing on its beaches, and children splashing in its clear, turquoise shallows. The Georgian Bay shoreline extends more than 100 kilometres from Wasaga Beach to Meaford, of which vast expanses are open to the public – in some cases, for the first time in more than a century.
Now, municipalities across Southern Georgian Bay are putting plans in motion to make our waterfronts even more accessible and enjoyable. Each town has its own vision of what the future holds for the section of waterfront within its care, but they all agree that our waterfronts are integral to the identity of our region and essential to its growth, strength and development.
Collingwood
George Czerny's nostalgia for Collingwood's waterfront stretches back to the late 1970s, when shipping and shipbuilding were still the town's bread and butter. He has fond memories of standing on Heritage Drive to watch the enormous ships being hammered and welded into existence.
"From '77 on I used to drive down there every day and marvel at the shipyard and think, 'wow, this is fantastic,'" he recalls. "You could see the sparks flying from the welding that was happening, and you could stand on that road and watch what was going on as they built a ship within 100 yards of where you were standing. The shipyard took in all of the waterfront from Heritage Drive to Maple Street; there was no public access."
On days when a ship was launched – called a "side launch" because the newly built ships entered the water broadside – businesses would close, children would be let out of school, and residents and visitors alike would crowd the public portion of the waterfront adjacent to the shipyards to watch the spectacle as the massive ship hit the water at a heart-stopping angle, sending huge waves crashing over the pier.
On the way to his ship-watching vantage point, Czerny would pass trucks leaving the Collingwood Terminals loaded with grain. "The ships came from the western side of the Great Lakes bringing grain to the Terminals, and it would be loaded onto trucks that would take it to market," he explains. "The ships would load or unload at the Terminals and then steam off back across Georgian Bay. Ships came from all over the world; sometimes you would see one from Rotterdam or some other European city and think how far it had travelled across the ocean, down the St. Lawrence and through the Great Lakes to get to our little town on the southern shore of Georgian Bay."
The shipyard closed in 1986 and grain service to Collingwood Terminals ended in 1993, bringing the town's twin engines of commerce to a halt. In the years that followed, as Collingwood struggled to reinvent itself and gradually saw the economy shift from industry to tourism, the shoreline where the shipyards had operated remained closed to the public.
That changed in 2006 when the Shipyards residential development began to blossom on the site of the defunct industrial shipyards, opening up the waterfront to the public for the first time in over 100 years and installing pedestrian pathways, bike trails, parks, an amphitheatre and a waterfront promenade.
The Town of Collingwood sees the waterfront as a key driver for tourism, growth and economic development. With that in mind, the town completed a comprehensive Waterfront Master Plan in November 2016, which has now been adopted by council as a long-term, comprehensive blueprint for turning the Collingwood waterfront into a four-season public playground.
Developed in collaboration with numerous stakeholder and waterfront user groups and after extensive public input, the bold, $50-million plan focuses on the 7.5-kilometre section of shoreline where the majority of public spaces are located, from Hen and Chickens Island in the west to Sunset Point Park in the east. Priorities include an off-road trail network, mixed-use activity in the downtown-area waterfront and on the pier, enhanced recreational amenities in Sunset Point Park and Harbourview Park, and new facilities for motorized and non-motorized boating.
"Rejuvenated public spaces will support Collingwood's existing strengths: natural beauty, a historically significant harbour, a vibrant commercial downtown and an active community life," reads the plan's executive summary.
"This is really more of a concept plan that lays out how we will organize things as we go along the path," explains Dean Collver, Collingwood's director of parks, recreation and culture. "It gives us a consolidated overview so that things have a connected feel rather than portions and parcels that are developed in a piecemeal way." The town and its consultants, Brook McIlroy, held 30 public meetings over several days at locations ranging from the curling club to the grain elevators. "We really wanted a high level of public engagement," says Collver. "We ended up talking to a little over 2,000 public points of contact."
These included user groups such as boaters and paddlers, environmental groups, condo associations, seniors and the general population. "The consultants also identified youth very specifically, so we had four youth sessions in total geared to grades 8 to 12. Recognizing that this is a long-term plan, those youth will be the ones who will ultimately be living with it – and potentially paying for it."
This isn't the first time Collingwood has attempted to conceive a long-term vision for its waterfront; several other plans have been developed over the past 30 years but never came to fruition. The difference, says Collver, is that this plan contains action steps and cost estimates, so it is more concrete than simply a wish list that might end up languishing on a shelf as its predecessors have.
The Collingwood Waterfront Master Plan has been divided into three implementation phases, with the $24-million first phase broken into five smaller steps in order to "break the cost into bite-sized pieces and create achievable goals," explains Collver.
Step One of Phase One is a $7-million project that will create a gathering place centred on a four-season pavilion in Harbourview Park (behind McDonald's restaurant). The Park Pavilion would be a hub for paddlers and for users of the Collingwood Trail Network and the Georgian Trail, offering public restroom facilities, a restaurant/café, boaters' club area, lounge and patio. There would also be a boat storage building for paddlers.
Next to the pavilion, the plan envisions an "Indigenous Gathering Structure" honouring the First Nations people who settled in the area more than 15,000 years before Europeans arrived. "The Park Pavilion will also have interpretation and recollection of First Nations and our first peoples, which strategically ties it all together," notes Collver. "We don't have a lot of local reflections of indigenous culture; this is a way to remind us that this land was used by First Nations first."
The inclusion of indigenous elements is at least partially strategic, he admits. "We don't have the tax dollars to support this kind of capital spend, so we have to go after other sources. Our first obvious choice is to go to the province and see what the opportunities are there to accomplish some of their objectives while also accomplishing ours."
Incorporating First Nations and other cultural and historical aspects along with active transportation and sustainability will enable the town to seek funding from multiple ministries, including heritage, aboriginal affairs, tourism and transportation, says Collver. "It opens up more opportunities for us to essentially get access to more provincial budgets."
The province isn't the only source of funding the town will be considering; Collingwood is currently in negotiations with the County of Simcoe to sell off some land along the rail line between Poplar Sideroad and Utopia, and "those funds could be directed to the Waterfront Master Plan reserve to show the province that we're investing in this, not just looking for handouts," says Collver. Development charges could also go towards the waterfront project.
Other sources of funding could include the federal government, granting agencies such as the Ontario Trillium Foundation and Regional Tourism Organization 7 (RTO7), and partnerships with local developers and business owners as well as groups and organizations such as the Nottawasaga Valley Conservation Authority (NVCA), Environment Network, Downtown Business Improvement Association (BIA), Collingwood Trails Committee, Collingwood Yacht Club, Collingwood Rowing Club, Canoe and Dragon Boat Club, and the Blue Mountain Foundation for the Arts.
Another, possibly, would see the town seeking out private donations either directly or through a community foundation. Operating independently of government, community foundations are not-for-profit charitable organizations that pool the charitable gifts of many donors into a community endowment fund or funds. The foundation would then distribute grants within the community in a variety of areas, including arts and culture, education, recreation, health, social services or the environment, acting as a granting organization for various projects.
"In a perfect world, if everything goes well, we would be doing design and final construction drawings in 2018 and building in 2019," says Collver. "We would have to have the $7 million in hand and we will have to go through another level of public engagement to get a real solid construction plan, then go to tender and build."
Step Two in the Harbourview Park vision would see the addition of a 333-metre-long oval water feature encircling the Indigenous Gathering Structure, which would serve as a skating trail in the winter and a splash pad in the summer. "This was the number one thing people mentioned that they wanted in all of our public sessions, pretty much through all of our demographics," notes Collver.
Collver and Martin Rydlo, the town's director of marketing and business development, are already making the rounds to various government ministries and organizations to present Phase One of the Waterfront Master Plan. For his part, Rydlo sees it as an easy sell in terms of the growth, economic development and community building that could result from such a project.
"Because the outdoor active lifestyle is such a key piece that brings people here, we have a tremendous opportunity before us," he enthuses. "Gathering places like this only attract more people who want to be here and enjoy the great outdoor lifestyle. I'm so excited about this Harbourview Pavilion because it has so many facets to it – winter, spring, summer, fall – whether it's integrating the trails, whether it's integrating with skating, or whether it's integrating with our aboriginal history, it will become a real central place for the community."
Harbourview Park is just one small piece of the five-phase Waterfront Master Plan, which also lays out priorities for Collingwood Harbour, "the Ridgeline" next to downtown, the Shipyards, Collingwood Pier, Sunset Point Park, and the areas known as the Eastern and Western Fens. For a complete copy of the full, 74-page plan, go to www.collingwood.ca/wmp.
Mayor Sandra Cooper says she is "very confident" the plan will come to fruition, although it may take some time. "It's a legacy plan and it's not going to happen overnight or even a year or two years down the road," says Cooper. "It might be 10 years to completion, but it has been embraced by council and by our residents and it's a positive move for the future."
Wasaga Beach
Collingwood isn't alone in seeing the Georgian Bay shoreline as the key to its future; Wasaga Beach also has an ambitious plan for its waterfront, with a view to reinventing the town as a vibrant community with a strong economic core and plenty of "unique and authentic experiences" to attract permanent and seasonal residents as well as visitors and tourists. Featuring the longest freshwater beach in the world, Wasaga's waterfront is a vital component of that rebuilding and rebranding.
Wasaga Beach has a rich history as a summer beach town. For over 80 years, "The Beach" was a popular holiday spot for soldiers from Base Borden and tourists from across Ontario and the northern U.S. Families, teens and young adults flocked to the carnival-like atmosphere, which included midway rides, a movie theatre, indoor and outdoor bowling, dancing, wave pools, water slides, restaurants, hotels, arcades, shops and restaurants – all within a stone's throw of the spectacular waterfront. The beach itself attracted millions of sunbathers, picnickers and partiers, and was the preferred site of events ranging from classic car shows to watersports competitions. It wasn't unusual for over 10,000 people to descend on the beach in a single summer weekend.
In the early 2000s, the town began to move away from its raucous party image and shifted its focus to attracting more full-time residents looking for a quiet, year-round lifestyle on or near the beach while continuing to bring tourists and families to the waterfront in the summer months. However, although relatively low real estate prices spurred residential growth that earned Wasaga Beach the title of fastest-growing community in Canada, tourism began a decline that saw numbers drop by about 100,000 visitors a year. The town's economy went from sluggish to struggling.
Then disaster struck. On November 30, 2007, a major fire destroyed 90 per cent of the buildings along the street mall in Beach Area One. The waterfront continued to draw tourists, but with little else to do nearby, the numbers continued to fall and the town's economy stalled. A second setback followed when a developer proposed a redevelopment plan, only to declare bankruptcy before the project could move ahead.
In 2015, with no other purchasers on the horizon, town council took an audacious step, voting to buy up seven of the Beach Area One properties itself at a cost of $13.8 million.
The town has worked to spiff up the properties and get them rented. "In the two years since we made that purchase, we are happy to say today that all of our buildings with the exception of two are leased, and we are in talks to lease the other two," says Mayor Brian Smith. "That has brought a lot of vibrance back to the beach. That area has become very popular, we're close to a million-visitor increase in tourism over the first two summers, and that is through a lot of hard work and ensuring that when people come to visit Wasaga Beach, they have things to do for more than a few hours."
Now, as the owner of 76 per cent of the property at the main beach area and with a new master plan approved at the end of March, the town is poised to begin rebuilding its downtown and beachfront. "Our goal is to create a walkable, mixed-use space and a hub or community gathering place not only on the south side of the Nottawasaga River on Main Street but also on the beach side where all the tourists tend to congregate," says Smith. "Wasaga Beach has had a few plans done in the past, but they have been more like visions; once they were done they were stuck on a shelf and nothing happened. This one is different because it's not pie-in-the sky. It has to be realistic, it has to be affordable, it has to be something we can accomplish in the near future, and it has to be sustainable."
The Downtown Development Master Plan (DDMP) aims to bring the "fun" back by turning the Beach District into the "entertainment activity centre" of Wasaga Beach. "Taking a cue from its cultural heritage, the Beach District will bring back family and indoor entertainment to diversify the activities offered, ensuring that the beach is a dependable destination through bad weather and through the off season," reads the plan. "By strengthening the beach as a destination, the town reinforces the synergy held between the beach and town to create a sustainable entity."
Priority projects targeted for the beachfront include a beach boardwalk, a Festival Square "event plaza," an "entertainment zone," a "resort residential zone," and boutique hotels. Framing the event plaza would be 3- to 6-storey mixed-use buildings containing retail shops and restaurants on the ground floor with residential apartments above.
Designed to "leverage and protect the town's main asset," the beachfront boardwalk would reduce the effects of wind erosion on the beach sand. According to the detailed plan, the elevated boardwalk would have an effect similar to sand dunes, redirecting wind and blown sand while providing an "attractive and accessible" vantage point to take in views of the Bay.
"The beach boardwalk would cohesively connect the beachfront from end to end and be designated as part of the greater Wasaga Beach trail network," reads the plan. "Connected to the Festival Square, the beach boardwalk would be a high pedestrian traffic zone and could be a defining element of the beachfront."
The Festival Square would be the "final destination and climax of the visitor experience … designed to open onto the beach for crowds to enjoy concerts and events from the sand, as well as having a beautiful backdrop."
Recognizing that "successful beach destinations cannot rely on sun and sand alone," the entertainment zone would have a variety of activities to entice visitors to stay longer, creating greater economic benefit for the town. Entertainment components and attractions could include rides and amusement, an observation tower, outdoor water play and indoor water parks, indoor and outdoor performance venues, skating rinks, indoor arcades and bowling.
Connecting up with the beachfront would be a new pedestrian-friendly Main Street corridor that would give beachgoers another way to spend their time and money. "We believe that this revitalization and redevelopment of our waterfront and the creation of our downtown is going to have a similar impact to the Village at Blue in terms of increasing tourism visitation not only to Wasaga Beach but to all of Simcoe County," says Andrew McNeill, the town's director of economic development and tourism, adding, "We are moving quickly to get some shovels in the ground. We have a request for expressions of interest right now looking for mixed-use development partners to work with the town, and the goal is to make this plan real as quickly as possible."
The DDMP, which would cost about $650 million to implement, would also create 1,400 jobs and result in a 45 per cent increase in longer-stay tourists, says McNeill.
"For a couple of generations, there was a formula that really worked here. There was a downtown, there was a main street, and there was a whole main end of the beach that had amusements, rides, carousels, etc. so that folks that came here for the beach – which was obviously our main draw – if it was windy, rainy, or when the sun went down, there were lots of things to do in our community. For the past couple of decades, the town kind of went away from our strength, and we struggled. We're now going back and trying to re-create what our strength was and will be."
Adds Mayor Smith, "We have to build a community that is attractive to our full-time residents while creating a tourism atmosphere that is attractive for all, but it has to be that if people come to Wasaga Beach, it can be raining and there will still be plenty to do.
"We have the advantage of having a clean slate, and how many communities can say that? We have the ability to start from scratch."
For full details on the "Build Wasaga" initiative and the DDMP, go to www.wasagabeach.com and click on "Downtown Development Project."
The Blue Mountains
If the plans for Collingwood and Wasaga Beach come to pass, those looking for a less busy, more "pure" and peaceful waterfront experience will likely head to The Blue Mountains, where there are no massive entertainment venues, water slides or amusement parks proposed.
The public portions of shoreline in The Blue Mountains include Northwinds Beach, Craigleith Provincial Park, Delphi Point, Council Beach, Peasemarsh Beach, Bayview Park, Thornbury Harbour, Little River Beach Park, Lions Park and Lora Bay Park. All are kept relatively unspoiled and pristine, and the town sees no reason to change that.
"Where some other municipalities are looking at developing their waterfront more as a developed piece of property, keeping our character is hugely important to us," says Shawn Everitt, director of community services for the town. "The nice thing for us is we don't need to redefine ourselves because we're already defined."
In addition to attracting different demographics compared to Collingwood and Wasaga Beach, The Blue Mountains also has a completely different shoreline – and even different types of shoreline from one end of the town to the other, thanks to glaciation.
"We're blessed with a waterfront that from Christie Beach to Council Beach is more of a rocky type of shoreline and from Council Beach to Craigleith Provincial Park, complete shale," says Everitt. "Then we have a sandy beach from Northwinds around to Long Point Road, and it's all because of the glaciers. We've got a real variety of shoreline, and we try to keep it as natural as possible, with less bling." Tying it all together is the Georgian Trail. "We look at the Georgian Trail as the spine because it really connects our waterfronts," notes Everitt.
As part of its Leisure Activities Plan, The Blue Mountains conducted a complete review of all of the waterfront properties in the town, including the walkways down to the water's edge. "We went through each of them with council and said what are the future uses of these and which ones do we want to enhance," explains Everitt.
As a result of that process, a pedestrian walkway will be installed at Northwinds Beach this year to allow beachgoers to get directly to the waterfront from the crosswalk near The Depot. "We wanted to create pedestrian connectivity at Grey Road 19 and Hwy. 26," says Everitt. "With the new walkway, you will be able to cross at the intersection and take a ramped walkway right over to Northwinds."
He adds the walkway should also help with Northwinds' limited parking woes. "One of the issues is the parking at Northwinds and it's not legal for people to park on the road, so we're hoping that with this enhanced pedestrian connectivity there will be opportunities for people to park on the other side of the road off the highway and walk over."
Thornbury Harbour will undergo a Harbour Master Plan over the next two years, which will focus on beautifying the area surrounding the harbour as well as opportunities for additional parking and enhancements to the green space. Little River Park, the pebbled beach area next to the harbour and the Thornbury Pier, will also undergo improvements including enhancing the public washrooms to better accommodate the many families who use the park.
The Harbour Master Plan will also look at how to better draw visitors from the downtown to the harbour. "For most people passing by, you know that the water's there, but you wouldn't necessarily know there's a harbour. We have this amazing harbour, and we need to market it better and make more of a connection to the harbour from the downtown."
With that in mind, last year the town completed a $400,000 project to give the historic trestle bridge across the Beaver River a facelift and add night lighting. "That trestle bridge is a key aspect of the community," says Everitt. "We wanted to enhance its presence to make it more eye catching, so that when you stand on the Highway 26 bridge you can look to the north and have a great view of the trestle bridge and maybe that will make you want to explore down to the waterfront."
Delphi Point, across from Georgian Peaks, is seeing increased use from those looking for quiet enjoyment of the waterfront. "It's a perfect beach to go out with your beach chair on the shale," says Everitt. "You're basically knee-deep in water and the shale is flat as flat can be. It's not a beach that's really meant for swimming, but we're finding that it's a beach that's being used for relaxation."
After a tornado ripped through the area in 2007, cutting a path of destruction through Delphi Point, the town rebuilt the property using the wood from the downed trees to build new sign posts, benches and pavilions. "Everything you see on that property, we've actually used that wood, so the history is still there," notes Everitt.
Delphi is also designated by UNESCO as environmentally significant due to the large fossil beds that carpet the shale beach. "In the scientific world, it is a heavily identified piece of property to find trilobites," says Everitt, referring to fossils of extinct marine anthropods that were abundant in the Paleozoic era. But while scientific and educational groups are welcome, there have been instances of visitors damaging or taking some of the fossils, so the town is currently working on a waterfront master plan for the neighbourhoods of Delphi and Peaks Bay with a view to protecting these natural treasures.
"We're trying to protect the shoreline the way it is today, understanding that there is a huge amount of traffic," says Everitt.
Protecting and making the most of what nature has provided sums up the town's approach to its shoreline. "In everything we've done, we've always identified that the waterfront is our priority, and we've really taken the stance that, we will try to keep them as natural as possible."
Meaford
Whereas in Collingwood and The Blue Mountains the municipality only owns or manages intermittent sections of its waterfront, Meaford controls the lion's share. "We feel very fortunate in Meaford to have the care and control of the majority of our waterfront right from Fred Raper Park through to David Johnson Park," says Rob Armstrong, director of development and environmental services.
As for the town's approach to its shoreline, Armstrong explains, "We want to keep the waterfront for the public. It's mostly about improving what we have, making it prettier and more accessible."
Meaford completed a Waterfront Strategy & Master Plan in 2014, which covers the open space and harbour lands along Bayfield Street, the Old Harbour walls, the Bighead River mouth, the lands east of the harbour, the beaches, and the New Harbour. The planning process included a "visioning" session with local residents.
The plan envisions a $4.6-million Harbour Village concept, which reimagines the Old Harbour as the location of a new waterfront village commercial destination featuring shops, restaurants, inns, studios and art galleries that would foster tourism and economic development. The Harbour Village concept also envisions increased non-motorized boating, along with trails and a boardwalk extending across the Bighead River.
The plan includes this dream of the future: "The Harbour Village attracts local residents and tourists alike with its shops and restaurants along the west wall overlooking the Bighead River mouth that is animated with anglers and water-based activities on kayaks, canoes and small sailboats. Community fairs and events spill over from the Harbour Village to the extended sidewalks on Bayfield Street that are enhanced with street trees, lighting, benches and decorative paving. Nelson Street is animated with ground level commercial activity and is a key pedestrian corridor from the downtown to the waterfront and the pedestrian bridge across the river. The Rotary Harbour Pavilion, with striking views to both harbours and the bay, shines as the gathering place for small and large community events."
However, it is unclear how, when or if the Harbour Village vision will become a reality. In the meantime, the plan ensures that land uses and development in and around Meaford's hidden gem of a harbour will be consistent with waterfront enjoyment. "This is a long-term plan; it's not something that's going to happen overnight," says Armstrong, adding the town would be looking for private investors to complete the project.
While he admits there were "competing interests," with some residents wanting the New Harbour greatly expanded for boating, in the end the town's consultant recommended the Harbour Village concept as a more affordable, viable and sustainable option.
"It was very clear through the visioning session that the residents really view the waterfront and particularly the harbour as being one of our key assets going forward, from a tourism point of view and a recreational/activity point of view. This plan really found a balance between the recreational use and the public use."
Picture this: 10 years from now, you are riding in a boat on Georgian Bay heading from east to west. You take in the view of the hustle and hubbub of Wasaga Beach, with its vibrant throngs basking on the 14-kilometre-long beach and reveling in the adjacent amusements. You glide past Collingwood and appreciate its active lifestyle, its architecture and icons, its refined waterfront replete with nods to history and culture. As you travel farther west past Craigleith, Thornbury and Meaford, the shoreline reverts to its unadorned beauty, with fewer and fewer man-made structures to supplement the immaculate image Mother Nature created. Pleasure craft enter and exit the picturesque harbours as fishermen and families dot the banks.
If all goes according to plan, in the coming decade vast swaths of our coastline could look completely different than they do today and bring thousands more to our shores. One thing is certain: our waterfront will continue to play a vital role in our regional identity for years to come. ❧