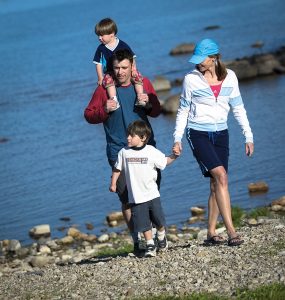 by Janet Lees
In June 2004, almost to the day as I write this, we were getting ready to send the inaugural issue of On The Bay to the printer. After six months of researching story ideas, tracking down local writers and photographers, hiring an art director and salespeople, producing a prototype and launching the idea of this new regional magazine to the community, Publisher Jeff Shearer and I were ready to go "live" with the Summer 2004 issue of On The Bay.
But first, we had to choose the photo that would grace the very first cover of the very first issue of this new magazine we had already grown to love.
We knew the stakes were high: our debut cover had to convey who the magazine was for and what it was about. It had to create a connection with the readers and give them an instant understanding of what to expect. It had to capture readers' interest and make them want to open the magazine, pore through its pages, set it proudly on their coffee tables or pass it along to friends. It had to be perfect, or there might not be a second chance.
We had chosen the name On The Bay as a nod not only to our region's geographic location but to what makes Southern Georgian Bay unique, what ties all of our varied communities together, what forms our collective identity, informs our chosen lifestyle and anchors us to this place. We knew the cover had to reflect that identity by speaking to the idea that we all love being "On The Bay."
With that in mind, we set up a photo shoot on the waterfront in Thornbury with Noelle and Doug Wansbrough and their sons, Tyler and Luke. We chose a young family deliberately, because we knew our area was far more than a "retirement community" – it was an active, four-season lifestyle community that attracted a broad demographic ranging from thirty-somethings and forty-somethings to "junior seniors" and "senior seniors."
The stories we wanted to tell were the stories of these diverse yet connected groups of people: their interests, their cares, their concerns, their activities, their homes, their lifestyles, and their shared future on the shores of Southern Georgian Bay.
Now in our 14th year, looking back at that first cover of On The Bay reminds me that the direction we chose has continued to resonate with our readers and with our community. In our 62 editions to date, we have published stories about issues that affect us all, such as water levels, water taking, gravel pits, wind turbines, healthcare, real estate, economic development, and demographic shifts. We have highlighted our shared love of the outdoors with stories about skiing, snowboarding, snowshoeing, cycling, hiking, paddling, boating, sailing and fishing. We have taken a peek inside beautiful homes and gardens. We have sampled our region's finest food and beverages. We have presented tips and advice from local experts on how to stay well, healthy and active no matter what your age.
With your help and support, we have created the magazine we envisioned in 2004, and the future has never looked brighter for On The Bay or for the community we portray within these pages.
And so, it is fitting that this issue's cover and feature stories take us back to the Bay, where it all began, but with a view to future generations who will make their own memories here. From Wasaga Beach to Meaford and beyond to Owen Sound, our waterfronts are once again in the spotlight as municipalities look to realize their potential to draw more residents, visitors and tourists to our shores. Some of the plans are bold and ambitious; others are more about enhancing and protecting what nature provided.
In some locations, the next five to 10 years could see major changes to our waterfront. And this magazine will be here to tell you those stories and to hold our leaders accountable for ensuring that we all continue to celebrate life On The Bay. ❧