From century home to personal gallery and private garden retreat
by Judy Ross
photography by Derek Trask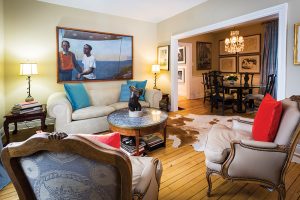 If "home is where the heart is," then this much-loved red brick century house affirms that ancient saying. The house is like a cosy English cottage imbued with affection and surrounded by a lovingly tended garden. The homeowner, a retired magazine publisher, created this stylishly comfortable home and filled it with collections of everything she loves. Her garden, a private green retreat, is brightened in the spring by hundreds of tulips that she replenishes yearly. And inside the two-storey house, the white walls act as a backdrop for her fondest possessions, including a collection of black-and-white fashion photography acquired during her years in the fashion and art magazine business.
"When I left downtown Toronto and moved up here, I was interested in two things: a century home and plenty of wall space to mount my collections," she recalls. "When this little house came on the market I saw it and thought instantly that it was just perfect."
Since taking possession in 2006, she has, however, made some significant changes to her little house. She was lucky to find a builder, Thomas Schneider of Thomas Enterprises in Clarksburg, who had renovated homes in the neighbourhood and liked the challenge of working on old houses. With his help over the years, the homeowner has refurbished the house pretty much from top to bottom.
Schneider admits that renovating a century home is harder than building new. "I've done both," he says, "but with old places you have to expect surprises. When you open up walls it's pretty likely you'll find insulation and wiring issues. Houses in that era weren't built straight either. You almost have to throw away the level and just work to make it look straight. In this house we did a lot of reconfiguring but nothing structural."
When the owner bought the house it already had an addition across the back of the original 1880s building, but it had been poorly conceived so with Schneider's help she reworked it, adding new lighting, flooring and windows. It made sense to gut the kitchen at the same time to make it more functional. Now the rebuilt family room, which is three steps down from the kitchen, is a much-used space with a gas fireplace flanked by built-in bookshelves and French doors that open to the garden deck, while the kitchen redesign includes a central quartz-topped island and classic white cabinetry.
All the walls in the kitchen and family room were painted a soft white to showcase the beloved photography collection.
In the original part of the house the staircase to the second floor rose awkwardly from the living room with steep winding triangular stairs. Schneider drew up a plan to replace the staircase by opening up the dining room ceiling and adding a landing. Now the stairs are safer and more open, with the risers as well as the hallway floors painted white to add a feeling of spaciousness to this new upstairs "gallery" area.
Here, big open shelves display a collection of dancing goddess statues from Bali, and the stairway walls are brightened by some colourful Karel Appel prints and lithographs by Robert Frank. A large Inuit whalebone sculpture occupies the ledge of the landing and on the walls of the hallway leading to the master bedroom is a series of black-and-white family portraits taken by a friend, the late photographer John Reeves.
The homeowner's love of art was nurtured when she was a fine arts student at Queen's University. Her good friend there was Jane Corkin, who would go on to start the most successful gallery for photography in Canada and still runs the Corkin Gallery in the Distillery District in Toronto. "Jane introduced me to photography, and then I became hooked. When I was working in magazines I used my bonus every year to buy a photograph. I ended up with a collection that includes many of the famous photographers of that time, from Irving Penn, to Andre Kertesz to Robert Mapplethorpe and Francesco Scavullo. I love them all … they're really like my family!"
For such avid collectors there is never enough wall space. Much of the framed art is stacked on the floors of the spare bedrooms with no place to hang them, yet she can't help buying more. "I felt I should include some local artists in my collection, so I have a Jennifer Woodburn and a Sue Tupy, and I recently bought two Ryan Allen Sobkovich paintings," she enthuses, adding with the enthusiasm of a dedicated collector, "He's a young artist from Wasaga Beach who I've been following for a few years. I'm a big fan."
The second storey of the house has three bedrooms and two bathrooms (one doubling as a laundry room). Both bathrooms were renovated and upgraded, with the main bath enlarged by stealing some space from the closet in the adjacent master bedroom. Now with its claw foot tub, glass shower, white cabinetry and hardware from Restoration Hardware, it has the classic style that fits perfectly with a century old house. And it's flooded with light thanks to an overhead skylight.
Getting enough light is often an issue with older houses, especially those surrounded by ancient shade trees as this one is. To get more light and space in her master bedroom, the homeowner chose to enclose an outside balcony. She needed to replace the lost closet space from the bathroom renovation so the former balcony was turned into an alcove with walk-in closets on either side. The French doors that once led to the balcony were retained and now allow plenty of southern light into the bedroom as well as offering a lovely view of the garden below.
The garden faces south but is totally shaded by 15 black ash trees. The former owner was a master gardener who had laboured over the shady quarter-acre space for years. While many people would love to buy a house with an established, well-laid-out garden filled with spring bulbs and masses of perennial plantings, the current owner felt intimidated – but not for long. "I didn't know anything about gardening," she confides, "but now I'm passionate about it. I just work away at it, learning as I go and making it my own. It has provided great enjoyment."
Over the years she has added hostas of many varieties and planted clematis to grow up a weathered cedar arbour. Clumps of echinacea add splashes of colour to the mainly green garden in summer, but it's in the spring that the garden is at its showy best with lilacs in bloom and masses of tulips filling the perennial borders. "I plant hundreds of tulips every autumn, and have started to be interested in some of the newer exotic varieties."
For a committed collector whose walls are now filled with her treasured photography and tabletops laden with art books, a garden offers fresh new possibilities. In a garden there is always something new to buy, try out and fall in love with. Much like a home. ❧
Source Guide
Photography Stylist
Jody Latimer
Designer/Builder
Thomas Enterprises, Clarksburg
Kitchen Designer
Barbara Thorne, Gathering Place Kitchens and Design, Wasaga Beach
Kitchen Cabinets
Corinthian Kitchen and Bath, Thornbury
Appliances
Macdonald's Furniture & Appliances, Meaford
Blinds & Drapery
(including raw silk curtains in living room and dining room)
Ashton's Blinds, Draperies, Shutters, Thornbury
Bathroom Vanity, Mirror, Lights & Hardware
Restoration Hardware
Claw Foot Tub
Georgian Design Centre, Collingwood
Exterior Coach Lamps
Lowe's, Barrie
Local Artwork
Butter Gallery, Collingwood and Curio Gallery, Clarksburg