The Art Farm is local artist Gord Kemp's latest canvas
by Emily Worts
photography by Kristie & Brenden Woods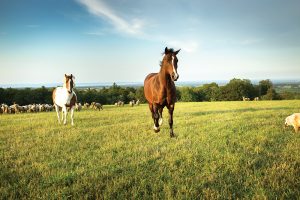 Gord Kemp and I sit chatting about all things farming, not on his back deck with its commanding view over his 170-acre farm with sheep grazing in the pasture, an artistically inspired chicken coop off to the left and ancient orchards to the south, but on the warm granite rocks, in the heat of summer, on the eastern shore of Georgian Bay. Kemp is far away from his Duntroon property with its impressive vegetable gardens, chickens, geese, horses, dogs, sheep and a llama. He is "on hiatus."
This is just one of the reasons Kemp is unlike any farmer I have ever met. Most farmers I know are thick with sweat mid-summer and can't escape the farm gate. But here Kemp sits, by the water's edge, relaxing far away from his flock because he raises his sheep beyond free range; he raises them wild.
"Other than the birthing process, they are pretty much on their own," says Kemp. "They are wild animals, essentially."
Kemp does rely on his mother, Barb Kemp, who lives next door, to open and close the gates while he is away, but if they wanted to, the sheep could do it on their own, he jokes.
"What I love about pasture farming is the simplicity," says Kemp. "I don't have to get locked into feeding seven days a week, 365 days a year." The reason farmers shy away from pasture farming is predators, says Kemp, who uses horses and llamas to keep coyotes away from his animals. Rio the llama is always nearby, and his sole purpose on the farm is that of guardian. "He stays with the flock out in the pasture and at night I see him sitting perched at a vantage point of observation," says Kemp.
Rio is over 20 years old and has seen Kemp transform from artist to farmer while being the subject of many of Kemp's paintings.
Kemp spent 20 successful years as a working artist, travelling around the world, observing and recording the interplay of humans with their environment. His work is found in Canadian and international collections.
"It is part of history," says Kemp of his career as a full-time artist. "It is part of a life I lived. I fully loved it and learned a lot from it. It was an education."
Kemp's father, artist Robert Kemp, also found inspiration on the Duntroon farm. In fact, the farmhouse Kemp shares today with his wife, Teza Lawrence, and his two children, Roz, 11 and Lilah, 15 (his son, Orion, is away at university) is the same house he moved to with his family in 1979, when he was 10.
"My father was very inspired by the rural landscape. He was an observer." For his part, Kemp has taken his own curiosity and fascination beyond observation, and through farming has dug deeper into his subject matter.
He gave the farm a new name at the beginning of the millennium, christening it the Art Farm when he realized his interests in art and farming were beginning to merge into one.
"My early paintings of sheep were like a screenshot," says Kemp, who wanted more out of his work. "I wanted to learn the process by doing. I look back now and understand so much more about the nature of animals, from
birth to death."
Kemp's sculptures and his artistry dot the landscape of the farm and he keeps sketchbooks full of inspirations, but today he incorporates art more into the natural environment than on canvas.
"I love the process of farming," says Kemp. "It's a flow, an energy. It's a beautiful process and with farming, you can eat and enjoy and survive off it right there, rather than take it to a gallery and wait."
He creates systems of companion plants with peas climbing up sunflowers and dill detracting cucumber beetles while the vines of the cucumber snake around its stalk.
"I consciously think of how it's going to look," Kemp says of his plantings. "I am still thinking artistically but I don't have the time to go the gallery route right now."
Kemp doesn't consider himself a full-time farmer, as his plate is loaded with several other commitments. He is, however, a full-time dad (his wife, who is a screen producer and co-owner of Amaze Film and TV, is often away on assignment) as well as a volunteer soccer and basketball coach. He also serves as chair of Duntroon Hall and sits on the board of the Great Northern Exhibition (GNE).
And despite Kemp's laissez-faire attitude, the farm itself is still a lot of work. In November, the ram, named JB after Justin Bieber, is let out and within three weeks he will breed all of the ewes. This means that come late April/May, in the span of two short weeks, all the birthing happens and Kemp is thrown fully into his role. During the lambing season, he witnesses and assists two to four births a day.
"He's basically a walking midwife in a giant maternity ward with his gloves hanging out of his back pocket and his towel slung over his shoulder," says Teza Lawrence with a smile. "It's the sweetest thing. He loves those lambs."
Art Farm lambs graze through the seasons, in spring eating weeds from the garden, in summer munching on wheelbarrows full of Swiss chard or lettuce, and in autumn getting their fill of fallen apples from the wild apple trees, the heritage orchard and the new orchard Kemp planted 25 years ago.
"They are pasture fed and supplemented with whatever other goodness is available," explains Kemp.
You can taste this in the sweetness of the meat, which is less gamey than conventionally raised lamb. Even the fat on Art Farm lamb is delicious. But it's not only what the lambs eat; it's how they live and move.
"I watch my animals run; they're athletic, they're going up and down hills, says Kemp. "You're eating muscle mass and the fat is lean fat because they're active. They're dynamic and mobile."
For Kemp, lamb adds a commercial element to his farm – 50 per cent is sold directly to consumers; 15 per cent is sold through Dragonfly Farm Store in Chatsworth, an online distribution shop for ethically raised products; most of his shanks go to Chef Patrick's Gourmet Foods out of Collingwood; and the rest goes to auction in Cookstown. But in addition to their commercial value, the sheep offer Kemp another way to connect to the environment around him.
"What I love about farming is the variety of activities that you are involved in and responsible for; from midwife to mechanic, it's the constant interaction with nature and developing a flexibility to go along for the ride."
The relationship between farmer and landscape, plants and animals may be more artistic than most realize. Food and art help define our culture, yet the relationship between art and what we eat is often lost in a world of food efficiency and commercialization. On the Art Farm, sustenance and art are intertwined in a bucolic scene of nourishment, simplicity, livelihood and ritual. This is human nature in its most basic form, brought back to life in a time of renewed enlightenment when what we eat and where it's from are as priceless as a work of art. ❧
Art Farm lamb is available at:
• The Art Farm – Place your order by emailing theartfarmca@yahoo.ca to arrange pick up or delivery.
• Dragonfly Farm Store – Website: dragonflyfarmstore.ca, Email info@dragonflyfarmstore.ca or call: 519-794-0471.
• Chef Patrick's Gourmet Foods – You can also try Art Farm lamb already prepared in some of Chef Patrick's frozen take-home meals.
Website: www.chefpatrick.ca or call: 705-444-2433.