Caring for our four-legged friends
stories by Marc Huminilowycz
photography by Doug Burlock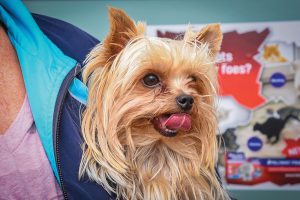 Canines, felines, equines – there is no question that we in Southern Georgian Bay love our animals. Pet spas, groomers and boarding facilities abound. A walk through our downtowns, where many retailers offer a bowl of fresh water outside the door and a promise of pet treats inside, or a drive in the countryside with beautiful horses grazing in pristine pastures next to immaculate stables, reveal the extent to which we embrace our four-legged friends.
In return for their unconditional love and loyalty, our pets rely on us completely for affection, nourishment, regular exercise and, when required, proper medical care. Fortunately for animal-lovers, our region is abundant with highly skilled and caring veterinary professionals, many with their own unique specialties and techniques, and most willing to collaborate in sharing their wisdom with each other to provide the best possible care for our pets.
On The Bay spoke to several prominent veterinarians and other animal healthcare practitioners throughout the area to find out which health issues they most commonly experience with dogs, cats and horses, and to learn about the latest in diagnostic, treatment and surgical procedures for treating these problems.
Topping the list of the most common animal health problems reported were diseases of the skin, primarily in dogs, mostly due to a high incidence of environmental allergens and parasites this past year, but fortunately no longer an issue with the arrival of winter. Also on the list were lameness and mobility issues in dogs and horses, dental disease in dogs and cats, and kidney disease in cats.
Fortunately, our local animal healthcare community is well equipped to diagnose and treat these and other conditions, offering the latest in training, diagnostic tools, special skills and surgical techniques, including orthopedic surgery, ultrasound/endoscopy, acupuncture, preventive dental care, chiropractic and spinal manipulation, minimally-invasive (laparoscopic) surgery and complementary holistic therapies. We have access to top-notch care combined with a healthy dose of compassion, for our beloved pets.
Skin Problems
As the owner of a dog who has been scratching on and off since last spring, I was not surprised that skin issues – and the accompanying itching, scratching and paw licking – are number one on the list of house pet complaints named by the vets we interviewed. Dr. Ardis Ardiel of Ardiel Animal Hospital in Meaford and Balsam Veterinary Hospital in Collingwood, says in her 34 years' experience treating small animals in the region, she has never seen such a proliferation of skin problems, especially among dogs.
"We have seen a dramatic increase in ticks in the past two years," says Ardiel. "Lyme ticks are here. Virtually every tick that we have removed from dogs carries Lyme disease." She attributes the increase in ticks to our changing climate, with warmer days, more precipitation and a longer growing season.
"Detecting ticks is tricky because pets don't experience itching after a bite as they do with fleas," she says, advising that prevention is the best cure. "Dog owners should always check their animals for ticks after walking among vegetation, and give them products available from their veterinary clinic that kill the insects."
Dr. Kelly Volmers of River Road Animal Hospital in Wasaga Beach concurs with Ardiel about the dramatic rise in ticks in Ontario in recent years, and the importance of tick prevention. "Five or six years ago, we didn't experience any cases of lyme disease," she says. "Last year, we saw 19, about half of them in 'house dogs.' This year, we've already had 11 cases. Our temperatures are getting warmer. The lyme-carrying ticks we have now originated in New England and crossed over here from Eastern Ontario."
In addition to ticks and fleas, which are preventable with medication, Ardiel attributes excessive itching and paw licking to environmental allergens, which she believes are also on the rise in our region. "We see less skin disease in cats because they live more indoors," she explains. "Dogs have very sensitive skin with leaky junctions in their skin cells. Simply brushing against vegetation can create an allergic reaction."
To prevent skin allergies, Ardiel recommends rinsing a dog's paws with fresh water after every walk in fields or in the woods. If itching still occurs, treatments include soothing shampoos that wash away allergens and fortify the skin, steroid medications that stop itching, and a relatively new drug, Apoquel, which also stops itching by inhibiting an enzyme that sets off a cascade of reactions caused by allergies. "It's not cheap, but it really works," she says.
Skin diseases are also high on the list in canine and feline patients at Mountain Vista Veterinary Hospital in Collingwood. "We see at least one case a day here, often accompanied by ear infections," says clinic owner Dr. Jacqueline Pankatz. "Most often, the skin problems are due to allergies to plants or foods. For patients with a chronic allergy condition, identifying the cause is like finding a needle in a haystack in order to eliminate the allergen."
Mountain Vista is equipped and staffed to diagnose and treat allergies and other animal conditions, and also has a veterinarian on staff who specializes in complementary therapies for various conditions, including skin diseases caused by allergies. Utilizing a holistic approach to small animal care, Dr. Michelle Kinoshita is trained in a number of disciplines: acupuncture, veterinary spinal manipulation, herbal and Chinese medicine (see sidebar: "A Holistic Approach").
Mobility Issues
According to most of the veterinarians we interviewed, orthopedic problems resulting in lameness and sore limbs are common among dogs in the region. "We see a fair amount of dysplasia here, which tends to be hereditary," says Ardiel.
Canine hip dysplasia is an abnormal formation of the hip socket that can eventually cause crippling lameness and painful arthritis in the joints. It is genetic and fairly common in many dog breeds, particularly the larger breeds. "Reputable breeders are trying to eliminate the disease, but they're doing a much better job in Europe, where dogs must be tested for the disease before breeding."
Her first recommendation for alleviating this and other joint conditions is weight loss. "Two-thirds of the pets we see are overweight," she says. "The feeding guide for most commercial pet food is based on a one-year-old un-neutered male animal. It's too much food for older pets."
Dr. Pankatz of Mountain Vista agrees that weight loss is the first step in treating lameness and mobility issues, combined with acupuncture and laser treatments. She adds Omega-3 fatty acid supplements can also help; they have proven anti-inflammatory properties in addition to other physiological benefits.
If weight loss and other therapies are unsuccessful, or if the problem has progressed to the point where the dog is in great pain or experiencing pronounced lameness, surgery may be required. Dr. Justin Levy, a veterinary orthopedic surgeon and one of three partners in the Thornbury Veterinary Hospital, says the most prevalent joint issue he sees among dogs is Cranial Crucial Ligament (CCL) Disease. This condition, caused by a tearing of the CCL, which connects the thigh bone to the shin bone, is the most common cause of lameness in the rear legs and a major cause of degenerative joint disease.
"Many studies have been done to determine the cause of the disease, including conformation and the immune system, but to date, none have been conclusive," says Dr. Levy. Among the treatments available for CCL disease is a surgical procedure called tibial plateau levelling osteotomy (TPLO) has the highest success rate. "Essentially, we cut the bone to change the angle of the knee instead of replacing the ligaments," he explains, adding, "We do these operations almost every day. I think it's a condition that has always been prevalent, but was historically diagnosed as arthritis."
About a year ago, Southern Georgian Bay resident Chad Warren noticed that his four year-old German Shepherd/Great Dane cross Murphy began limping for a day or two after long walks. Then, following a boisterous play session with other dogs, Murphy "buckled down," unable to support himself on his hind legs. A visit to Dr. Levy confirmed that Warren's dog had cruciate ligament disease. Following TPLO surgery and a three-month recovery period, Murphy stopped limping.
More recently, after noticing a limp in the dog's other knee, Warren and Dr. Levy decided that the same surgical procedure on this knee was necessary (dogs are more prone to CCL tears if they've had a previous CCL injury on the opposite leg). At the time of this writing, Murphy is recovering from his latest surgery. "The results have been fantastic – a permanent solution to Murphy's knee issues," says Warren, adding, "I wouldn't trust anyone else to do this procedure."
In addition to CCL disease, Dr. Levy reports hip dysplasia and traumatic injuries as other common ailments in dogs. "Hip dysplasia is most common and hereditary in certain breeds like Labrador retrievers, golden retrievers, German shepherds and collies," he says. "We first try a conservative, non-surgical approach to treating the disease, which includes losing weight, exercise modification (short, frequent walks), joint supplements like Omega-3 fatty acids, and non-steroidal anti-inflammatory (NSAID) medication such as Metacam to alleviate pain, stiffness and inflammation."
If conservative management does not improve the dog's lameness, surgical techniques such as repositioning the socket in the ball and socket joint, removing the ball entirely from the joint, or performing total hip replacement surgery can improve limb function and alleviate or resolve the pain associated with hip dysplasia, he adds.
Arthritis usually occurs when an animal experiences joint disease or injury, says Levy. "Joints like knees and hips seem to be more tolerant to arthritis; elbows less so," he explains. "New treatments are currently being developed to treat arthritis and other orthopedic conditions, such as regenerative medicine including stem cell and platelet-rich plasma (PRP) therapies. These treatments are quickly gaining momentum. Time will tell."
Equine Chiropractic
With our active lifestyles, many of us in Southern Georgian Bay have come to rely on chiropractic care to relieve pain and improve our own mobility. Fortunately for our pets, there are also a few practitioners in our region who are certified in animal chiropractic and veterinary spinal manipulation.
To put it simply, chiropractic or spinal manipulation procedures are all about restoring normal structure and movement in the spine by causing muscles to relax and work properly, thereby optimizing nerve function for better movement.
Dr. Taron Carruthers started out as a human chiropractor, but re-focused her practice on equine chiropractic when an aging horse that she grew up with showed a remarkable improvement in mobility, without the use of drugs, following spinal manipulation procedures.
Originally from Collingwood but now headquartered in Muskoka, Carruthers regularly travels to Southern Georgian Bay to treat equine clients in the region. "Horses are not designed like human beings; we breed and raise them to run and jump," she explains.
"Typically, my clients come to me when they notice their animals head-shy, lacking in performance with changes in behaviour."
Humans and small animals can lie on a table for a chiropractic treatment, but how do you treat a 500-kg horse? "I'm not a big girl – just five-foot-two," laughs Carruthers. "With horses, adjustments usually involve uni-directional 'torquing': standing up high on blocks or bails of hay, I start at the hind and work my way to front, checking each section of the animal's spine for areas that are not moving well. When I find blocked areas with tight muscles that are tender and painful, I apply a high-velocity amplitude thrust to correct the problem and restore proper movement."
West of Collingwood, in The Blue Mountains and Meaford area, veterinarian and certified veterinary spinal manipulation specialist Dr. Mark Gallagher has been successfully treating ailing and lame horses for many years. Providing a mobile service up until now, he recently partnered with Georgian Bay Equine Veterinary Services, which will be opening a new facility in the region in January.
According to Dr. Gallagher, the aim of spinal manipulation is to restore normal motion in the spine, thereby optimizing the function of the nervous system. "Information comes through the body along the spine to the brain, telling the brain where the body is at any given time," he explains. "Close your eyes and touch your nose with your index finger. It's amazing because you can do it without thinking. Your brain knows exactly where parts of your body are in space." Gallagher describes the purposes of his equine treatments as three-fold: performance, injury rehabilitation and general wellbeing. "With running, jumping and other motions, a horse's brain has to know at all times what the body is doing," he says. "My goal is to keep those connections going in order to prevent injury."
Whether it is a traumatic injury in a younger horse or joint degeneration due to arthritic changes in an older animal, Dr. Gallagher uses spinal manipulation to restore function and speed up healing. "There are 12 connections between each vertebra," he explains. "My goal is to increase range of motion between the vertebrae in order to optimize nerve function and restore movement," he says.
To treat injury and degeneration, Dr. Gallagher also employs other techniques such as acupuncture to "remove blockage" as well as prolotherapy, a procedure where a mild irritant (usually dextrose) is injected to purposefully cause a small amount of inflammation, thereby strengthening connective tissue to speed healing between the vertebrae.
Gallagher is also trained in "postural rehabilitation," a discipline that implements chiropractic, osteopathy, muscle balancing and postural exercises to "re-integrate the nervous system to the body." As an example of one technique, a horse is coerced into hopping on three legs for a short period. "A horse's brain doesn't want its body to fall," he explains. "This therapy helps the animal revert to its normal 'factory setting' posture."
Dental Disease
According to Dr. Volmers of River Road Animal Hospital, dental disease is a growing issue among both dogs and cats. "In addition to chronic pain, mouth infections can lead to a host of complications including heart and kidney disease," she says. "We see dachshunds and schnauzers with gum recession, purebred cats with resorptive lesions caused by cavities in the root of the tooth, and other dental problems."
She says the prevention and treatment options for dental issues include both home care – special dental foods, safe dental treats and regular brushing – and veterinary care: proper dental examinations, professional scaling and polishing, x-rays, and in some cases, the removal of certain teeth, which usually results in happier pets with more energy.
In recent years, dental care has become something of a specialty of Dr. Ardiel. "Our pets have occupied a special place in our lives," she says. "The veterinary profession is continually evolving to help improve their quality of life, including proper dental care."
Ardiel says all small breed dogs will develop periodontitis (gum disease) at some stage in their lives. "Small dogs have the same number of teeth as large dogs, but in a smaller, more crowded space with less gum tissue," she explains. Her prevention regimen for small dogs involves the removal of retained baby teeth and any crowded teeth in the mouth, accompanied by regular cleaning and dental examinations after three to five years of age to obtain x-rays, remove plaque, polish and treat with fluoride.
"As small dogs age, periodontitis becomes worse, requiring the possible extraction of other teeth," she says, noting that some larger dog breeds can also experience dental disease. For all breeds, she recommends regular tooth brushing (starting from puppyhood), and advises avoiding hard chew toys such as antlers, which can break teeth and butcher bones, which can break and cause obstructions. "If you can't bend it, don't give it," she says, adding, "Our ultimate goal is a pain-free mouth."
Cats can develop dental diseases as well. After Collingwood resident Tracy Spooner adopted a cat named Mabel from a local shelter, she soon noticed a foul breath smell. She took Mabel to see Dr. Ardiel, who diagnosed the problem as stomatitis, a severe allergic reaction to plaque on the teeth.
"Dr. Ardiel was able to save six or seven of Mabel's teeth, but the rest needed to be extracted," says Spooner. "She was kept at the clinic for two nights to make sure she was eating. With medication for her pain, Mabel bounced right back quickly. She's now eating mostly soft food, but is also able to chew dry. Mabel is such a lovely cat. I'm so happy that she is more comfortable and pain-free after the procedure."
Feline Kidney Disease
Another common issue local veterinarians often see is kidney disease in cats. Healthy kidneys perform many important functions, most notably filtering the blood and making urine, so problems with kidney function can result in a variety of health problems for a cat. Among the many different kidney diseases that may affect cats, Chronic Kidney Disease (CKD) – the persistent loss of kidney function over time – is the most common.
Cats with CKD may experience a buildup of waste products and other compounds in the bloodstream that are normally removed or regulated by the kidneys, making them feel ill, lose weight and appear lethargic and unkempt. They may also urinate more and drink more water. Another potential consequence is feline hyptertension (high blood pressure), which can affect the function of a number of important systems, including the eyes, brain and heart. "Traditionally, infections in this area were difficult to diagnose in their early stages because there are no obvious symptoms," notes Dr. Volmers. Thanks to a combination of diagnostic techniques including blood work, urinalysis and ultrasound, these diseases can be easily managed.
Therapeutic diets that are restricted in protein, phosphorus and sodium content and high in water-soluble vitamins, fibre and antioxidants may prolong and improve the quality of life in cats with CKD. Administration of fluids, either intravenously or subcutaneously, can also help in some cases.
Volmers uses a combination of special diet and supplements to control the levels of phosphorus and potassium in the body to reduce stress on the kidneys, as well as probiotics to remove nitrogen, which can make cats feel sick. Dr. Ardiel's approach is similar, designed to preserve remaining kidney function by feeding a wet diet, low in phosphorus, that contains a specific quality of protein.
Whereas CKD develops over months or years, acute renal failure develops suddenly, over a matter of days or weeks, often as a result of poisons, trauma, infection or blockages. If diagnosed it time, the acute form can often be reversed. CKD, on the other hand, is not curable, but can be managed. Either way, if you notice that your cat is drinking a lot of water, urinating frequently, losing weight, vomiting or lethargic, it's best to get to the vet as soon as possible.
Despite the best care we can provide for our pets, it is almost inevitable that at some point in their lives, dogs and even cats will swallow a non-food item that is just too good to resist. Some pets, especially young ones, have a tendency to eat whatever they come across, whether or not it's food. From poisonous plants to coins, toys and even kitchen sponges, if your pet ingests something it shouldn't, a visit to the vet is often warranted, and veterinary clinics in our region are equipped with various diagnostic devices and techniques to locate and remedy the problem.
"Our endoscope uses high-definition cameras to look inside parts of the body," says Dr. Pankatz, a Certified Veterinary Sonographer who performs ultrasound and endoscopy testing in her clinic and in other veterinary hospitals in the region to scan the bodies of dogs and cats for disease, injury or obstructions. "If a dog swallows a ball, for example, we can detect its location and use an instrument to easily extract it without the need for surgery," she says.
Mountain Vista also offers minimally invasive laparoscopic surgery, which provides a more precise, safer and less painful alternative to traditional surgery, with faster recovery times. Using small incisions, cameras and special instruments, the technique can be used for many procedures, including spaying and biopsies.
Mishaps aside, a healthy diet, regular exercise and regular veterinary checkups can go a long way to keeping our four-legged friends healthy, happy and pain-free. But when our pets are suffering, it's nice to know that we have top-notch veterinary care close by offering the latest in diagnostics, specialized dental care, cutting-edge orthopedic and laparoscopic surgery, and complementary heathcare options for our pets. Best of all, each of these professionals is happy to work with others toward the ultimate goal – the welfare of the animals. In the words of veterinarian Jacquline Pankatz, "We share information and work as a team. Instead of being competitive, we're collaborative." ❧
A Holistic Approach
Treating the "whole animal" using complementary medicine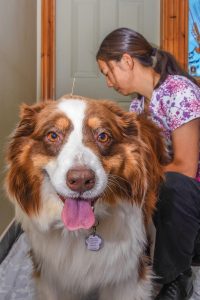 Last summer, like so many dogs in our region, my own dog, Coco – a gentle and friendly eight-year-old Australian Shepherd – began scratching her skin and relentlessly chewing and licking her paws. This was a repeat from the previous fall, with the same symptoms.
At that time, we visited our local veterinarian, who identified the condition as a seasonal allergy, prescribing a medication containing a steroid and an antihistamine. Over a week later, Coco's symptoms subsided and disappeared. "Mission accomplished," I thought, but over time the scratching, licking and chewing returned with a vengeance.
Back to the veterinarian, who prescribed a relatively new medicine, Apoquel, with the promise of alleviating the allergy symptoms "within days." The medication worked as promised, but it was costly, and once winter arrived and seasonal allergens were no longer an issue, my wife and I decided that further treatments would not be necessary.
Coco's allergy symptoms resurfaced the following spring and gradually escalated to bacterial skin infections over her body by late summer. She was given an antibiotic, to which she had a bad reaction and vomited. We then decided to try a different, hopefully more permanent, approach to fix not only her skin problem but also the digestive issues that she had been experiencing for many years, as well as some deterioration in her mobility.
We made an appointment with Dr. Michelle Kinoshita, a veterinarian practicing at Mountain Vista Veterinary Hospital in Collingwood who offers, in addition to conventional veterinary medicine, a holistic approach to animal care using a variety of complementary therapies including acupuncture, spinal manipulation and herbal and Chinese medicine.
Rather than focusing on a single symptom, Dr. Kinoshita's approach looks at the patient as a whole to treat a variety of ailments while at the same time educating pet owners on what they themselves can do to optimize the health of their pet.
Following a thorough holistic examination and consultation, discussing Coco's diet and recent veterinary history, Dr. Kinoshita suggested several key treatments for Coco's issues: spinal manipulation for stiffness and pain in her back, knees and back legs, accompanied by exercises to strengthen her core and ease her joints; a combination of western and Chinese acupuncture techniques to treat her mobility and pain issues; two different Chinese medicine formulations – one to treat Coco's skin problem and one for her digestive issues, with a change in the protein in her diet to complement with the latter.
Without going into too much detail, Chinese medicine is an ancient art that observes the patient using the five senses and provides a diagnosis of conditions based on metaphors from nature. In Coco's case, Dr. Kinoshita observed several things: she is slightly overweight; her skin is crusty with an odour; her fur is thinned in her mid and lower back; she has watery discharge from her eyes; her hind end is stiff; and her skin is moist under her coat.
Based on these observations, Dr. Kinoshita diagnosed Dampness, Heat, Wind and an underlying Cold in her digestive tract. One Chinese medicine formulation, with Dampness, Heat and Wind properties, was prescribed to address her skin condition. Another, addressing her Cold digestive issue was recommended, along with a change from her "Cold" turkey-based recipe to another digestive warming protein such as chicken or rabbit.
This may all sound a bit "out there," but at the time of this writing, Coco's skin has almost completely cleared up and her fur is growing back in, although she still occasionally scratches her body and licks her paws. Her mobility is slowly getting better and she is scheduled for another spinal manipulation and acupuncture treatment soon. As to her digestion, she still has some issues, which will have to be addressed and the treatment fine-tuned during her next visit. ❧