What's new in outdoor design
by Judy Ross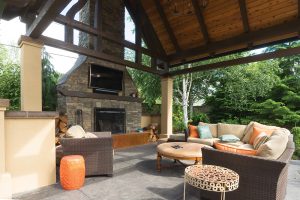 In any landscape design, whether it's a modest backyard or a large country estate, there are three main components. First comes the hard-constructed landscape, which includes patios and pathways. Then there's the soft landscape: the lawns, trees and gardens. The finishing touch is the decorative accessories, which can include things like water features and fire-pits.
The first and most important of these components is the hardscape installation of paths and patios. These will be permanent and form the backbone of your garden design.
Patios are typically set close to the house and become an extension of the indoor living space. They are made with stone, brick or concrete flooring (as opposed to a deck, which is made of wood or wood-like material and usually raised off the ground). One advantage of a patio versus a wooden deck is durability. "Almost any deck requires some maintenance," says Brian Stewart of All-Stone Landscaping in Collingwood, who has been building patios for 27 years, "and after about 10 years most decks need replacing. But a stone patio, if installed correctly, is good for life."
When choosing a design for your patio, much will depend on the amount of space available. You need to consider privacy and exposure. If your patio faces south, you will probably want a roofed pergola or awning as protection from the sun. Do you need room for a barbecue grill or do you plan to install more elaborate outdoor kitchen equipment? Perhaps you just want an intimate space with a bistro table for two and a lattice fence or cedar hedge for privacy. The patios in basic subdivision houses are typically just paved slabs outside a sliding door, but, with a little ingenuity, even these can be converted into something more interesting, private and usable.
Following are some ideas on how to get the most from your patio, turning it into an outdoor living space that will provide backyard enjoyment for years to come.
REFURBISH AN OLD PATIO
One method for updating a plain old patio is to put down a decorative concrete coating. Kevin Thompson is the owner/operator of Concrete FX in Meaford, a company that specializes is this innovative process. "I've been doing this for 14 years," offers Thompson, who came here from Calgary three years ago, "and the product has been around longer than that in the United States but it's fairly new to this area."
The product is a Portland-based concrete blend of plastics and polymers that can be applied in a thin (1/8-inch) layer on top of existing concrete. The biggest advantage is that the old concrete doesn't have to be removed. Removing concrete and replacing it is a huge, messy job that disturbs the landscape, requires large machinery, and involves drilling and hauling chunks of concrete to a dump site.
As Thompson explains, "Ninety-nine per cent of my business is old concrete installations, like patios and pool decks, that need freshening." The process involves cleaning the existing concrete, levelling it out, filling in any cracks and applying a bonding coat. The final coat is where the creativity comes in, as there are a wide range of designs and colours to choose from. A border trim can be put around the edge of a rectangular or square patio and combined with a crisscross tile pattern. The colour of the concrete can complement the exterior of your home or blend with the interior for an indoor/outdoor flow. Possibilities abound.
If you're starting anew to build a patio on a fresh plot of land, the most important step is to put in a good, solid base that is thick enough to prevent any heaving and shifting in the future. "One mistake that we see all the time in patio construction is not removing all of the topsoil," warns Brian Stewart. "When topsoil is left it will retain moisture and cause shifting." A solid base for a stone patio is also important if you plan to add uprights for a pergola, gazebo or screened porch. Shifting foundations will create even more havoc when there's a structure built on top of the patio.
PATIO PLACEMENT
Patios don't have to be placed next to your house. One landscape designer suggests putting a stone patio at the back of the garden, especially if you have a private area that is screened from the house. Create a sinewy pathway of pea gravel and stone that will lead to a forgotten corner of your backyard. Put up an arbour for shade, surround it with clipped evergreens or lush plants like hydrangeas, add comfortable seating and your patio will seem like a hidden getaway.
Another great location for a patio is at the bottom of the stairs that lead from a deck to the garden. A raised wooden deck off the back of a house can feel too exposed, but a patio at ground level is more secluded and will give the feeling of being immersed in the garden. To soften it and make it more like a European courtyard, surround it with raised beds filled with small shrubs and grasses.
Outdoor sheds can become part of a patio and help to add structure to your garden. By placing a patio next to a shed, you can use one wall as a backdrop. Add a mirror, artwork or a trellis on the wall to create interest and a sense of enclosure. If the shed wall has a window you'll get the benefit of night light on your patio.
PATIO MATERIALS
Natural stone is the most expensive patio material, but also the most popular in our area. Large slabs of flagstone cut to fit like a jigsaw puzzle give a relaxed look especially suitable for country properties. When planted with thyme between the gaps, it will also smell wonderful. Square-cut flagstone is more formal looking and also more level – a consideration if you're putting a table and chairs on the patio.
Interlocking brick or stone is another option, which has improved vastly since it first came to market. Now it comes in multiple sizes, shapes and colours and can even replicate the look of traditional cobblestone.
"The best new thing in patio construction is polymeric sand," says Brian Stewart of All-Stone Landscaping, who is amazed at what this product can do. It's a mix of graded sand and binder that can fill the joints between pavers, slabs and natural stone. Unlike conventional sand, it stays in place and prevents weeds from coming through.
"When it rains it softens up," says Stewart, " but then it resets and gets firm again when dry. It's unreal!"
CREATE SHADE WITH PERGOLAS & GAZEBOS
New and innovative products continue to give us better and more interesting options for our outdoor spaces. Pergolas are formed by two rows of upright pillars with horizontal beams or joists creating the roof. They're popular because they're easy to install on a patio, they add architectural interest, and they can provide a base for growing colourful climbing vines.
On sunny days they provide lovely dappled shade, and if more shade is required, a permanent roof can be added. A full roof also allows you the pleasure of sitting outside on your patio during a soft summer rainfall.
Gazebos, usually octagonal in shape with a conical roof, also provide privacy, a refuge from rain and sun, and a fanciful element to an outdoor patio. Canvas pull-down shades can be installed on the sides as protection from the setting sun.
You can purchase ready-made pergolas, gazebos and other garden structures at landscape depots and garden centres like Maxwell Garden Center in Maxwell. Owner Ezra Martin says they also build custom shelters.
"One of the most popular structures right now are screened sheds," says Martin. "We put these on patios, set them up against a wall of the house and then add three screened sides. They provide shade and keep bugs away. Instead of using cedar, which is expensive, we build them from the same good-quality pine that we use in our barns so they aren't too costly."
Spring is a time when we traditionally start planning great things for our gardens. If a patio is in your dreams, you can start now to track the path of the sun and figure out just where to lay down a patio, what style and materials to use, and how and where to add a structure that will give you a shady oasis on those hot summer days to come. ❧