The latest new business openings as well as business transformations including new owners, moves and major renovations. More great reasons to shop local!
Butter
Andrea Rinaldo and Suzanne Steeves, both artists who have owned successful galleries and shops, share a passion for beautiful things. Their new venture in Collingwood, Butter, showcases an eclectic mix of art and gifts featuring the works of both well-known and emerging artists and artisans.
"We are pleased to be a part of Collingwood's art scene," says Steeves. "At Butter, we feature paintings, woodwork, sculpture, pottery, hand-blown glass and metal work, as well as fine art – everything from landscapes to contemporary pieces, in all mediums. We also carry a wide selection of jewelry with an emphasis on precious metals and gemstones."
"Our business motto is simple: Everything's better with Butter," adds Rinaldo. "We delight in finding unusual pieces, creating a carefully curated space that gives artists and artisans a place to showcase their work. We are constantly looking for new pieces and doing things to update the shop – like our unique installation, 'Wall of Smalls', which is designed to showcase affordable art by both well-known and emerging artists." Butter arranges commissions and offers a gift registry and gift certificates. Customers are welcome to take art on loan to try in their home or office.
151 Hurontario Street, Collingwood
Tel: 705-888-1499
Hours: Monday to Saturday 10-5, Sunday 11-4
Culford Family Hearing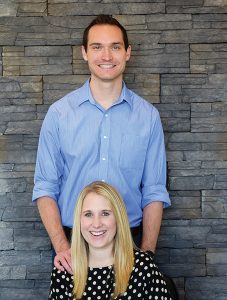 After six years working in a private setting outside of the region, clinical audiologist Curt Culford recently returned to Collingwood with his family and opened his own practice with his partner, Jackie Morrill.
Culford Family Hearing is an independent clinic, offering hearing testing, hearing aid prescriptions and fittings, wax removal, custom earmoulds, hearing protection and other services. As its name implies, the new clinic is equipped to serve people of all ages, from as young as six months to seniors.
"As an audiologist, I have the training and knowledge to properly assess babies, toddlers and young children," says Culford, who honed his skills testing children at a pediatric hospital in Newfoundland and working with industry-leading faculty at the University of Western Ontario's hearing clinic. "We have the latest technology, including instruments specific to the testing of babies and a video otoscope that allows patients to see inside their ear canal as I examine it."
Culford and his partner work closely with patients to identify a hearing solution that best meets their individual needs, prescribing hearing aids after assessing their hearing loss, lifestyle and budget. "We look forward to serving the community," says Culford. "Our reputation is important to us and we want to build our practice through trust, quality, and exceptional service."
10 Keith Avenue, Unit 102 (Cranberry Mews), Collingwood
Tel: 705-293-HEAR (4327)
www.culfordfamilyhearing.ca
Hours: Monday to Wednesday 9-5; Thursday 10-6:30; Fridays 9-5; Saturdays by appointment (9-12)
Hair Apothecary Studio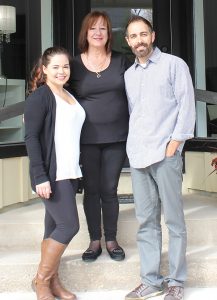 New to downtown Thornbury, Hair Apothecary Studio is a full service Goldwell hair salon offering sophisticated styling and colour, a dedicated esthetics area and barbering for busy people in the region who want everything in one space.
Owner Brenden Baran studied his craft at the Marvel Beauty School and the Ontario Barber Association's Barber Center. "Going beyond a full-service salon, our goal is to enhance our clients' personal confidence through qualified, knowledgeable and high-quality hairstyling, esthetics and barbering in a unique family-friendly environment where everyone in the community feels welcome," he says.
In addition to full hair and esthetics services for women, the new studio is the only salon in the region that also caters to men. Hair Apothecary offers complete barber services, including hair cuts specifically designed for men, straight razor shaves and beard tailoring – all in the comfort of a traditional barber chair reminiscent of classic barber shops of the past.
16 Bruce Street North Unit 2, Thornbury
Tel: 519-599-2223
Website: hairapothecarystudio.ca
Hours: Tuesday – Friday 9-6, Saturday 8-3
Erie Street Dental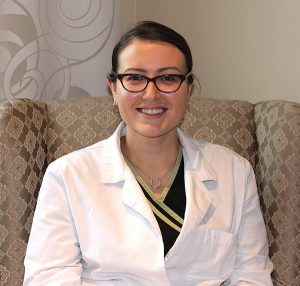 Dr. Christine Magalhaes recently took over the Collingwood dental office of Dr. Khan. Her new practice, Erie Street Dental, offers family and cosmetic dentistry including fillings, root canals, extractions, crowns and bridges, removable dentures, implant placement and Invisalign to straighten teeth. Dr. Magalhaes has a degree in medical sciences with honours in physiology, graduated from the University of Toronto Dental School with honours in 2010, completed a mini residency implant course at U of T, and previously worked in a Toronto clinic. "My husband was born and raised in Collingwood, and his family still lives in the area," she says. "We had been looking for a while for an opportunity like this because we want to raise our one-year-old son in this wonderful community."
"Our philosophy is to treat our patients like they are our family members," says Dr. Magalhaes about her new office. "We are a small practice with wonderful staff. Our goal is to take care of our patients' needs and wants, and make them as comfortable as possible."
Collingwood Health Centre,
186 Erie St., Suite 202, Collingwood
Tel: 705 445-2470
Website: eriestreetdental.com
Hours: Mon-wed 8-5, Thursday 8-7, Friday 8-1
Mobile Massage Medic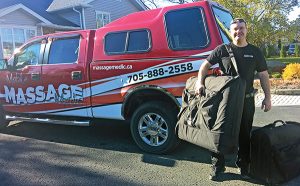 Registered massage therapy is a licensed profession that promises better health and wellbeing through assessment, treatment and rehabilitation. Lifelong Collingwood resident Aaron Kaus, RMT, who graduated in 2012 with a degree in the profession, recently started a massage therapy practice with a difference – a healthcare service that makes house calls, offering relief and relaxation in the comfort of home or place of work.
"I started this approach to massage therapy to fill a need in the community for a mobile service," says Kaus. "I am a healthcare professional who does all the work, bringing all the essential equipment to your doorstep, setting you up in an area where you feel most comfortable." Kaus is a member of the College of Massage Therapists of Ontario and the Registered Massage Therapists Association of Ontario, as well as a registered Reflexologist and a Master/Teacher in Reiki. His techniques and treatments include: sport, deep tissue and Swedish massage, cupping, joint mobilization, myofascial release, lymphatic drainage, Isometrics, Reiki and Reflexology. With 30, 60, 90 and two-hour treatments available, Mobile Massage Medic serves Collingwood, Wasaga Beach and The Blue Mountains area. Receipts are provided for extended healthcare plans and insurance purposes.
Tel: 705-888-2558
massagemedic.ca
On-Line Scheduling Hours: Tuesday – Saturday, arranged within availability
Niche Lifestyle Living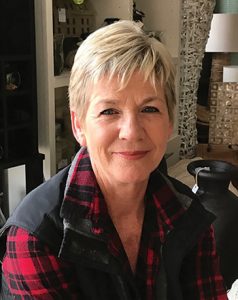 Candis McDonnell brings her wealth of experience and refined taste to downtown Thornbury with Niche Lifestyle Living – a new shop, opened last May, which features unique gifts and home décor, and an organic tea bar with cold press juices. "My instincts brought me to this area, and I have been fortunate to reconnect with past clients that enjoy a second home here or are moving up permanently," says McDonnell. "Thornbury is a very special place on so many levels, and Niche has become known as a place to visit every week for new merchandise and socializing."
McDonnell is no stranger to retail. She founded a company called YU Jewellery, which quickly grew to 24 stores in every major mall in Toronto, Montreal and Ottawa. Later, she opened Primitives & Company, the largest home furnishings store on Yorkville Avenue. For 15 years, McDonnell exported antiques, custom furniture and accessories from Bali, Indonesia.
"Niche offers distinctive home accessories representing a broad price range for everyone," McDonnell adds. "My business philosophy is simple: find your passion and live it, and you will always be successful. Local customers have actually thanked me for offering such reasonable prices! And I work one-on-one with clients to find finishing touches for their homes."

45 Bruce St. South, Thornbury
Tel: 226-665-0135
White Loft Designs
A new addition to downtown Thornbury, this full-service interior design studio offers furniture layout, design plan services and décor items including Maxxmar window blinds, Loloi rugs, furnishings from Rowe Furniture, Nuevo light fixtures and finishing touches, original artwork, and much more. Owner Lisa Proctor is also a colour specialist and milk paint expert.
"Although this is a new business in the region, I am not new to the business," says Proctor, who previously owned Ashbury Cabin, co-owned Baywood Designs, and was the milk and chalk paint expert at Main Street in Thornbury until she decided to open White Loft Designs.
"I have come full circle, gaining quite a bit of knowledge and experience over the last few years, and coming out of it with a fresh new perspective on design and décor," Proctor adds, noting that her specialty is small spaces, including condos and small homes. "My philosophy is simple: deliver what I promise, on time and on budget, and be straightforward with my clients. With a wealth of knowledge in the building trade, I am very good at colour, imagination and honing in quickly on clients' needs and preferences to help guide them in the right direction."
16 Bruce Street North, Unit 4, Thornbury
Tel: 519-373-9628
Website: littlewhiteloft.com
Hours: By chance at the office but call anytime
TRANSFORMATIONS
Ian Kennedy, Catherine Sendell, RBC Dominion Securities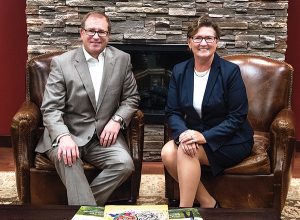 Portfolio management and investment advice professionals Catherine Sendell and Ian Kennedy have teamed up to offer their clients access to each other's skill sets and better service their financial needs. The new partnership offers the following services: Wealth management, including financial planning, tax, estate and legacy planning, and retirement and insurance planning; investment portfolio management for growth and income, from stocks, bonds and GICs to complex strategies involving options and/or structured notes. Catherine, associate portfolio manager and investment advisor, has focused on a "bottom up" approach to building out financial solutions. Ian, vice president and portfolio manager, has an extensive network on Bay Street and a lengthy investment background. He focuses on clients' portfolios through a unique institutional approach to investing. Together with associate Sarah Gazarek, the team brings over 60 years of experience to clients, helping them achieve their life goals through comprehensive wealth management strategies.
"After serving clients in Canada for nearly 25 years, I'm thrilled to be partnering with Ian," says Sendell. "Together, we are able to offer so much more than the average financial advisor. Ian's background, while similar to mine, is investment merits-driven. My clients will benefit from his advanced experience and knowledge, while I'm excited to extend to some of his clients the broader perspective of wealth management services."
Sendell and Kennedy are investment advisors at RBC Dominion Securities Inc., a Member of the Canadian Investor Protection Fund.
1 First St, Suite 230, Collingwood
Tel: Catherine 705-444-4787; Ian 705-444-4775
Website: www.catherinesendell.ca & www.iankennedy.ca
Hours: 8.30-5, Monday – Friday, but accessible after hours via email or cell phone
Taylor Wellness & Chiropractic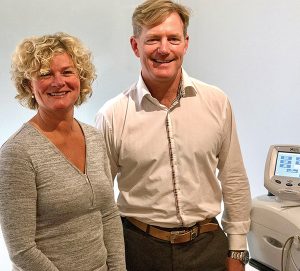 Formerly located for ten years on St. Marie Street in Collingwood, Taylor Wellness and Chiropractic has moved to a new, larger location at 31 Simcoe Street, offering a contemporary and comfortable setting featuring the latest in equipment and clinical procedures.
"We are a multi-disciplinary wellness center, offering chiropractic, non-surgical spinal decompression, orthotics, psychology and massage." says chiropractor Dr. Scott Taylor, who has been in practice for thirty years. Joining Dr. Taylor are psychologist Garry Perry M.A., C. Psych, and massage therapist Michael Glynn RMT. Dr. Taylor uses a unique clinical approach to chiropractic care called "light force instrument adjusting", which he teaches to other chiropractors. The clinic also offers non-surgical spinal decompression, essentially a computerized form of traction.
"I introduced this therapy because I found it to be an effective treatment for issues like severe back pain, bulging or herniated discs, sciatica, neck and arm pain, and carpal tunnel syndrome," says Dr. Taylor. "A typical patient would be someone who has been unresponsive to other treatments, is on strong medications and is losing hope. They are not able to carry out simple daily tasks or enjoy sports, and even sleeping can be difficult. This treatment has allowed patients to greatly improve their quality of life by gradually integrating back into the activities they enjoy."
31 Simcoe Street, Collingwood ON L9Y 1H5
Tel: 705 444 7878
Website: www.taylorwellness.ca
Hours: Monday, Thursday afternoons and Friday mornings