The latest new business openings as well as business transformations including new owners, moves and major renovations. More great reasons to shop local!
Active Paws North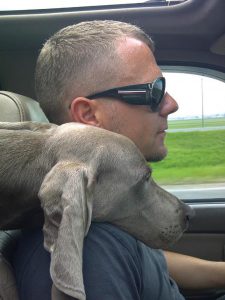 After 16 years operating a successful canine care service in Toronto, Marcus Barber has expanded his business to Southern Georgian Bay, where he grew up. Active Paws North provides dog care services when owners can't be there for their furry friends because of work, social engagements, vacation, illness or recovery from surgery. Services include dog walks (group and private), puppy visits (pre-vaccination), pet taxi, boarding and house sitting, as well as some training and cat visits.
"What makes us unique is a combination of experience and a true love of dogs; for us, Active Paws is a lifestyle, not just a job or career," says Barber. "We do our best to accommodate anything our clients may need whenever possible." In addition to having dogs for most of his life, Barber continually stays up-to-date on the canine industry through online information, podcasts and training in pet first aid and CPR.
"Our business philosophy is to never say no if at all possible, always be open to our clients' needs, and educate them whenever possible," Barber adds. "Your dog will always come first with us."
By appointment
416-456-4800
www.activepawsnorth.com
NeuroReset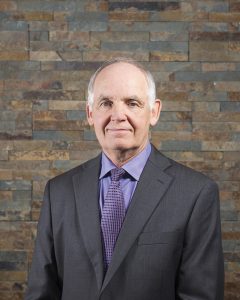 Collingwood chiropractor Dr. Mark Metus has developed a new wearable technology that enhances muscle and joint function as well as balance. His company is NeuroReset and the product line is called NeuroConnect. Rather than a pill, cream or treatment, it's a small clip that you wear.
"When wearing the NeuroConnect devices, the central nervous system connects to the muscle and joint receptors more efficiently, reconnecting the nerve receptors in your joints to the brain," explains Metus.
The NeuroConnect Clip recently attracted the investment of five of the six Dragons on TV's Dragons' Den, and was recognized with The Pinnacle Award for The Best New Invention In Golf at The 2017 PGA Merchandise Show.
"I have developed these products for two reasons: first, for people with balance issues, especially seniors at risk of falling; and second, for people to have optimal function, making their bodies the best they can be at any age," says Metus. "We want our clients to be the best they can be at any stage of life."
The product line helps with health and wellness, balance and stability, sport enhancement, and protection from electromagnetic radiation from cell phones. The testimonials on the NeuroReset website note improved stability, ability to swing a golf club with no pain, and among seniors, better mobility and balance.
705-888-6433
www.neuroreset.ca
Soapstones Natural Skincare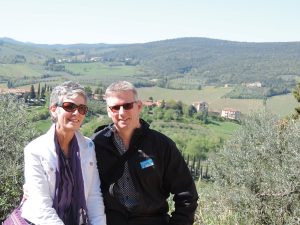 David and Joanne McLean have opened a new natural skincare store in downtown Collingwood. Established 20 years ago in Muskoka, where the majority of its manufacturing is based, Soapstones develops and produces a complete line of natural skincare products. "We believe strongly in creating a beautiful, natural product using the finest, fair-traded ingredients available and offering these to the market at a fair price," says David.
Soapstones manufactures over four hundred products including sugar and sea salt scrubs, shaving butters, body butters, foot butter, deodorants, facial products (scrub, toners, facial wash, moisturizers and eye cream), shampoo and conditioner, creams, lotions, olive oil hand soap, and bar soap crafted from a family recipe handed down through the generations.
There is a baby line, a men's line and a gardening line, and new additions to the product line-up are continually researched and developed in response to evolving customer demands. "Beyond the quality of our products, our business philosophy focuses on social responsibility, giving back to the communities in which we operate," David adds. "We commit a portion of our proceeds to charities that support the development of youth leadership, such as packaging our products at discounted rates for school and other charitable fundraising opportunities."
Open 7 days a week 10-6
41 Hurontario Street, Collingwood
705-445-7627
www.soapstones.ca
TRANSFORMATIONS:
Assante Capital Management Ltd.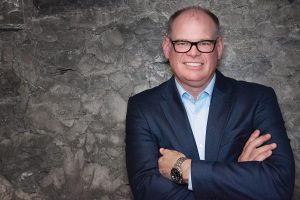 This wealth management company is moving just down the road to 16 Huron Street in Collingwood. "It's a heritage building that has been completely rebuilt, giving us a larger space and additional staff to better serve our clients," says Dean Taylor, a senior financial advisor with Assante. "We're adding a new full-time person, bringing our professional team to four."
A Certified Management Accountant (CMA) and a Chartered Professional Accountant (CPA) with 30 years' experience in personal and business finance, Taylor is a former CFO, a member of Financial Executives International (FEI), a nine-year member of Assante Wealth Management's Chairman's Council and past president of the Toronto Ski Club.
Established in 1995, Assante has become one of the largest wealth management firms in Canada, supporting over 750 advisors who oversee over $30 billion in assets for 300,000 clients and their families nationwide. Assante Capital Management Ltd. is a member of the Investment Industry Regulatory Organization of Canada and the Canadian Investor Protection Fund. Insurance products and services are provided through Assante Estate and Insurance Services Inc.
Open Mon.-Fri. 8:30-5. Evenings/weekends by appointment
16 Huron Street, Unit 1, Collingwood
705-444-1457 or 866-522-1457
www.assante.com/advisors/dtaylor
Georgian Bay Equine Veterinary Services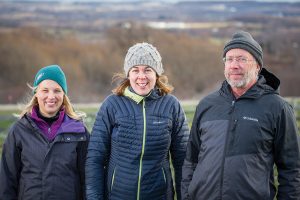 Southern Georgian Bay's only exclusively equine veterinary practice, with three full-time equine veterinarians, Georgian Bay Equine Veterinary Services recently merged with local equine veterinarian Dr. Mark Gallagher, who has been offering mobile care in the region for many years. Together, the veterinary group is opening the region's first full-service equine veterinary facility near Clarksburg, allowing for the examination, treatment and hospitalization of horses in a specialized facility. Clients will have the option to bring in their horses for specialized procedures requiring more care than can be provided on-farm.
"Our region has a large horse population that is growing annually, so we have created a larger team of specialized equine veterinarians to provide better care locally," says owner Dr. Angie Hill. "We now have a dedicated facility that is accessible year-round for horses requiring more specialized care and treatment options, without needing to travel to referral hospitals several hours away."
The practice provides comprehensive equine veterinary care including everything from preventative wellness exams to life-threatening emergency care. "Our services include specialized sports medicine diagnostic options such as digital x-ray and ultrasound imaging, reproductive breeding services including fresh and frozen AI, an array of performance dentistry options, and alternative therapies such as chiropractic and acupuncture," says Dr. Hill. "Our goal is to provide comprehensive care to keep your horse healthy and active in whatever discipline you enjoy."
Open Mon.-Fri. 8:30-5:30. 24-hour emergency coverage after hours & on weekends
356660 Blue Mountains-Euphrasia Townline, Clarksburg
519-599-2100
www.georgianbayequine.ca
Karen 4 Your Skin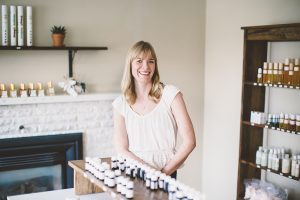 After serving clients in Collingwood for three years, offering holistic facial treatments, pure product recommendations and electrolysis, facial skin specialist Karen Lang says her new, regular hours of business will now make it easier for clients to experience her holistic products and services five days a week, without an appointment.
"Our specialty is deeply rejuvenating, results-oriented facials using Living Libations products from Haliburton, Ontario, featured in
The New York Times and Vogue magazine," says Lang. "We use exquisite organic serums, pure essential oils, herbs, teas and botanical alchemy body products to bring balance and healing to everything from skin to hair to teeth – pure, potent and concentrated formulas for 'real to the feel' skin care, without a single drop of questionable ingredients.
"With the growing popularity and demand for Living Libations, our customers can now enjoy being able to smell, touch and experience the entire product line at their convenience, with knowledgeable and friendly staff ready to answer their questions."
Open Tues.-Fri. 10-6, Sat. 11-5
629 Hurontario St., Collingwood
705 441 6419
www.karen4yourskin.com
Mad & Noisy Gallery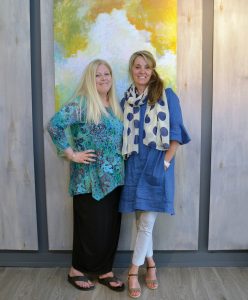 After a successful first year in business for their Butter Art Gallery in Collingwood, Suzanne Steeves and Andrea Rinaldo have now taken over Creemore's Mad & Noisy Gallery.
The Mad & Noisy Gallery, which derives its name from the two rivers that converge in Creemore, specializes in contemporary landscape and abstract art, showcasing a large selection of works from established local and non-local artists. The gallery also sells high-quality jewellery, sculpture, pottery, glass and woodwork, all unique and hand-crafted, and art is available to take home on trial. Mad & Noisy also offers variety of services including delivery, hanging and art consultation.
"Suzanne and I are so excited to have a second location to showcase our favourite artists," says Andrea Rinaldo. "Both of us have owned galleries in the past and have now combined our strengths and passion for the arts. With a shared love of contemporary landscape and abstract work, we pride ourselves in finding high-quality, unique artwork, constantly updating our collection to reflect the needs of our clients."
Open Wed. 11-4, Thurs.-Sat. 11-5, Sun. 11-4
154 Mill Street, Creemore
705-466-5555
www.buttergallery.ca
Read It Again New & Used Books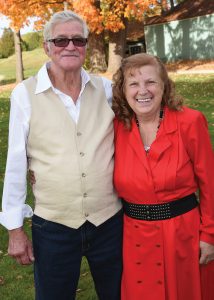 Long a favourite stop for Collingwood book lovers, Read It Again has opened a second location at 176 Hurontario Street in order to expand its selection of new and used books, collectible comics, movies, music and more.
Owned and operated by Shirley and Jim Marsden, Read It Again sells new and used books for readers of all ages, plus an eclectic selection of Home and Garden Creations and collectible comics including Archie digests and superheroes. The bookshop will order new titles for customers upon request, and accepts donations of gently used books (regular and large print), blue-ray movies, DVDs and talking books. Its Second Street location offers trade-in programs.
"At Read It Again, our motto is, 'Help keep landfill sites empty and read affordable books,'" says Shirley. "We pride ourselves on our customer service. Our staff members are competent, friendly and very well read. We know many of our customers by name and know their favourite authors. What makes our book stores so unique is the fact that we keep them bright, neat and organized."
Open 7 days a week 9-6
22 Second St. & 176 Hurontario St., Collingwood
705-444-2722
www.readitagain.ca
South Gate Cabinets Inc.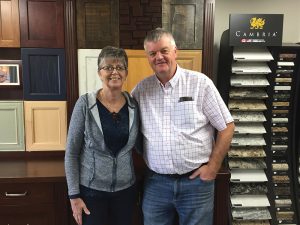 With over 25 years' experience crafting custom cabinets for every room in the home, South Gate Cabinets has moved to a new location in The Blue Mountains to better serve its clients.
"After renting our facilities for many years, we purchased a perfect new location that gives us a showroom closer to our clientele and a larger shop than our previous location," says Michael Landman, who owns and operates the business with his partner Laura.
Specializing in the design, manufacture and installation of quality residential and commercial custom cabinets at an affordable price, South Gate produces cabinetry for kitchens, bathrooms, living rooms, offices, pantries and closets.
"What sets us apart from others is a combination of intelligent design, expert manufacturing and exceptional craftsmanship," says Landman. "We create designs that suit our clients' needs and budgets, using the latest products on the market, for whatever they might have in mind."
Open Mon.-Fri. 7:30-5, Sat. 9-1
827470 Grey Road 40, The Blue Mountains
519-599-3441 or 1-866-929-9933
www.southgatecabinets.com
Karen Willison, Sales Representative, Royal LePage Locations North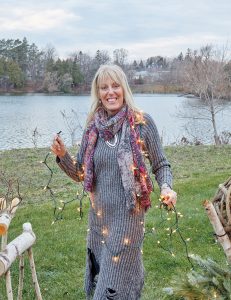 After 14 years as a successful realtor in Southern Georgian Bay, Karen Willison has created a team of professionals who work collaboratively to ensure seamless real estate transactions for clients.
"When it came time to transform my business, I knew I already had a solid strategy and proven results as a local realtor," says Willison. "So I set out to back up my experience and expertise with a team that works collaboratively, maximizing social media, using advanced marketing tools and techniques as well as influencers, along with good old fashioned legwork in every step of the process."
The K/W Collaborative Real Estate team includes home stagers, writers, photographers, landscapers, plumbers and others. Last year, Willison received the Royal LePage Diamond Director's Award (top three per cent nationally), and she has consistently ranked in the top five per cent of Royal LePage agents nationally.
"My team works with sellers on evaluations, photography, marketing, negotiations, staging and open houses, document management and getting the deal closed," she says.
By appointment
27 Arthur St. West, Thornbury
Direct (call or text) 705-888-0075, Office 705-445-5520
www.collaborativerealestate.ca