Summer means getting out and enjoying our waterfronts.
by Laurie Stephens
photography by Kristie and Brenden Woods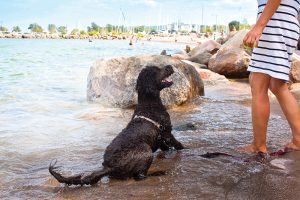 It's early morning, sun rising, and I am thinking about my day. Do I want to swim and sunbathe or go for a sail? Maybe hunt for fossils on a shale beach. Or go fishing. Summer in Southern Georgian Bay is truly defined by its proximity to water, with a spectacular view of the Escarpment as a bonus.
As I drive from Meaford to Wasaga Beach trying to make up my mind, I periodically duck south off of Highway 26 into the many crooks and crannies of the shoreline.
Along its 55-kilometre expanse, I find deep, sheltered harbours rimmed with fishermen and shallow coves with spits and shoals filled with waterfowl. Dog-walkers stroll countless sand and shale beaches. Campers are breakfasting along the waterfront, and cyclists ride past kids playing Frisbee along a boardwalk.
I soon realize that the Southern Georgian Bay waterfront is one long, leisurely summer playground for residents and tourists alike. My choices are endless.
Harbours
Rockin' Ronnie Fach gestures out to the shimmering Georgian Bay, describing the wonders of early-morning fishing. Every day, he makes his way down to Meaford Harbour, his red wagon in tow, to greet the sunrise, meet up with his fishing buddies and cast a line into the water, hoping to snag a rainbow trout.
Fach is an institution here, and he is quite the ambassador for Meaford Harbour, too. If you catch a fish, he'll clean and fillet it for you for free, on the spot, because, "Hey, that's friendship; that's hospitality." All the while, he'll keep you captivated with stories and pictures of the ones that didn't get away.
The 55-year-old retired roofer looks the part of a seasoned fisherman: tanned face with day-old stubble, baseball cap and outdoors attire. He fishes seven days a week from sunrise to sundown, and from his perspective, life couldn't get much better.
"Have you ever seen the sunrise here in the morning? It's gorgeous," he exclaims. "This morning, it lit up the whole sky."
Fach is on to something. Meaford Harbour is not only a fisherman's paradise; it is also a picturesque community hub for all kinds of summer activities for residents and visitors alike.
Tranquil on this particular morning, it will soon become hectic as people come to take advantage of the harbour's many attractions.
Meaford Harbour is a full-service facility: 200 slips for boaters, large parkland areas for RVs, beach and fishing areas, and a comfort station that contains washrooms, showers and a lounge. Work is under way on developing the new David Johnston Park, a small beach area named after Canada's Governor General.
"We're actually putting in some walking trails and some permanent picnic tables and benches, enhancing accessibility to the waterfront," says Rod Willis, Meaford's manager of Parks & Facilities Operations. The plan includes the installation of a Mobi-Mat, a portable roll-out mat for wheelchairs "so that people with accessibility issues will have easier access to the water."
On the harbour's east side you'll spot a farmer's market that is open every Friday from 3 to 7 p.m., a chip stand, a sailing school that opens July 1, and – hard to miss – an eight-foot-tall red Muskoka chair that is part of the Big Red Chair Tour of area attractions that won Meaford an Economic Development Council of Ontario award for partnership and collaboration.
A pavilion on the east side hosts a number of summer events. Antique car owners gather here every other Tuesday night to show off their vintage and classic cars, while music lovers can set up their lawn chairs and take in the Summer Sunday Concert Series featuring local bands, which runs every Sunday night from 6 to 8 p.m.
Then there are the annual events: The Meaford Festival on Canada Day weekend will feature live bands, fireworks and "Christmas in the Harbour" where boaters will be encouraged to decorate their boats in a Christmas theme, and the 21st annual Meaford Harbour 5km Run/Walk event will be held on July 8, in support of the Meaford Hospital Foundation.
While these events draw large crowds, Willis says the harbour is first and foremost a sailing and fishing destination: "Georgian Bay and this side of the Bay is made for sailing – it's the ultimate sailing place. And the fishing is phenomenal – both salmon and rainbow trout."
About 35 kilometres to the east, another harbour – this one in Collingwood – is another popular hotspot for waterfront enthusiasts.
On this morning, cyclists pedal up Harbourlands Park – a spit that runs up the Harbour's east side – to Millennium Park, a small green oasis behind the iconic Collingwood grain terminals that provides breathtaking views of Collingwood Harbour, Nottawasaga Bay and the Blue Mountains.
Both parks are peaceful spots lined with benches, gardens and plaques that mark the shipbuilding and shipping history of Collingwood. The grain terminals' huge white columns cast a shadow over four teenage girls taking a dip in the harbour, descending into the water via a ladder off the concrete pier.
If being on the water is what you desire, Collingwood Harbour has the Collingwood Yacht Club, the Boatworks Sailing Centre and the Collingwood Canoe and Dragonboat Club. The municipality also runs its own sailing school out of the harbour, providing sailing lessons for both kids, and, more recently, for adults in 4.2-metre dinghies.
"We introduced adult sailing in the evenings and it's very popular," says Dean Collver, Collingwood's director of Parks, Recreation & Culture. "It gets people out and active and they can see what it's like to sail in the harbour and on the Bay."
If you'd rather let someone else take the helm, you can hop on a charter boat to take a sightseeing tour, sunset cruise or dinner cruise on Georgian Bay, all of which take you past the de-commissioned Nottawasaga Island Lighthouse, a historic landmark that is currently being restored.
In addition to its weekly summer programs, Collingwood Harbour hosts two big events this summer: Collingwood Festival for Canada over the July 1 weekend, and the Sidelaunch Days Harbour Festival August 12-13.
Collver says the Canada Day weekend will be a jam-packed celebration of Canada's 150th birthday. Fireworks will be launched from Hens and Chickens Island on the north side of the harbour, and the Harbourview Park Amphitheatre will feature live entertainment over the entire weekend. There will also be harbour cruises with Collingwood Charters and SummerBound Charters, and an opportunity to try rowing, paddling or sailing for free as part of a "Get Out on the Water" event.
The Sidelaunch Days Harbour Festival is a two-day event celebrating Collingwood's shipbuilding history. Activities include live music, Shakespearean plays, watersport demonstrations, historic walking tours and activities for kids. The harbour itself will host an Ontario series stand-up paddleboard (SUP) race, the proceeds of which will go to support restoration of the lighthouse.
"This is true waterfront festival, so we'll have vendors and interactive events all along the Promenade," says Collver.
Thornbury Harbour is another hub of activity in the Blue Mountain area.
To access the actual harbour, drive a couple of blocks from downtown Thornbury along to where the Beaver River empties out into Georgian Bay. On this morning, the river's banks are jammed with fishermen, standing shoulder-to-shoulder and leaving me to wonder how their lines don't get tangled.
Once past the river's mouth, the harbour's waterfront is lined with massive boulders and well-groomed walkways. Benches face the Escarpment and afford a breathtaking view of The Peaks Ski Club.
This harbour will also host Canada Day activities, including a community parade and the Gord Price Air Show that spectators will be able to watch from waters' edge, says Shawn Everitt, director of community services for the Town of Blue Mountains.
Thornbury Harbour is also known for its environmental stewardship: it has a gold rating by Boating Ontario's Clean Marine Program, a "significant achievement that not many harbours have achieved," says Everitt.
Ryan Gibbons, harbour manager, says the rating is useful as an economic development tool to attract environmentally conscious boaters.
"But we also want to be responsible for our area," he says. "Most of us who work here also live here, so we want to make sure that we're doing the right thing for the area as well."
A little further west, you'll find another stunning harbour in Owen Sound. Once a bustling commercial trading port, it is now a hub of recreational activity. Located where two rivers meet, the natural harbour is a fisherman's paradise, hosting a number of fishing derbies in the spring and fall.
If you don't fish but love the water, the harbour is also a hotspot for sailing, canoeing, kayaking and windsurfing, and the Owen Sound Marina has a public boat launch for small craft.
Waterfront Parks
A short drive from Thornbury Harbour heading east, I come across Patrick Kuzee, a visitor from the Netherlands who is on a one-night stopover at Craigleith Provincial Park.
The 44-year-old former pro hockey player, who now works with troubled youth, wanted an easy, scenic place to park his RV before he and his family head to Algonquin Park for their three-week vacation. Craigleith Provincial Park, situated between Georgian Bay and Highway 26, was a good choice, he says, despite its proximity to a major roadway.
"It's beautiful, surprisingly," he says. "The only downside is it's right next to the highway, but we came out with the family this morning to have breakfast and watch the sunrise and it's very serene. In the early morning, it's nice to be on the waterfront."
Located at the base of the Blue Mountains, the park offers visitors like the Kuzee family all kinds of options for activity.
It is known for its flat, shale shoreline – a fossil-hunter's delight – that allows for easy launch of every type of water craft from sailboats, canoes and kayaks to paddle boards, windsurfers and kiteboards. It has a lovely beach area, and the Georgian Trail is just across the highway for walking and cycling.
"With the Niagara Escarpment – which is a World Biosphere Reserve – serving as a backdrop, you will find Craigleith's shoreline showcases some of the most spectacular views found on the Georgian Bay Coastal Route," says Aaron Speers, operations coordinator for the park. "These rocky shorelines are a significant source of provincially protected fossils that date back 450 million years."
Of course, there are plenty of fish to be caught, too. "Anglers are drawn to Craigleith in hopes of landing one of Georgian Bay's hard-fighting rainbow trout, which are frequently caught from shore in the Park's east end," notes Speers.
Open this year from April 14 to October 22, Craigleith Provincial Park has 157 camping sites spread along the shoreline and nestled amongst hard- and softwood trees. Each site can accommodate up to six people in tents or in RVs up to 35 feet in length. Campers can take advantage of comfort stations that include flush toilets, showers and a laundromat.
During peak summer season, the campground is filled to capacity; Speers says the park recorded more than 46,000 camper nights (one camper staying in the park for one night) last year.
This year, the park has a bit of a different look to it, thanks to a large storm last fall that swept through the area. High winds knocked down 500-600 trees in the west end of the campground, and during the cleanup, another 200 ash trees were found to have been affected by the Emerald Ash Borer and had to be removed as well, says Speers.
Still, Craigleith Provincial Park has maintained its charm – and its tree canopy – and is a "perfect base camp for the numerous activities in the area," says Speers.
For a completely different park experience, I drive about 13 kilometres east along Highway 26 to Sunset Point Park in Collingwood.
Very much a family-oriented park, Sunset is a 15-minute walk from downtown Collingwood. It runs along a long span of the municipality's coastline and features a number of water-access areas – both sandy and rocky – and lengthy tracts of grassy parkland where kids toss Frisbees or fly kites.
At the east end of the park, there is a large EnviroPark where you will see children climbing huge, plastic structures sunk in sand, as well as volleyball courts and a barbecue area with picnic benches.
Sunset Point Park is also known for its wind, making it an extremely popular site for launching windsurfers or kiteboards.
"Kiteboarding is a sport that is really taking off," says Collver. "We're definitely seeing more of it year after year, and windsurfing is taking a bit of a backseat to kiteboarding."
One of the few organized events at Sunset Point is the popular Taste of the Town, held this year on June 4. Organized by the local Rotary Club, local gourmet chefs and vintners and brewers provide food and drink samples for the few thousand people who attend.
Above all, Sunset Point Park is for families, and that's what attracts Darko and Marie-Claire Pascuttini, Collingwood retirees who are frequent users of the park in the summer. They often bring their grandson here when he is visiting. Today, they are walking their miniature schnauzer, Lila, along an east-end walkway, watching the park slowly come to life.
"We like the view," says Darko. "You see lots of families here, and it's nice to see sailboats on the water." Adds Marie-Claire, "It's soothing." Collver says Sunset Point is the premier family destination in Collingwood right now.
"Families come for access to the water," he says, "but mostly it's people coming down and setting up a Hibachi and cooking with their family, having beach access and getting into some nice clean water."
A number of other parks in our region are also known for their unique attractions. Kelso Beach Park in Owen Sound is a 22-acre, full-service playground that runs along the west side of Owen Sound Harbour. With a stunning beach as a backdrop, the park has playground equipment, ball diamonds, a soccer field, an amphitheatre and bandshell – facilities that draw thousands of visitors each summer.
Kelso is renowned for its international Summerfolk Music Festival – held this year on August 18-20 and featuring more than 50 performances, an artisan craft sale, kids' activities, a wine bar and a beer tent. This event is very popular, so be sure to get your tickets early.
Millennium Park in Collingwood hosts KiteFest on the August 12-13 weekend, an event that sees hundreds of colourful kites fill the sky over the park, including a 150-foot kite that can be seen from just about anywhere in town. Millennium will also hold a three-day outdoor fitness competition called UG Beach WOD, welcoming 1,500 athletes from across Canada, on July 7-9.
Harbourview Park, also in Collingwood, has the Shipyards Amphitheatre that holds regular summer activities such as Movies by the Bay and Bard on the Bay Shakespeare productions. Special events include the Peak to Shore Festival on July 9, where the Devin Cuddy Band will perform.
If music is your thing, Thornbury's Bayview Park holds Jazz By The Bay every Sunday evening at 6 p.m. in the park's pavilion.
Beaches
When you think about beaches in the Southern Georgian Bay area, likely the first that comes to mind is Wasaga Beach.
Renowned for being the longest freshwater beach in the world, Wasaga is visited by millions of beach lovers each year who are attracted by its 14 kilometres of white sandy beach and warm, shallow waters. It draws huge numbers on summer weekends, from young families all the way up to seniors. Because of its size, the beach is divided into six smaller beaches, so if you want to steer clear of the tourists and crowds who flock to beaches 1 and 2, you can make your way to beaches 4 or 5 for a more private, serene afternoon. And you'll want to stay till the sun goes down – Wasaga Beach offers some of the most spectacular sunsets you'll ever see.
In addition to Wasaga Beach, our region is home to countless smaller beaches between Collingwood and Owen Sound, each with its own unique ambiance.
One family-oriented summer playground is Northwinds Beach, located off Highway 26 in Craigleith. As I drive into the parking lot, I am struck by its features. Several lines of large boulders jut out into the Bay breaking up the beach areas, and there is an abundance of graceful willows that provide some shade from the sun.
One of the most popular beaches in The Blue Mountains, Northwinds Beach is a summer hotspot for sunbathers, swimmers, kayakers, windsurfers, paddle-boarders – and even future builders.
As I walk down onto the sandy beach, I find Niall Busch, 2, busy at work this morning, using his toy digger to push sand and pebbles into a truck, oblivious to anything else going on around him. He apparently raises quite the ruckus if some time at the beach isn't part of his day.
"Niall just loves the beach – he loves the sand and the dirt," says his mother, Alexis Williams, 34, of Burlington. "We tend to come in the morning when it isn't so busy."
Williams and her family – including 40-something husband Scott Busch and nine-month-old Colin – are Blue Mountain weekenders who own a chalet just across the highway from Northwinds and are frequent visitors to the beach, much to Niall's delight.
Williams is a former triathlete and has swum out to a local curiosity: a shoal about a half-kilometre from shore that has a flag pole and metal artwork erected on it. The shoal has no specific name, says the town's Shawn Everitt; "We just call it the Flag Island, because of the flag."
Everitt says Northwinds is the town's highest-traffic beach, and that is borne out by a filled-to-capacity parking lot on warm summer weekends. Parked cars often take up spots at the historic Craigleith Depot across the highway from the beach.
The popularity of Northwinds presents a pedestrian traffic issue, and Everitt says plans are under way to begin constructing a walkway, either this fall or next spring, that will make pedestrian crossing safer.
Northwinds has small playground apparatus in one section of the beach, some picnic benches and barbecue areas, as well as public washrooms. Beach-goers can rent canoes, kayaks and stand-up paddleboards from Craigleith Watersports.
But, for the most part, Northwinds Beach and most other beaches in the Blue Mountains area – including Peasemarsh, Delphi and Lora Bay Park – are what Everitt calls "passive" beaches.
"The nice thing with The Blue Mountains is, we've focused on keeping the natural elements to our parks," he says. "You see some places that go overboard – we have resisted splash pads on waterfronts. We've consciously made the decision to keep our waterfronts as undeveloped as possible, and more of a passive use."
Peasemarsh and Delphi certainly fit that description. The further west I travel from Northwinds, the more rocky and wild the waterfront becomes. Peasemarsh, part of the Grey-Sauble Conservation Area, is a small, quiet beach that features a lot of shale, sandy spits and big swaths of tall grasses filled with red-winged blackbirds. Even though I am just off the highway, I feel as though I am a long way from civilization. Delphi is mostly shale and is littered with fossils. Everitt says it is becoming quite popular: "You see a lot of people just putting their beach chairs right out onto the shale – they're basically sitting in water up to their knees."
Christie Beach in Meaford is similar to Peasemarsh – small, quaint and with natural terrain of wild grasses, bushes and marshland. The water is shallow and filled with rock outcroppings that serve as perches for ducks and geese. There is a small pavilion with picnic tables and places for portable barbecues.
Everitt says the different shorelines in The Blue Mountains area – from sand at Northwinds to rugged shale as you head west – provide a variety of natural experiences for water lovers.
"We still use the theory that our waterfront is at the toe of the Escarpment, and of course the Escarpment is as natural as it can possibly be," he says. "There's minimal playground equipment; there's not a lot of development along the waterfront. It's really just go there, rest, and relax along the water."
My sojourns along Southern Georgian Bay are just a sampling of what's available to residents, visitors and weekenders on our waterfronts this summer. There are countless other recreational opportunities along the shoreline, just waiting for you to discover. No matter how active or sedate, private or public you want to be, there is a piece of waterfront paradise waiting for you just around the corner. ❧