The #1 Magazine and the #1 Community Portal announce an exclusive partnership!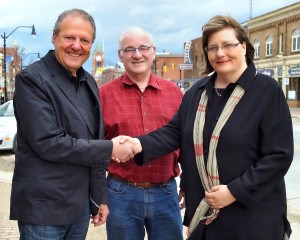 On The Bay Magazine and mycollingwood.ca are pleased to announce a new digital partnership that includes sharing of content, e-newsletters and reciprocal advertising.
Beginning today, On The Bay will provide mycollingwood.ca visitors with the exclusive opportunity to read feature articles from the magazine's website through links on mycollingwood.ca's home page and e-newsletter.
"We are delighted to have the highly respected editorial content of On The Bay gracing our home page and our monthly e-newsletter," said mycollingwood.ca's business manager and partner, Julie Card. "We expect our large visitor base to enjoy reading the comprehensive and visually stunning feature articles from On The Bay. We also look forward to promoting mycollingwood.ca to On The Bay Magazine's 50,000-plus readers."
Jeff Shearer, publisher of On The Bay, said, "This exclusive partnership with mycollingwood.ca, the number one community site for Southern Georgian Bay, will provide our magazine with the opportunity to greatly expand our online audience. This alliance is a good news story all around, for readers, visitors and advertisers, and we look forward to developing even more synergies in the future."
In addition, On The Bay will build an expanded database and develop its own e-newsletter for readers, advertisers and the community at large. "With the introduction of Between The Pages a new monthly e-newsletter, we expect to raise our profile even further. We want to keep our readers and advertisers informed of all that is going on behind the scenes at On The Bay, to provide updates and context to our articles, and to engage our audience in ways that augment our printed magazine," said Shearer.
According to two professionally conducted readership surveys, the award-winning On The Bay is the "best read" and "most liked" magazine in Southern Georgian Bay. With a circulation of 25,000, On The Bay's overall readership is over 50,000 in the 21 communities that receive On The Bay in the mail. Over 450 businesses have advertised their products and services during the last 24 months in the pages of On The Bay Magazine and on onthebaymagazine.ca
With an average of 3500 daily visitors from near and far, amassing over a million page views per month, mycollingwood.ca is the number one on-line community portal. The widely visited destination site geographically covers all of Southern Georgian Bay, providing visitors with up-to-date offerings, including extensive event and activity guides for residents, visitors and weekenders. Most recently, mycollingwood.ca was awarded the 2013 Business of the Year by The Blue Mountains Chamber of Commerce.
Contact: Julie Card for mycollingwood.ca, jcard@mycollingwood.ca 705.444.3453
Contact: Jeff Shearer for On The Bay Magazine, jshearer@onthebaymagazine.com 705.444.9192