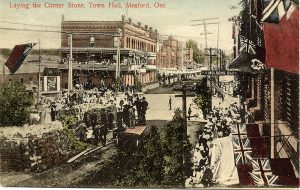 When Meaford townsfolk gathered in August, 1908 on the corner of Sykes and Nelson streets for the laying of the cornerstone of the soon-to-be-built town hall, it was cause for celebration, as evidenced by the many (British) flags flying on local storefronts and the banner across Sykes Street reading, "The Town Is Your's" [sic].
The event marked the realization of a dream that literally rose from the ashes – after fire destroyed the previous town hall in 1907, town leaders envisioned an opportunity to erect an even grander structure on the site. In his remarks at the laying of the cornerstone, Mayor J. W. Horsley bragged that the new town hall would be the largest municipal building in Grey County. "Its massive and graceful outlines will stand as a monument to prosperity and progress," he declared, "and doubtless will be for many generations one of its prominent landmarks."
The entire community would watch in awe as the new town hall was erected over the next eight months. Toronto architects Ellis and Connery designed the building, led by senior partner James Ellis, a Meaford native who had made a name for himself in Toronto for his designs of schools, churches and other public buildings such as the Bank of North America at King and Dufferin streets. Now he was home to leave his mark on Meaford. Local contractor James Sparling won the construction bid for $20,240 and managed to reuse much of the original town hall's brick in the construction of the new building.
The new Town Hall & Opera House was indeed a marvel, housing municipal offices, council chambers, two small jail cells and the Meaford Public Library on the main floor, and open space in the basement that would be used as a farmer's market, meeting area, ballroom and Boy Scout Hall. On the second floor, the grand Opera House featured a broad stage beneath a proscenium arch, rows of wooden seats (fitted with wire racks for gentlemen's hats), and a balcony embellished with raised plasterwork acanthus leaves. It played host to travelling entertainers, the Meaford Citizens Band, live theatre, and local events in a theatre known for its exceptional acoustics.
The building, known today as Meaford Hall Arts & Cultural Centre, still stands majestically on the site. It remains the pride of the town and the heart of the community, its cornerstone – laid on that August day in 1908 – still clearly visible. ❧
Sources: Meaford Museum, Meaford Hall Arts & Cultural Centre (meafordhall.ca).