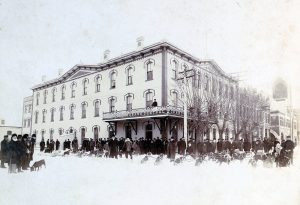 This photo from January 31, 1898 shows the "Klondike party" in front of Collingwood's Grand Central Hotel. The members of the party, ready to set out with their sled dogs hoping to find gold in the Yukon, are identified as "F. A. Johnson, C. H. Fair, C. E. Nourse, George F. Watts and others."
An article in The Bulletin newspaper on Feb. 4, 1898 said the group "went out in the interest of a syndicate composed of prominent gentlemen of Collingwood, Smith [sic] Falls, Montreal and San Francisco and expect to be away about eight months." The article went on, "The party will meet at Vancouver where they will sail on the C.P.R. steamers to Fort Wrangell. As they propose going in by the Stikeen River route they will travel 150 miles on the ice of Telegram Creek, at which point one of the routes will be selected."
The "syndicate" supplied them with everything necessary for the trip, according to The Bulletin, with the equipment for each man costing almost $1,000. "Experienced miners who have looked over their outfit state that it is the best they have seen and feel confident that the boys will be able to make the journey successfully," read the article.
The Klondike gold rush brought more than 100,000 prospectors to the Klondike region of the Yukon between 1896 and 1899 after three miners found gold in Rabbit Creek, a small stream flowing into the Klondike River. The gold, they said, was under rocks in the stream, "thick between the flaky slabs, like cheese sandwiches."
The discovery triggered a stampede of prospectors from the U.S. and Canada. Only a few found their fortune in the Yukon; by the time most gold-seekers reached the region, the richest riverbeds had already been staked out.
The Grand Central Hotel likely housed the would-be prospectors as they prepared to begin the long, arduous journey from Collingwood. Opened in 1876 by Henry Wiggins on the southeast corner of Hurontario and Simcoe streets, the Grand Central was torn down in 1918 to make way for the Merchant's Bank building, which later became the Bank of Montreal. Today the building is home to The Strand restaurant. ❧
Sources: The Collingwood Museum, The Collingwood Library, The Bulletin, Wikipedia