Currie's Farm Market, a family business since 1957, is the last surviving vegetable farm in Collingwood
by Emily Worts
photography by Kristie & Brenden Woods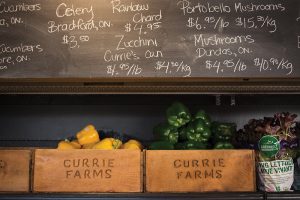 Currie's Farm Market entered the local food scene long before there was one. The market, the land that feeds it and the people who run it embrace more than the '100 mile' or 'picked fresh daily' philosophy and they have done so for the past 60 years. Here the produce is so fresh you can smell it, and is so sought after – especially during the spring asparagus, rhubarb and strawberry season – it is picked three times a day to keep up with demand.
The farm market started in 1957 when a young Alvin Currie set up a bench and a lawn chair on the corner of Sixth Street and the Tenth Line in Collingwood to sell baskets of green and yellow beans from his parents' farm. The bench quickly morphed into a trailer tipped on its side, then grew into a portable market that soon became permanent. Every 10 years or so, a new lean-to was added, growing into the Currie's Market we know today. Located on the same spot as Alvin's bench and chair is the Currie's Market sign, which has become a harbinger of spring. So entrenched in the local psyche is the sign that customers will make special trips up Sixth Street to see if the sign is out, heralding the availability of asparagus and with it the beginning of spring.
Like the young Alvin, Chris Currie, Alvin's son, also saw potential in selling locally grown produce. Seven years ago, Alvin was gearing up for retirement and wanted to shut the market's doors for good. But the local food movement was beginning to gain momentum, and Chris and his wife Candice saw an opportunity. The couple not only wanted to keep the market open, they planned to expand it. They would extend the market season (and therefore the growing season) by adding asparagus, strawberries and rhubarb in the spring, and would stretch the season into Christmas with winter squash and garlic.
An additional farmhouse was acquired, with 50 acres attached. Seventy-five rhubarb plants were added to the spring harvest along with three acres of Jersey Giant and Millennium asparagus.
It's an exciting time in farming, and Chris and Candice Currie continue to break new ground.
"Lots of people are having successes," says Chris. "Farming always seemed like something people weren't interested in. It's not new, but in the last 10-15 years it feels new."
Chris grew up on the Currie farm and he remembers friends saying, 'Oh that's too bad' when he told them where he lived. "Now it's the opposite," says the father of two, who adds that every night at dinner he and his family recognize just how fortunate they are.
"When we make our dinners at night we go out and cut asparagus, pick raspberries and we always say, 'How can we be so lucky?' We pull potatoes and beets out of storage, and tomorrow we can go out and pick something new."
Their positive attitude is so contagious it also infuses their employees. As soon as the first tips of asparagus peek through the farm's clay soil, the family hires local high school students to cut the stalks at least once a day after school and on weekends. A few years ago, they hired an entire Peewee Rep hockey team to help with the asparagus harvest. "I had one kid who really wanted to go to hockey camp. He would meet me at the farm by 7:30 and this kid would pick 100 pounds of asparagus by lunch time," remembers Chris, who pays by weight, not by the hour. "That kid put himself in the hockey camp."
Chris was taught the same strong work ethic decades ago from his grandma, Barbara Currie, and he believes it is a great way for kids today to learn a similar lesson.
"They work harder, they earn more," explains Chris. "What they get paid is what they earned."
Cutting asparagus is labour intensive, and the Curries still harvest the way Grandma Currie did. Pickers walk the rows, bent over, cutting with a knife as they go. In Grandma Currie's day, they used baskets strapped to old seatbelts from the seatbelt factory in downtown Collingwood. Today they use a similar 'old school' method, notes Candice, and it works. The farm cuts between 60 and 100 pounds a day, with each basket holding up to 25 pounds.
In addition to instilling a strong work ethic in their employees, the Curries have another important lesson to teach, and it's one the market prides itself on: customer service. From carrying out groceries to the old-fashioned paper bags used to pack goods (which Candice reminds people they can use for green bin liners), the service offered at Currie's Market remains the same as it was three generations ago. And the Curries are sure to practice what they preach.
"I remember a customer calling before the harvest and they wanted asparagus for a dinner party," says Candice. "We weren't even open for the season and Chris went out in the middle of a rain storm to cut."
The Curries are so appreciative of their loyal customer base, they've been known to hand-deliver bundles of the first little sprigs of asparagus to the doorsteps of some of their long-time supporters.
From the moment you walk through the Currie's Farm Market doors, the experience is a sensory one. The food is vibrant, the smells are intoxicating, and the chatter includes local gossip at the register. A basket of berries might be waiting on the counter for sampling, and you can't help but pick up a plump heirloom tomato to test its ripeness. But it is the smell that Chris relies on the most.
"Anything that comes off the farm, I notice the smell rather than the taste first," says Chris. "When I cut fresh asparagus, I smell it and I know what it's going to taste like."
In addition to their own produce, the Curries rely on other local farms to help stock their shelves. Due to demand, variety and growing conditions, they also source some of their fruits and vegetables from farms a little farther afield, but they commit to only selling products grown or made in Ontario by people they know and trust.
To preserve their produce at its peak, when it smells just the way Chris thinks it should, the Curries turn it into products their customers can enjoy year-round, under their 'Currie's Own' label.
"It helps us take advantage of peak season produce that isn't pretty enough for the shelves," says Candice.
Chris and Candice have experimented with hundreds of recipes for things like asparagus salsa and asparagus vegetarian antipasto, tasting and fine-tuning their creations until they are ready for public consumption.
While much has remained the same, life on the Currie farm has changed over the years. New developments have eaten up neighbouring farms to the extent that the Currie farm is the last vegetable farm remaining within the confines of Collingwood. Chris and Candice have diversified the market's original corn, tomato and potato repertoire by planting foods like garlic, which were barely used in Grandma Currie's kitchen. And where only seven years ago Alvin saw a dead end, the next generation is feeling good about the future of farming and their role in it.
But some things will never change, says Candice. "The family conversations around the dinner table are still the same," she says. "It's always about the weather."
And, she says, just like in Grandma Currie's day, you have to plan for everything. And planning they are. The Curries are investing in their future and in the future of locally grown food. Plans are in the works to enhance the coffee shop they added to the market a couple of years back, the shelves of the market continue to evolve, and the Currie's are securing a future in locally available food and our accessibility to it.
"We have another 20 years ahead," says Chris. "We're going to see a lot of changes and we're looking forward to it." ❧
Recipe
For me, there is nothing quite like the first bite of local asparagus. I respect and honour the asparagus season more than any other. I have long believed that buying asparagus out of season, from some distant farm, is just not an option. When I see it on restaurant menus in the winter I skip to the next item (unless of course it is pickled in a relish or garnishing a Caesar). There is no comparison between fresh local spring asparagus and the limp, well-travelled and woody variety we see in the 10 months of the year that aren't May and June. I guess I am an asparagus snob, but I don't think I am alone.
My favourite way to eat asparagus is simple: I steam it. I have a special asparagus steamer that allows the stalks to steam upright, tall and proud. I steam them al dente, and like Chris Currie I don't rely on taste to tell me when they are done. I let the smell of the steamed asparagus guide me, along with the emerald-green hue signalling they are just right.
I can't give you an exact time to steam your asparagus because it changes by a matter of seconds depending on the thickness of the stalks. I can tell you it takes mere minutes and to overcook it is a crime, so do not leave unattended.
To bring out the freshness of the asparagus, I make a simple Lemon Aioli.
Lemon Aioli
Zest of half of a lemon
Juice of half of a lemon
3 Tbsp. Mayonnaise
Salt and Pepper
Mix together and drizzle over asparagus as a vegetable side, cut asparagus into pinky-sized pieces and toss with aioli for a salad, or serve as a dip on a crudité platter.