With a bounty of farm-fresh foods in our midst, local entrepreneurs are finding new and innovative ways to grow, process, utilize and promote our agricultural assets
stories by Marc Huminilowycz, photos by Kristie & Brenden Woods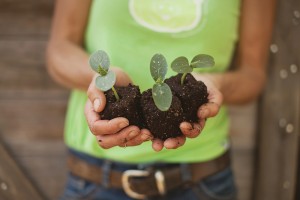 Last November at an awards ceremony in Cambridge, Ontario, 13 food entrepreneurs were honoured with the Premier's Award for Agri-Food Innovation Excellence bestowed by the Ontario Ministry of Agriculture and Food for contributions to creating new products, adding value to existing products, supporting a sustainable environment, supporting job creation and boosting economic growth.
Three of the award recipients – The New Farm, Bighead Hops and Clear Valley Hops – hail from right here in Southern Georgian Bay.
"There is some really neat momentum happening here, as local farmers and food makers are starting to get recognition for their agri-food business efforts," says Martin Rydlo, director of marketing and economic development for the Town of Collingwood. "What's making this innovation thrive here? I think it's a combination of economic and location factors. There's a natural energy growing, as locals and transplants from the GTA are leveraging networks and opportunities to help their businesses grow."
Award winner The New Farm, a family-run certified organic farm near Creemore, has now been in business for 10 years. With a commitment to sustainability and a goal to "build a just, equitable and sustainable food system in Southern Ontario," the farm produces and distributes premium-quality organic vegetables to local and GTA restaurants, retail stores and wholesale customers.
Calling themselves "food activists" who believe that high-quality fresh food is a human right, The New Farm's owners have for many years partnered with The Stop Community Food Centre in Toronto, an organization that promotes access to healthy food for everyone, regardless of their income. The Stop currently has over 16,000 clients.
"Every year, we raise funds for The Stop and its umbrella organization, Community Food Centres Canada," says The New Farm co-owner Gillian Flies. "We donate 10 per cent of our retail sales, and host our annual fundraising event, Farms for Change, featuring food stations staffed by the best chefs in Ontario and a concert by well-known Canadian recording artists such as the Tragically Hip, Sam Roberts and, this year, Sloan." The event raised $48,000 for The Stop last year.
The New Farm is currently working with Community Food Centres Canada to build a commercial kitchen and chef training centre on its premises offering cooking classes and, helping other farmers in the region meet chefs.
Over the past several years, South Georgian Bay Small Business Enterprise Centre in Collingwood has been helping budding agri-food entrepreneurs in the region with their start-ups. "We're here to offer all the support they need, from food labelling education, to advice on how to get their product to market, to connecting them with larger producers," says Enterprise Centre manager and small business consultant Gillian Fairley.
As an example of her organization's efforts, Fairley mentions Summitview Farm in the Beaver Valley, winner of the 2014 Premier's Award for Agri-Food Innovation Excellence and makers of Blue Mountains Cider. "Wishing to do something different, they built their own traditional cider press, adding direct processing/production, connecting with government programs and taking their product to retailers," says Fairley.
The Blue Mountains Cider operation was purchased in 2015 by new owners and relocated to Dunridge Farms near Duntroon. Re-branded as Dunridge Farm Cider, the product is available as organic and traditional. It recently took third place at the Ontario Fruit and Vegetable Conference's prestigious Sweet Cider Competition in the Niagara region. Dunridge's owners also recently acquired their manufacturer's license for hard cider.
Barb Shopland, co-founder of the Ontario Culinary Tourism Alliance, heads the Strategic Projects – Agri-Food Entrepreneurship initiative at Georgian College. In 2013, she organized the first food entrepreneurship seminar in Canada, held in Southern Georgian Bay. The seminar was a resounding success, attracting a variety of participants: food mentors, politicians, Ontario Ministry of Agriculture and Rural Affairs (OMAFRA) personnel and regional municipal/county economic development staff.
"The seminar created such a buzz that municipalities from all over Central Ontario were calling to set it up in their regions," says Shopland.
"I can't get over how Southern Georgian Bay has become a food Mecca. I believe that growth of agri-food enterprises here is happening for a couple of reasons. Farmers are looking to add value to their operations, while the lack of jobs for qualified people and the growing number of mid-career people not happy with their work is prompting a surge in entrepreneurship here."
Georgian College offers a formal provincial ministry curriculum and several non-funded seminar and event programs to help aspiring agri-food entrepreneurs with labelling and the commercialization of their product to market. Two such programs are Transition Smart, which helps farmers add value on-farm, and Feast On, which celebrates businesses that use 25 per cent of food sourced locally.
One beneficiary of the assistance available to local agri-food entrepreneurs is Collingwood native Shelby Taylor. Last year, with help and encouragement from Sandy Robertson, managing director of the Georgian Angel Network, Taylor's business, Earth to Kids, was awarded a grant from the Ontario Centre for Excellence Smart Start Seed Fund. The award, totalling $30,000 (plus an additional $7,200 for consulting services) allowed Taylor to bring her product, Chickapea Pasta – a healthy, super-nutritious and gluten-free pasta made from organic chickpeas and lentils – to market.
"When I was pregnant with my son, I found myself more passionate about nutrition than ever," says Taylor, who began her quest for access to nutritious food with the purchase of a small health food shop. "Talking to parents, I realized that they are struggling to feed their children healthy meals that they will actually eat and don't require hours in the kitchen after a long day at work. That's why I created Chickapea."
Taylor has received "lots of help" from Georgian College with her product's nutrition labelling and mentoring. Due to a lack of available facilities in Canada, her pasta is currently being manufactured and packaged in the U.S. "I'm working to get the process back here," she says, adding that most of the chickpea and lentil ingredients originate in Canada, some from Ontario. Taylor plans to launch her pasta in three different shapes this June, with much of her product already pre-sold to several local retailers as well as health food stores across Canada.
For many years, Black Angus Fine Meats on the outskirts of Thornbury has been a regular stop for locals on the hunt for high-quality game meats. Recently, the butcher has made a foray into packaged meat products under its new brand, Blue Mountain Fine Foods. Selling through its retail butcher shops in Thornbury, Mississauga and Muskoka, these products are mostly made in Thornbury, as well as artisanal condiments and sauces.
The Blue Mountain Fine Foods label features a variety of exotic meats in an array of configurations such as ground, sausages, burgers, steaks and salamis. Also on the product list are over 100 items to make carnivores salivate, like ground ostrich, kangaroo and wild boar Thai curry pineapple sausage, camel Moroccan burgers and Asian duck salami.
"Other than some of our own venison, we source our game meats from all over Canada," says business owner Sean Kelly. "This is something I've been working on for over 20 years, banging on many doors. Today, people are looking to eat healthier, and they're asking their grocery stores to carry game meats. Because we're a federally-inspected meat processing facility – unique in a small community like ours – we're well positioned to meet the current demand from retailers – locally, across Canada and around the world." Kelly adds that Blue Mountain Fine Foods is hoping to retail its products in grocery chains such as Loblaw's, Longo's and Fortino's.
Down the Beaver Valley from Black Angus, an ingenious local farm family has embarked on an agri-food venture that is so simple and obvious that one wonders why more people haven't thought of it before: packaging and retailing pure maple sap. Sapsucker Maple Water, produced by the Lower Valley Beverage Company, is actually the brainchild of two families near Flesherton: the Chapmans and the McGlaughlins.
Sapsucker is sap harvested from mature maple trees from area farms, making it a local and sustainable alternative to bottled waters, which are mined from aquifers. The water each tree yields originates as rain or moisture in the air and soil, and the tree provides natural filtration, resulting in subtly sweet water rich in minerals and antioxidants.
Besides careful tapping of maple trees, Sapsucker's primary claim to sustainability is its packaging. "We decided to package our maple water in tetra packs, which not only gives our product a long shelf life, but also offers a lower carbon footprint compared to other packaging," co-owner Charlene McGlaughlin explains. "Tetra ships in large rolls, which results in reduced freight requirements. And tetra packs are almost universally recyclable."
Sapsucker is currently available as a sustainable alternative to bottled water through specialty and health food stores in the GTA (such as Whole Foods and The Big Carrot), via online order/home delivery and in 30 to 40 select "farm to table" restaurants in Grey County and Toronto.
The Town of Collingwood's Rydlo makes an astute observation about the ultimate success of agri-food ventures in Southern Georgian Bay: "In order for successful food businesses to grow, end sellers need to be there," he says, explaining that a large number of producers collaborate locally and regionally with other producers and chefs to "meet the needs of the supply chain."
Local hops is a prime example of this collaboration. Two hops growers in the region, Clear Valley Hops in Nottawa and Bighead Hops in Meaford – both winners of the Premier's Award for Agri-food Innovation Excellence in 2015 – sell at least a portion of their annual harvests to local craft breweries.
Bighead Hops is the largest certified organic hops grower in Ontario. Starting with a mere half acre over eight years ago, Bighead has gradually increased its crop to 11 acres today. "Growing hops organically is really difficult and capital intensive," says Bighead owner Nicholas Schault.
"We don't have the same pest and disease controls available to conventional farmers. Ours is a process of careful observation, timely actions, meticulous weeding and selective crowning to remove winter kill (which limits water mould) and create better buds."
The extra effort to grow organically has paid off for Schault. He happily reports that his entire harvest is sold a year in advance, including three local brewery clients – Collingwood Brewery, Northwinds Brewhouse and Eatery – and MacLean's Ales in Hanover, as well as other craft breweries throughout Ontario. "Unfortunately, we've had to turn down other requests for our hops – locally and from around the world," he laments.
Schault invites everyone to his annual craft beer festival, the Bighead Shindig, on August 13, featuring local craft brewers and cideries, food vendors, bands, artists and walking tours of his hops crop.
With municipal, county and educational resources and established agri-food mentors available to help them along the way, a rising wave of locals and urban transplants is embarking on agri-food ventures all across Southern Georgian Bay. Other established agri-food enterprises, such as
Kolapore Springs Fishery, Georgian Hills Vineyards, Coffin Ridge Boutique Winery, Meredith's Ginger Syrup, local chefs, breweries and cideries (to name only a few) have already staked their claims, offering their culinary creations near and afar and garnering accolades along the way.
We are fortunate to live, work and play in a most bountiful part of the world that is now seeing an unprecedented surge in agri-food entrepreneurial activity. All around us, local artisanal products are being cultivated and created. We truly are a lucky bunch! ❧
Culinary Creations
How to experience the local agri-food scene
All across Southern Georgian Bay, food-minded individuals, from entrepreneurs and chefs to municipal and county economic development bodies, are working collaboratively to promote the region's culinary bounty to local residents and visitors alike. Here's your guide to several agri-food events and initiatives worth exploring.
Apple Pie Trail
This award-winning culinary trail, developed by the Blue Mountain Village Association and partners, may very well have gotten the agri-food ball rolling. Now in its eighth year, the Apple Pie Trail runs from Creemore to Meaford, with 40 stops and 12 adventure partners offering the best in local culinary experiences year-round, including restaurants, vineyards, cideries, galleries, museums, artisanal products, accommodations and adventure experiences.
www.applepietrail.ca
Collingwood Whiskeylicious Festival
With more than 16 participating locations around town and nine signature one-day events in February, Whiskeylicious gives Collingwood's outstanding chefs, mixologists and foodies the opportunity to share their sweet and savoury creations inspired by Collingwood Whisky.
http://whiskeylicious.visitsouthgeorgianbay.ca
Saints & Sinners Trail
This agri-food initiative from Grey County Economic Development began last year with a map tour of county wineries and cideries. This year, a passport to 17 producers and 13 supporters, along with a chance to win prizes, will be promoted via economic development staff participation and sampling at special events throughout Grey County.
www.visitgrey.ca/travel-tools/travel-stories/saints-sinners-local-craft-beer-wine-cider
Feast in the Forest
Now in its fifth year, this annual event organized by Kolapore Springs Fishery lets participants sample dishes created by top local and Toronto restaurants as well as libations from local wineries and breweries while they stroll through the Kolapore Uplands Forest in May. The afternoon is topped off with great music by local artists.
www.feastintheforest.com
South Georgian Bay Community Cookbook
This beautifully crafted book of recipes, art and stories from local chefs, producers, growers and artists celebrates the unique food culture in Grey and Simcoe Counties. A portion of book sales goes toward supporting local food programs and initiatives that engage youth, improve access to healthy food and increase food literacy.
https://sgb.communitycookbook.ca
Community Long Table Dinner
This inaugural event, held in conjunction with the launch of the Community Cookbook, is taking place June 26 on the Thornbury Pier. Dinner and beverages will be supplied by local chefs, restaurants, producers, wineries, breweries and cideries, with proceeds distributed to charitable partners through the Thornbury Clarksburg Rotary Club.
www.communitylongtable.com
Shop Locally!
The easiest way to access local food products and meet local agri-food entrepreneurs is to support your local farmer's market or local retail food markets such as the Collingwood Real Food Market, Creemore 100 Mile Store or The Barn Co-op in Meaford. Farmer's markets are open every week during the summer and likely well into the fall.