What's trending this year
by Judy Ross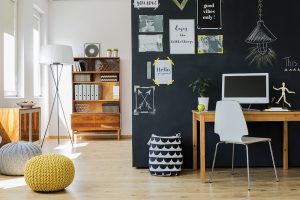 When looking at trends, the main news is how quickly technology is changing the way we live in our homes. Smart TVs, remote-controlled security systems, LED lighting, voice-activated appliances, Bluetooth and wireless are everywhere!
But with all this high-tech gadgetry comes the need for counterbalance. We may be embracing new technology but, at the same time, we're looking for comfort. We want smaller spaces that can be cosy havens. We're choosing less shine in our interiors to keep things calm, and more greenery to remind us of nature. As our world speeds up, our homes need to be places where we can slow down.
We spoke to some local designers and business owners about the innovations and products that are already here or coming our way.
1. INDOOR GREENERY
Back in the '70s and '80s our homes were festooned with greenery. We had spider plants cascading from macramé hangers and potted ficus trees filling awkward corners. But then, for some reason (too much work and too many failures?), indoor plants went out of style. Now they're back and greenery is once again a home décor statement. Plants that purify the air and grow indoors without sunlight are most in demand, as are easy-care cactus gardens and succulent terrariums.
Heidi Ehlers of Collingwood is one person who wants to put more green in our lives. Her company, Green Love, creates low-maintenance greenery to make a dramatic statement. "Everyone wants to be surrounded by the beauty of nature, but no one has time to care for it," she notes.
Her 'green walls' are made of preserved moss and ferns, which she imports from Norway. She also creates 'statement botanicals.' "On a kitchen island, for instance, I will use a combination of succulents, and low maintenance plants to fill a trough or planter. And for harvest tables I do custom-designed greenery in a skinny barn board planter."
Another trend that began in California is growing organic herbs, microgreens and mini-vegetables indoors in specially designed incubators. Companies like Urban Cultivator make climate-controlled and irrigated units that are the size of a glass-fronted bar fridge. These allow you to grow herbs, flowers and salad greens indoors all year round. One stand-alone unit comes with its own useful wooden countertop where, in the midst of winter, you can toss together a salad with your freshly plucked greens.
2. SMART HOME TECHNOLOGY
From Amazon Alexa and Google Home to smart thermostats, smart smoke detectors and even smart plugs and smart locks, the "smart" revolution means if you don't have something in your home that can't be voice or cellphone activated, you're behind the times.
Huge advances in this field have also brought innovations such as voice-activated TV converters. Just speak to the converter and tell it what show or station you want to watch.
New smart home devices have the added advantage of no messy tangle of wiring that has to be shoved out of sight. The hexagonal-shaped speakers made by Bang & Olufsen (BeoSound Shape speaker system) are one example. These can be wall mounted without a wire in sight. The sculpture-like speakers come in a variety of shapes and colours and can be assembled to look like wall art. Nobody will guess what they really are.
3. BIG WINDOWS, SMART SHADES
Designer Kimberley Seldon puts her imprint on high-end homes and finds that everybody wants everything automated now, including their window coverings.
Karen James of Ashton's Blinds Draperies Shutters in Thornbury concurs, adding the changes in automated window shades have been dramatic over the past few years. "You can now automate all kinds of shades," she says, "and operate them either from converters with low-voltage batteries or have them integrated into your home automation system and control them from your smart phone."
Driving this trend to automated shades is the size and quantity of windows in new homes. "We just did a bedroom with eight windows," says James, "and now with fabrics available in larger widths (up to 124 inches), we can also put shades on any size of window. In one house we installed roller blind shades on a 19-foot-tall window."
4. ROBOT-LIKE APPLIANCES
In our newly smart homes, WiFi-assisted appliances will not only listen to us, they'll soon be talking to each other. GE is leading the pack with WiFi appliances that use Geneva, a voice control assistant, available on both Google Assistant and Amazon Alexa. Just speak to your oven and tell it to preheat to 350 degrees. Or ask your dishwasher if the dishes are clean.
Dacor (now owned by Samsung) makes a Family Hub refrigerator that has a built-in camera. Check the contents from your smart phone when you're in the grocery store and never again come home with something you don't need.
Appliance drawers are in demand for up-to-the-minute kitchens. Dishwashers, microwaves and mini refrigerators all come in pull-out drawer style. Viking has introduced a 30-inch-wide warming drawer that doubles as a slow cooker.
Then there's the Whirlpool Cabrio washing machine that can also be controlled from a smart phone. And, coming soon … a robot to fold the clothes! There are even self-cleaning toilets – what a brilliant idea. Made by Toto, these are in common use in Japan. After usage the toilet cleans and sanitizes itself with electrolyzed water.
5. HONED & MATTE FINISHES
"The trend to less shiny surfaces on countertops has been around for a while," offers Katherine Arcaro of F.A.D. Inc. (Farrow Arcaro Design), "but now shiny floors and wooden tables coated with urethane are giving way to matte oil-based finishes that absorb into the wood."
Low-sheen flooring is also in high demand, agrees Chris Bickerton, owner of Northland Wood Products, a new Collingwood company that produces a wide variety of flooring prefinished with natural oils.
"The big advantage is how easy it is to repair scratches," says Bickerton. "You can just redo one spot of damage, not the whole floor."
Honed countertops include Silestone charcoal soapstone and Caesarstone Statuario Nuvo (an interpretation of Italian Statuario marble). Matte finishes on stainless steel appliances are popular, too, mainly because they don't show fingerprints.
6. LIGHTING THAT DAZZLES
Lighting has been having its heyday for a few years now. If you want to update your décor, a sure way is to change light fixtures for a more 'of-the-moment' look.
New styles of lighting can instantly elevate a room. And designers advise focusing on scale. Nothing looks worse than a 'too small' pendant over a dining table.
Independent craftsmen have entered the field with sculptural looking pieces that make a dramatic statement. LED technology is changing rapidly and the new bulbs come in an attractive warm white. Even the Edison-style light bulb now comes in an LED version. Vintage fixtures (like aged copper pendant lights) are making a comeback, too, and are being scooped up from online shopping sites like Etsy and 1stDibs.
7. LARGE ART & OVERSIZED PHOTOGRAPHY
The best way to bring any room to life is to mount thought-provoking art or photography on your walls – the bigger the better.
You can even turn your vacation or family photos into oversized art by having them enlarged and mounted on canvas at Gabriele Photography in Collingwood. "You need a good quality photograph shot with a DSLR (digital single lens reflex) camera to make a 36 x 48-inch enlargement," explains owner John Gabriele, adding, "Phone shots are okay for enlargements to 8 x 10 or 11 x 14, but the photo loses vibrancy after that."
Check out the local art galleries and artist studios for large paintings. In general, the larger the canvas, the costlier the painting, but you may find beginning artists selling their large works at more affordable rates. An alternative to buying original art or mounting your own photos is to buy huge posters and have them framed. "If you can't afford to buy large original art," suggests designer Jacqueline Van Strien, "posters (especially vintage travel and ski ones) are a good alternative and add real impact to any room."
And if you want to disguise the black mass of your wall-mounted television set amongst all this beautiful art, check out Samsung's The Frame 4K UHD Smart TV. This wall-mountable Smart TV is as slender as a picture frame. Put it into "art mode" when the television is turned off and it looks like a framed painting.
8. FAUX FINISHES
Digital photography has paved the path for some fascinating new products. Wallpapers produced by small boutique companies using digital printing techniques come in bold, funky and graphic patterns that make a great statement wall or eye-popping powder room.
Contemporary porcelain tiles that can be made to look exactly like wood, concrete or stone are in demand for backsplashes, floors and bathroom shower walls. All have the advantage of being able to be wiped down with a wet cloth. Check out Unica Nomad for porcelain floor tiles that look like timeworn vintage silk rugs.
Vinyl flooring, once relegated to laundry rooms and washrooms, is the newest trend in floors. New printing and photographic technologies allow vinyl to replicate wood planks or stone, and in many cases, these tiles can be laid down on top of existing flooring. NuCore vinyl plank flooring and Torlys are two manufacturers to check out. Torlys offers wide plank and extra-long options in an array of beautiful colours and finishes. These LVTs, or Luxury Vinyl Tiles, are easy to maintain and come with protection from mould and mildew.
9. LIVING SMALL
Could it really be the end of the monster mansions? Real estate experts say the trend is to smaller living spaces, and furniture is being down-sized accordingly, including smaller sofas, murphy beds and multi-function furniture as well as appliances like the compact washer/dryer units made by LG Signature that can fit in a small closet.
To meet our desire for small, cosy spaces, there's also a trend toward converting backyard sheds and unused garages into snug retreats. From art studios, guest cabins and kids' playhouses to "man caves" and "she-sheds," any existing shed can be upgraded by adding a porch, widening windows, adding rugs and furniture to create an inviting space.
Or you could build new. A new outbuilding on your property won't require a permit if it's only 10 feet by 10 feet. Summerwood Products, a Toronto company, makes prefab, easy-to-assemble kits for sheds and bunkies. Summerwood's Bala Bunkie keeps the footprint at 100 square feet but offers 230 square feet of total space by adding a loft. And The Bunkie Co. offers some great-looking upscale versions with lots of glass walls if you have a view to be featured.
10. BLACK IS THE NEW WHITE
White has been dominating our interiors for years, but now black is making a decorating statement. Think of matte black chalkboard paint on a kitchen wall or a moody black wall as a backdrop to a photo gallery in a hallway.
Window trims in black add a sophisticated look to both traditional and modern spaces. Black is also taking over from stainless steel in kitchen appliances; Moen has introduced a line of faucets, taps and shower heads for kitchens and bathrooms in matte black. And black matte dinnerware is popular with chefs because it offers a neutral backdrop for food.
"I'm loving black right now," says Collingwood designer Missy Sharp, who likes to add pops of black to almost any room. "One of my favourite things is to paint a ceiling black. It's like the night sky; it just disappears."
There's something for everyone in this year's home design trends. Whether you're a techy, an art aficionado or a plant lover, and whether you want to go big or go small, there are more ways than ever to make your home a statement of your personality. ❧