By Jeff Shearer, Publisher On The Bay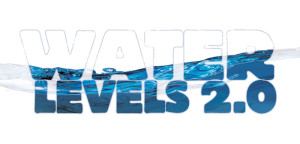 With record high snowfall, frigid temperatures and ice cover we haven't seen in years, will this be the end of the water levels issue when it all melts in the spring? Not even close. We have a long term problem and this record winter is but a short term fix.
But now we have a new challenge of convincing our elected representatives that we still have a crisis of water levels in Lake Huron and Georgian Bay.
That's a real shame since by the end of last year; citizens groups in Canada and the US had persuaded politicians on both sides of the border that we need to take action to mitigate these man-made intrusions on Mother Nature.
And we all know how real the problem is! Even the International Joint Commission for the great lakes has acknowledged that we've lost almost 20 inches of water due to dredging and erosion in the St Clair River.
So the take-away learning from this record winter is that massive Climate Change is still here and is not going away soon. In fact, all over the world, were breaking climate change records, be they droughts, floods, heat, snow or cold!
And a one-winter excess of snow and cold on one continent is but a temporary pause in the decades-long decline of water levels in our upper lakes! Mark my words, by this fall we will be back to the disturbing trend that has been happening for 20 years.
If we let our foot off the gas for even a year, we will destroy years of solid political and public progress on an issue that threatens all of us who live on Georgian Bay and Lake Huron.