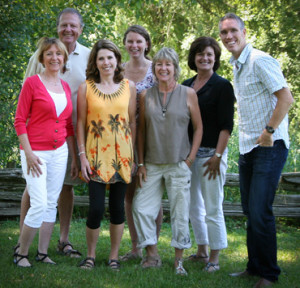 Jeffrey Shearer, Publisher
The founder and visionary of On The Bay Magazine, Jeff has enjoyed a distinguished career in the top echelons of the Canadian magazine industry. He is the former publisher of one of Canada's most respected publications, Saturday Night Magazine, and was publisher of Applied Arts Magazine. Jeff also served as president of Telemedia Publishing, where he oversaw leading magazines such as Harrowsmith, Equinox, Canadian Living and Western Living. Recognized by Marketing Magazine as one of the Top Ten Marketers in Canada, Jeff was also named Magazine Person of the Year for his "outstanding contribution to ongoing excellence in the Canadian magazine industry." Before moving to the Collingwood area to launch On The Bay in 2004, Jeff was Vice President, Marketing of The Toronto Star. More recently Jeff was chair of the Collingwood BIA, served as a trustee of the Collingwood General and Marine Hospital and was a director of the Georgian Bay Association. Currently he is a founding director of the recently formed, Institute of Southern Georgian Bay.
Janet Lees, Editor
The founding editor of On The Bay since its inception in 2004, Janet is a Carleton University Journalism grad who began her career as a newspaper reporter and has since written articles for prominent Canadian lifestyle, sports, food and business publications. She also co-authored a book about a historical landmark in a Southern Ontario town. Janet co-owned a Burlington-based PR and marketing agency for 10 years before making the lifestyle choice to move to Thornbury in 2000. Immediately prior to joining On The Bay, Janet served as editor-in-chief of a Collingwood-based trade magazine publisher specializing in the outdoor, sports and lifestyle markets.
Holger Meiche, Art Director
Holger has worked with On The Bay since 2005, first as assistant art director and graduating to art director, a position he has held since January 2006. He brings an international perspective to his talent and skills as a graphic designer and art director, having produced work in print as well as online for a number of major corporate clients both in Canada and England. Since arriving in Collingwood in 2000, Holger has built a roster of local and regional print and web-based clients. He was instrumental in the redesign and re-launch of this website for On The Bay.
Cindy Caines, Admin & Circulation Manager
Cindy joined On The Bay in May 2007 with a strong background in office administration. At On The Bay, Cindy is responsible for receivables and payables as well as coordinating the timelines of production and circulation. As our front office person and chief admin problem solver, Cindy also manages subscriptions, general administration and is our warm and charming presence to customers and readers who visit or call our office. In 2010 Cindy's responsibilities were expanded to include advertising production and co-ordination. Prior to joining On The Bay, Cindy worked as an office administrator for local businesses including John Brown Custom Sports and Blue Mountain Chrysler. She has lived in the Collingwood area since 1999.
Shauna Burke, Eastern Sales Manager
Shauna joined On The Bay in 2004, establishing the eastern sales territory which includes the central and eastern side of Collingwood, all of Wasaga Beach and the southern communities near Georgian Bay. Shauna's considerable media sales experience began in Toronto advertising sales and management with national magazines such as HomeMaker's, Today's Bride and Outdoor Canada. After moving to Southern Georgian Bay, Shauna joined Club Intrawest in sales in the Town of the Blue Mountains in 2003.
Patti Bowden, Western Sales Manager
Patti joined us in 2012 and is responsible, as Western Sales Manager, for all businesses located in our western territory which begins at the western edge of Collingwood and extends all the way to Owen Sound to the west and the Beaver Valley to the south. Patti spent most of her life in Southern Georgian Bay, graduated from George Brown College, then began a career in Collingwood in the media business. She sold display advertising for The Enterprise Bulletin for 5 years, which provided a great opportunity to get to know many of the businesses and their owners from Wasaga Beach to Meaford. She then moved into the printing industry and according to people she worked with and for, Patti provided her clients with exceptional customer service and account management, as well as marketing and advertising solutions for businesses located throughout southern Ontario. Patti brings a strong combination of media and printing knowledge to On The Bay and to all her clients.
Anita Hunter, Proofreader
Anita joined the On The Bay team in 2010 as a proofreader. Her proofreading experience goes back many years, starting with her decade long career in the newspaper industry and then into marketing for a hardware manufacturer in Meaford. In 1992 she co-founded Tri-namic Printing Inc., a commercial printing business in Collingwood. Anita became the sole owner of Tri-namic Printing in 2005 and sold the successful venture in 2011. In 2004 Anita won the Collingwood Chamber of Commerce's "Business Woman of the Year Award".