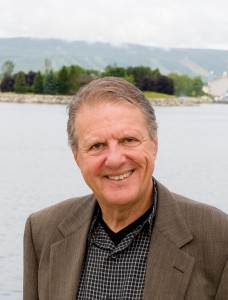 I'm excited to share some important news with you. On August 31, ZoomerMedia acquired a controlling interest in On The Bay Magazine Inc. The effect of the purchase is that On The Bay has merged with ZoomerMedia's new Collingwood-based classical radio station, The New Classical 102.9 FM.
This journey began when I met ZoomerMedia's founder, Moses Znaimer, for the first time at a Business in Motion event in Collingwood last November, where he was speaking to a large gathering of business and community leaders from all over Southern Georgian Bay.
I had always considered Moses a media visionary, the man who tapped into the Baby Boomer demographic in the 1980s with the creation of CityTV and MuchMusic, which became models for news, music and movie television around the world. But when Moses founded ZoomerMedia, a multimedia company devoted to the Boomers we now call Zoomers through television, radio, print, digital and trade shows, I knew that On The Bay might just be the perfect fit and I was looking forward to meeting him.
His first words to me were, "So you are the gutsy publisher who takes on wind turbines, gravel pits and water levels." That told me he knew the magazine well and he was impressed by our authoritative coverage of the issues that challenge our community. Building on this mutual respect, Moses and I began to forge a business relationship that would see On The Bay become part of ZoomerMedia.
Under the partnership, I will continue in my role as Publisher of On The Bay and I will remain a shareholder in the magazine. In addition, I will be taking on new responsibilities as General Manager of The New Classical 102.9 FM.
I have been an avid listener of 102.9 since the station went on the air in Collingwood three years ago. Beyond the distinctive quality of the classical music the station plays, its news is different from that of any other local radio station. Billed as "calm, concise and comprehensive," the news segments are aimed at educated and informed listeners who want more than a few seconds of "attention-deficit" news. And what makes it truly unique, even compared to our national public broadcaster, is that the hourly news also includes arts and culture. If you don't already listen to The New Classical 102.9 FM, I recommend that you give it a try as it reaches every corner of our Southern Georgian Bay area.
So what will our new partnership with ZoomerMedia mean to our magazine? For one, it means that On The Bay – which has been operating for 14 years as a small, independent publication in the increasingly fragile world of print – is now part of a large multimedia company with much greater resources at our disposal. For instance, we have always wanted to create a stronger online presence for our magazine and that will now be possible under ZoomerMedia. It also means that The New Classical 102.9 FM and On The Bay, as premium media products, may be able to extend content from one medium to the other, using the strengths of each to better inform our readers and listeners.
As Moses said in his news release announcing the partnership, "Combined, On The Bay and The New Classical 102.9 FM will strengthen each other's respective operations in the marketplace for readers, listeners and advertisers."
From my perspective, I am confident that the potential synergies between our two like-minded, quality-driven local voices will work well together and help each other grow as we become an even stronger media force in Southern Georgian Bay.
Masthead, the online newsletter for the Canadian publishing industry, announced the news of the partnership by noting, "this type of merger of a local radio station and magazine is a first for the industry and may not be the last time it happens." Masthead sees this as a trend towards radio stations becoming more magazine-like and magazines offering more audio content on their digital format.
However you look at it, we see a bright future ahead for On The Bay, and we look forward to "celebrating life in Southern Georgian Bay" with you, our valued readers, for years to come. ❧