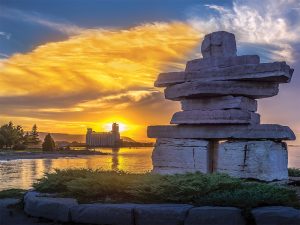 Our cover image for this issue of On The Bay depicts two iconic local landmarks – the Collingwood grain elevator and the stone inukshuk at Sunset Point Park. They are fitting symbols for the subject matter contained in the following pages; the towering grain terminal, emblematic of our area's rich history, almost seems to anchor the majestic inukshuk that commemorates one of Collingwood's favourite sons while serving to remind us all why we're here.
The Sunset Point inukshuk is first and foremost a tribute to Pete Crompton, a popular local man and avid windsurfer who died in a boating accident in 2003 at age 27. The stone giant stands watch over Crompton's beloved Nottawasaga Bay in recognition of life lived large and taken too soon. Over time it has developed almost spiritual significance as a totem for all who pass by.
The word inukshuk means "in the likeness of a human" in the Inuit language. These monuments of unworked stones have been used for centuries by the Inuit for navigation, communication and survival. Traditionally, an inukshuk says, "someone was here" or "you are on the right path."
When publisher Jeff Shearer and I were laying the foundations for On The Bay, also coincidentally in 2003, we wanted to create a magazine that would reflect all the reasons we are proud to say, "I am here" and all of the people whose paths lead them to these shores. In the early days of the magazine, we published articles about the people who were making their way here, from "Naturally Attracted Thirty-somethings" (NATs, as we called them) to those in their forties, fifties and into senior-hood.
In the years since, we have published countless articles about the reasons those groups are choosing to plant roots here – a sense of community, a wealth of natural wonders, a lifestyle filled with outdoor activities, culture, food, family and friends. We have written about the power of place and the many issues that impact our enjoyment of life in Southern Georgian Bay, now and into the future.
Everything we have been saying for the past 13 years has now reached a zenith, reflected in the real estate and development articles contained in this issue of On The Bay. More and more people from those varied demographic groups are finding reasons to make their homes in our region, while those who can already say, "I am here" are happily staying put. It's causing a bit of a bottleneck in our local real estate market, which presents challenges for buyers who are competing for the few homes available to purchase. Prices are rising accordingly as low supply and high demand whirl their frenzied tango. And new home developers are scrambling to bring projects to market before those willing buyers become too exhausted to dance.
Our little corner of paradise is no longer a well-kept secret. Growth and change are inevitable, and we must remain vigilant to ensure that the growth and change ahead remain true to the character and integrity of our beloved Southern Georgian Bay.
Just as the grain elevator reminds us from whence we have come, the inukshuk signifies the enduring power of this place, and the pride we all have in being able to say, "I was here." ❧