With new developments popping up everywhere, there's more choice than ever
by Marc Huminilowycz
opening photography by Richard Garner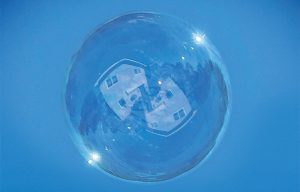 With inventory of resale homes at an all-time low in Southern Georgian Bay, buyers are looking to the region's new residential development projects, while builders and municipal planners scramble to keep up with demand.
According to the planning departments of the region's five municipalities, 2017 was another record-breaking year for new housing starts, as reflected in the number of units in application, proposal and construction phases, and the total construction value of these projects.
While this is very good news for developers and municipalities, how long will the trend last, given rising borrowing rates and stricter mortgage rules introduced at the beginning of the year? And what about affordability? Is Southern Georgian Bay real estate still a better value than the GTA and other parts of Ontario?
On The Bay spoke with representatives of the Georgian Triangle Development Institute (GTDI) for their perspective on the state of residential development in our region. According to Ken Hale, GTDI President and VP of Land Development and Acquisitions with Dunn Capital Corporation, Southern Georgian Bay continues to be a "viable economic option," with opportunities for all types of newcomers – from young families to retirees, from the affluent to the entry level buyer.
"Fortunately, the new home offering in our region is diverse, with something for everyone," says Hale. "Because we offer a wide selection of properties, from homes priced at entry level to larger single family detached homes that appeal to move-up buyers, everything is selling. If you have a product that delivers high quality and good value, it will move."
Hale says the new mortgage rules and rising interest rates may result in a moderate slowdown in new residential sales but, considering longer term trends, he predicts that real estate activity in Southern Georgian Bay will continue to grow. "The province of Ontario's 'Places to Grow' plan has predicted significant growth in Collingwood and Wasaga Beach over the next 10 years," he says.
"Statistics Canada has confirmed this trend. All the signs are there, with likely future expansions of our hospital and our regional airport, great plans for Collingwood's waterfront and a new downtown area and beachfront development for Wasaga Beach. It's a good time to be positive about our future."
Christine Brennan, a GTDI director and new residential and resort property real estate specialist, shares Hale's optimism about the future of Southern Georgian Bay. "Any builder who has inventory product will sell out fast," she says. "Buyers gravitating here all have one thing in common – the quest for the wonderful lifestyle that our region offers."
As to the cost of owning a home in our region, Brennan says prices are steadily rising. "In the GTA, the average price of a home in 2017 was up 12.7 per cent from the year before. In the Southern Georgian Bay region, homes went up by 22.2 per cent," she says, noting that, to a great extent, our region is being buffered from the huge disparity in home prices being experienced in the GTA.
To illustrate her point, Brennan notes that the cost of the average home (all types of residences) in the GTA in 2017 was $1.1 million, compared to the average condo price of $512,000. "It's no wonder that young professionals in the GTA are gravitating to condos," she says. "Although prices are increasing here, our buyers – be they boomers cashing out of the GTA market, move-up buyers or first-time home buyers looking for a better quality of life – are getting more for their money."
Brennan says typical "empty nester" new home purchasers in Southern Georgian Bay prefer a condo property with zero maintenance, and are happy to pay the extra monthly fee. Younger buyers, who don't mind doing chores around the house, prefer a home with no maintenance fees.
"Freehold [no maintenance fee] properties are not very common in our region," Brennan adds. "When they do come up for sale – like Indigo Estates in Collingwood and Trillium Forest in Wasaga Beach – they get snapped up quickly. Younger buyers are very price-point sensitive. They are looking for a vibrant community where they can go out and interact with other people in their age group. This bodes well for us, as we're seeing an eclectic shift in our demographics. I believe that over the next several years, our area will continue to emerge as an attractive and sophisticated place that appeals to both young and old."
To get a snapshot of what is happening in new residential development across Southern Georgian Bay, we spoke with the planning departments of the region's six municipalities, as well as several developers with new projects on the books. Here is what they had to say.
Clearview Township
Of all the region's municipalities, Clearview Township – and specifically the town of Stayner – is experiencing the greatest amount of new residential development activity in terms of the sheer quantity of projects in the works. According to Clearview Director of Community Services Mara Burton, there are about a dozen projects in various stages of proposal, approval and construction.
The active Stayner projects include: Aspen Ridge, a collection of 64 modern town homes; Nottawasaga Station, approved for a staggering 995 units, now selling its first phase of detached single family homes; Zancor Stayner (55 singles); Stayner Ridge Estates; Mamta Homes (town homes and semis); North Street Greens (towns, semis, singles); Ridgeview Estates (Phase 2 – 36 singles); Emerald Creek (towns, singles, condos); Cityscape Development (new application for towns and singles); Ashton Meadows (singles); and Stayner West (towns).
Burton says Stayner's new development projects are attracting a mix of young families and retirees from the GTA with a combination of affordable pricing, nearby skiing, an abundance of recreational opportunities, and close proximity to Collingwood, Barrie and Alliston.
"Many of the buyers are local people who want to settle down and raise their families in a small town," says Burton. "Stayner is growing, but we want it to grow at a nice pace in order to build a stronger community. We have initiated a community improvement project for the downtown core, and recently hired a General Manager of Parks, Recreation and Culture. A new trail system looping through Stayner is in the works, with the assistance of the developers building here."
In the village of Creemore, servicing has begun for Alliance Homes' 498-unit Hometown Creemore subdivision, and local resident Doug MacIntosh's ultra energy-efficient 72-unit Meadows of Creemore condo project has also received the green light.
Wasaga Beach
For the first time in its history, the Town of Wasaga Beach surpassed $100 million in the total value of new residential construction in 2017, with demand for single-family detached homes remaining high and demand for detached townhomes increasing. In keeping with its commitment to the province's Places to Grow plan, the town identified five "growth node areas" focused on intensifying new development within its core.
According to Doug Herron, Wasaga Manager of Planning and Development, the number of new projects continues to grow, with 2017 surpassing the previous year. "We're in lots of discussion with developers these days, and seeing GTA investors like never before," he says.
Herron notes that development in Wasaga Beach is shifting from single-family homes to condo properties, with a focus on attracting a variety of age groups, from downsizing seniors to younger people moving out of their parents' homes. "Our younger, zero to 19 population is growing faster than in neighbouring municipalities," he says, adding that the town's elementary schools are "bursting at the seams."
Driving Wasaga Beach's growth is its ambitious Downtown Master Plan, which involves the creation of a heritage-inspired Town Square on Main Street – complete with ground floor commercial space, broad sidewalks and residences – leading to an adjacent entertainment district on beach areas one and two.
Council approved the Master Plan last March. An expression of interest was issued to private developers, who were scrutinized by an auditor for financial strength. The town is moving forward with its "preferred developer," Fram-Slokker, the builder behind The Shipyards in Collingwood.
"Fram was chosen because they are a leading developer of mixed use projects," says Herron. "We are currently working on a development agreement with them, which will involve collaborating on the procurement of town-owned and privately-owned lands, and hope to be moving forward with the first phase of the project this year."
According to Herron, the Master Plan's beachfront entertainment district will be a "fun destination," featuring a resort hotel, mixed residential and commercial spaces, restaurants, cafes, and family-friendly attractions such as a water park, a ferris wheel and a carousel.
There may also be a "fun" component for adults in the works. Last May, the Ontario Lottery and Gaming Corporation (OLG) announced its intention to expand private sector gaming in Ontario by reaching out to the "Zone C7" municipalities of Wasaga Beach, Collingwood, Clearview and Springwater, identified as potential locations for a single gaming facility with three hundred slot machines.
"Wasaga Beach is ready for the possibility of hosting a casino," says Herron. "Council has approved the idea. We have five potential sites, one of them within our entertainment district. A gaming facility here would create four hundred local jobs and definitely attract more tourism to our town."
Collingwood
The Town of Collingwood continues to expand its residential development portfolio. According to Director of Planning Nancy Farrer, new project numbers were slightly higher in 2017 (415 units) than in the previous year (402), illustrating a trend well above the municipality's long-term annual average projection of 250 units.
"Residential developments in Collingwood are expanding and continuing," says Farrer, identifying noteworthy activity at Mountaincroft, Blue Fairways, Riverside, Indigo Estates, Red Maple, Mair Mills, Balmoral Village, and what she describes as "phase after phase" activity at The Shipyards. According to Director of Sales Tara Parsons, one phase called The New Shipyards will be releasing a collection of three-storey waterfront townhomes, all with elevators, ranging in size from 2,600 to 2,900 square feet. The building will be similar in its urban industrial design to the developer's existing Sidelaunch 1 property.
"This year, we're getting a lot of interest from multi-generational buyers – adult children wanting to purchase a residence with their parents, liquidating larger properties and diversifying the adult/child portfolio so they have a place to come and spend quality time together," says Parsons. "Our buyers are looking at lifestyle more than ever, wanting to walk downtown."
Collingwood's "age in place" Balmoral Village development is also progressing quickly. "When I started the project, I was intending to build it for other people. Now I'm building it for myself," jokes developer Thomas Vincent, President of Global Hospitality Inc.
Vincent says Balmoral's first phase of residential properties, 96 semi-detached bungalows (which sold out in less than 10 months) is complete, with most purchasers now moved in. A second phase of homes is scheduled to be built this year. The development's 50-unit Balmoral Place rental apartment building opened last December. A five-storey 129-unit condo building is scheduled to break ground this spring, coinciding with the opening of an 8,000-square-foot recreational clubhouse. Balmoral's 30,000-square-foot Medical Wellness Centre is scheduled for completion in January, 2019.
"Ours is the only concept of its kind in Ontario," says Vincent. "A year ago, I attended a conference on what seniors' housing will look like in the future. Identified at the event were several 'hot points.' Balmoral Village covers them all."
When completed, the development will house 650 residents, offering five housing options geared to different needs.
"Balmoral is a concept that people can understand," adds Vincent. "The location is excellent – you're five minutes' walk from the water, a golf course and shopping. And so are the transportation options. A bus runs right along the property, you can book a car for a reasonable cost through Autoshare right on the premises, we have a permanent taxi stand and a private car service that is available at a competitive flat rate."
According to Farrer, other new Collingwood properties coming on board include the Charleston Homes project on High Street north of Poplar Sideroad, the luxury Perfect World condo near The Shipyards, and the long-anticipated Monaco condo development on the former Admiral Collingwood School site at the corner of Hurontario and Hume streets.
Monaco developer Stonebrook Developments, headed by a group of investors who were looking for opportunities outside of the GTA, purchased the land from another developer after a similar project planned for the site didn't come to fruition.
Officially launched in 2017, Monaco will feature 127 condominium suites (including penthouses) with 180 underground parking spaces and 27,000 square feet of commercial space on the ground floor. Interest in the development has been strong following two initial launches last year, says Stonebrook's Remo Niceforo, with 2,000 potential buyers (about half local and half from the GTA) on a registration list. A grand opening is planned in May, and construction is slated to begin later this year.
"Our project has had an overwhelmingly positive response from Collingwood's residential and business communities," says Niceforo. "Working closely with our architect, our designers were given free reign with the interior look and feel of the suites. Featuring 10-foot ceilings (thirteen feet in the penthouses), engineered hardwood flooring, Italian kitchens, granite and marble, they will offer residents a truly high-end lifestyle product."
Noting that the Collingwood market is under-serviced from a condo perspective, Niceforo identifies Monaco's target buyers as very active people who like to socialize and want easy access to downtown amenities, with no maintenance or security issues.
"Monaco will be very conducive to entertaining," he says, adding, "It is a unique property in the downtown core that will offer benefits on so many levels: for residents, the convenience of walking to downtown stores, restaurants and boutiques; new customers for retailers; and a $1.2 million residential and commercial tax base for the municipality and the county."
For the building structure, Stonebrook will use concrete, "the gold standard in construction," Niceforo adds. "The end product will be something iconic from a Collingwood perspective – a building that everyone will be proud of for many decades to come."
The Blue Mountains
Like Wasaga Beach, The Blue Mountains also reached a development milestone in 2017, topping its 2016 record of 563 permits issued with 674 permits worth $185 million in construction value, creating 353 new residential units.
With a demographic approaching a 50/50 mix of permanent and seasonal residents and an average home price of $613,000 – up 22 per cent over 2016 and the highest of any Southern Georgian Bay municipality – planning and engineering personnel are having to put in overtime hours and the town is hastily filling contract positions in order to process, evaluate and approve projects from a steady stream of eager developers.
"When we have developers come to us, we work with them to focus on a type and quality (versus quantity) of product that will integrate well into the community and allow us to manage growth," says Director of Planning and Development Michael Benner. "Although we still have a primarily older population here, we are seeing more young families in the community. Enrolment at Beaver Valley Community School is increasing year after year, and our local daycare, BVO Preschool, is currently at capacity with 40 families on the waiting list."
As examples of current development activity in The Blue Mountains, Benner identifies several noteworthy projects: Trailwoods Phase 3 (single family homes), The Villages of Peaks Bay (single detached and townhome condos), Crestview Estates at Blue Mountain (single detached homes), and what he describes as the "hot spot," Windfall at Blue Mountain.
Crestview Estates from Terra Brook Homes is a collection of detached single-family homes on large lots backing onto the Monterra Golf Course or green space, with views of Blue Mountain. Ranging in price from $670,000 to $1 million, phase one of the development sold out within six months, and phase two "within hours," according to Terra Brook President Corey DiCarlo. Phase three, consisting of 31 lots with single detached homes, will launch this spring. A fourth phase is scheduled for 2019.
DiCarlo says the majority of Crestview buyers are "cash-rich" semi-retired and retired individuals selling their homes in Oakville and Vaughan to move permanently into Southern Georgian Bay. "About three years ago, we started researching The Blue Mountains and Collingwood and decided it was a good time to get into this market," he says. "This region is certainly booming compared to the GTA and other regions of Southern Ontario."
The latest addition to the highly successful Windfall at Blue Mountain development from Georgian International is Mountain House at Windfall, comprising 230 modern, mountain chalet-style suites ranging in size from 673 to 1,072 square feet, housed in 12 mid-rise buildings next door to Scandinave Spa.
Georgian VP of Sales and Marketing Mike Parker describes the Mountain House buyer as "aged 30 to 50, from the GTA, looking for a second home with a five-year exit strategy from the city." Appealing to this demographic, the project will feature a spa-inspired amenity space with warm and cold pools, sauna, relaxation room, fitness room, an "après lodge" with outdoor wood fireplace overlooking pool areas, and a bicycle tuning station on the site's trail system, which connects to the Georgian Trail.
"All Mountain House suites have a chalet look and feel, complete with terraces, and their standard features go beyond the norm in the industry," says Parker. "We have just released two buildings, Trailside and Aspire, containing 35 units. Their introductory prices will range from the low $300,000s to the low $400,000s."
Meaford
New development projects in Meaford are progressing, although at a somewhat slower pace compared to its neighbours to the east. According to Meaford's Director of Development and Environmental Services Rob Armstrong, a 70-unit condo project on Collingwood Street has been put on hold because the property is currently up for sale. The former site of Stanley Knight Flooring near Georgian Bay – a key development property identified in Meaford's Waterfront Strategy – has a potential purchaser who is considering developing a mixed use residential/commercial project on the site, says Armstrong.
"We are also continuing to work with local landowner Lino Toncic on the redevelopment of Nelson and Cook Streets, with a phase one, three-storey, 45-unit condo building with ground floor commercial space and a phase two, 52-unit condo, also with commercial space on the ground floor," he says. "Although there are some heritage concerns that need to be addressed, the project sounds promising."
Elsewhere in the Municipality, a large parcel of land north of Highway 26 and west of Christie Beach has been purchased by a regional developer. "We're expecting a development application sometime this year, but the project may have challenges because the site will require an extension of municipal services," says Armstrong.
On the community front, Armstrong says the new kindergarten to grade 12 "super school" is applying for site approval and hopes to be breaking ground this year, with occupancy in 2020. The former Meaford Community School on Cook Street is being evaluated for various options, including a potential community hub including some affordable housing.
"A lot of young families are looking for accommodations in Meaford, but there isn't much available," notes Armstrong. "We're trying to push projects through as quickly as possible and, moving forward, we see demand and interest continuing from developers outside the municipality."
Owen Sound
Development activity in the City of Owen Sound continues to grow at a steady pace. According to Director of Community Services Pamela Coulter, a 367-unit project on the former site of the RCA plant has been approved and is currently in the design stage.
Near the Owen Sound Hospital, Red Hawk Construction's 367-unit mixed use development – comprising condos, single detached and townhomes – has municipal services installed and will begin selling this spring, with construction scheduled to begin in 2019. An application has also been made by Red Hawk for Bremont Homes, a mixed use, 338-unit subdivision east of the hospital.
Elsewhere in the city, a 36-unit condo development on the Sydenham River is scheduled for occupancy this year, and several smaller projects are in various stages of approvals and construction. "The most exciting news in Owen Sound is our Downtown River Precinct, located where the Sydenham River divides the city," says Coulter. "It's a transformational project that takes back the site and makes it more people-friendly, including a historical building on site, a deck oriented to the river, a pedestrian riverfront promenade and a new farmers market."
Throughout the region, municipalities are experiencing continued growth in new housing starts, with developers offering a diverse selection of residential options to suit the needs of a broad demographic, from retiring empty nesters to city weekenders to young entrepreneurs looking for a better place to live, work and raise their families. The average cost of purchasing a home in our region is going up year after year. This, combined with the province's population growth projections for our largest municipalities, Collingwood and Wasaga Beach, points to a trend that will likely continue into the near future. It will be up to developers to continue offering the right product at the right price. ❧