Outdoor kitchens make backyard cooking better than ever
story by Judy Ross, photos by Jessica Crandlemire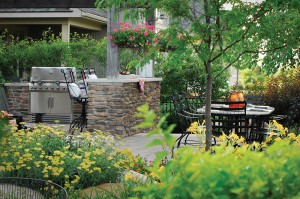 Backyard food is looking a whole lot different these days; it's being elevated well beyond burgers and dogs because of sophisticated new equipment that is redefining outdoor cooking. Consider some of the options available to inventive chefs: baking pizza in a wood-burning pizza oven, frying turkey in a propane turkey fryer, or smoking trout in a wood-pellet smoker. "I attribute this phenomenon to the Food Network channel on TV," quips Carl Christiansen, owner of Outdoor Kitchens Canada, a company that builds modular units for outdoor kitchens. "Everyone wants to be a celebrity chef in their own backyard!"
The past five years have seen an explosion in the demand for lavish outdoor entertaining spaces, including fully outfitted kitchens. "This is such a hot thing right now," notes Katherine Arcaro of FAD Design in Collingwood. "Backyards are being made over to be outdoor rooms. Everyone wants to grab our few warm months and make the most of them. With busy lives they just want to stay home and eat and enjoy, not go to a cottage or even out to restaurants. They just want one place, and they want it dialed up!"
A big part of the appeal of outdoor kitchens is that they allow you to entertain 'at home' without being 'in the home.' No worries about red wine spills on the carpet or shattered crystal glasses. It's a more family-friendly way of entertaining because kids can run around without doing any harm. Just being outside puts everyone, including the hosts, more at ease. And it gives the chef a chance to show off with new dishes created on cool new outdoor cooking equipment. Entertaining outside has never been more fun.
The backyard of Donna and Kevin Major's log house in Collingwood is a delightful garden oasis where they cook all their dinners in the summertime. Their fully functional outdoor kitchen is the main reason they spend so much time in their garden. "Our inside stove doesn't come on all summer," says Kevin, who is the main cook of the family and has done much of the outdoor construction himself. "We've been gradually improving our backyard space here … but it was putting in the kitchen five years ago that has really made a difference in how much time we spend outside."
His outdoor kitchen consists of a long island with a plumbed stainless steel sink and plenty of lower cupboards. A generous amount of counter space helps with food prep and serving. Across from the island is a large Weber gas barbecue and a Traeger wood-pellet-burning electric smoker. The smoker is his favourite way to cook. "It's a great system. I cook fish, brisket, ribs, even a turkey once. The best thing is, unlike a grill, it doesn't need to be watched. I'll just put a fillet of fish in there and let it sit for an hour and a half or so."
Apart from the well-used kitchen, the Majors' backyard is a charming haven with lush English-style flower beds and a thick screen of cedar trees that offers complete privacy. They have a dining area that can be shaded by a retractable awning, a comfortable seating area, a propane patio heater for chilly nights, and a rock-edged pond and running stream (built by Kevin) that provides a soothing soundtrack. "On a warm summer night, it's pretty fabulous out here," muses Donna.
Appliances and materials have been improved over the past 10 years in order to be usable outdoors for up to three seasons of the year. An outdoor kitchen can be as basic as a six-foot cooking island with a built-in stainless steel grill, or as elaborate as any kitted-out indoor kitchen, with every imaginable appliance and storage for duplicate sets of everything from potato peelers to pepper grinders. Ideally, you never need to go inside for anything.
"We built a complete outdoor kitchen for a client and fitted it into an octagon-shaped gazebo with open sides," says Mark Higginson, owner of Natural Stonescapes. "The family cooks out there all the time and loves the fact that it keeps everyone outside more." Remote-controlled screens for buggy nights and propane radiant heaters hanging from the gazebo ceiling help to extend the summer use by a few weeks at both ends of the season.
To build an outdoor kitchen you have to factor in running electrical and gas lines to the outdoors, so figure on at least $10,000 to get a basic setup with a good-looking island – maybe faced with stone and with ample cupboard space – as well as a bar fridge and a built-in grill head. An alternative to building in the grill head is to put in a movable grill that can come out of the island and be placed closer to the back door for the winter months.
"We recently did an outdoor kitchen where we put in a stainless steel kitchen sink with a lid, and set it flush in the island countertop," offers Andrew Lansdale, a landscape designer with The Landmark Group. "It wasn't plumbed, so the owners just fill it with ice and beverages when they entertain. Afterwards, the ice melts and drains out to the flowerbeds. This is a lot less expensive than installing plumbing in an outdoor kitchen."
Wood-burning pizza ovens are a favourite with foodies who have the space in their backyard to install one. You have to be committed because it can take all day to fire it up, but once it's up to 600 or 700 degrees it will maintain the heat for days. The ovens can be used for more than pizza, too: they can handle everything from roasting chicken to baking bread. An option to the full-size pizza oven – which is a big, bulky structure – is a smaller, more portable version that runs on wood pellets and heats up in just a few minutes.
For outdoor entertaining it's hard to beat the welcoming glow of a fire pit. It encourages people to gather around and the warmth keeps the party going even as the night air chills. "We've been installing a lot of gas-burning fire pits lately," notes Lansdale. "These look exactly like a wood-burning campfire, but they turn on with the flick of a switch." The big plus, he explains, is they can be closer to the house. Fire regulations dictate the location of fire pits that burn wood; in some municipalities they have to be 30 feet from the house. But with gas there's no regulation; you can put a gas-burning fire pit on the back deck close to your back door.
Now that the warm weather is here, it's a great time to get outside, and with all this cool new outdoor equipment you can literally take the heat out of the indoor kitchen and let it have a good rest all summer long. ❧
Outdoor Décor
Creating a cosy feel in your outdoor kitchen
Even the most basic outdoor kitchen can be embellished to give it a sense of sanctuary. The goal is to make it seem more like a room; a place where guests want to gather.
First, create a feeling of enclosure and privacy with either lattice screens or a row of pyramid cedars, which make an instant green wall. You can soften the lattice with a fast-growing vine or add a pergola and hang overhead lanterns and pendants. If you can access a power outlet, hang some string lights; they look great looped across the ceiling beams. Without electricity, use candle lanterns and LED lamps on tabletops or on the floor.
For serving dishes and plates, stock up on colourful new melamine that looks just like ceramic or stoneware. If an outside wall of your house forms part of the space, use it to hang art or a mirror. Your outdoor colour scheme should tie in with your home interior for indoor/outdoor ambiance.
To create a lounge feeling, use lots of large pillows covered in outdoor fabric. Then add a carpet to define the space.
With a few stylistic touches, your outdoor kitchen will become everyone's favourite place to hang out this summer. Let the al fresco entertaining begin!