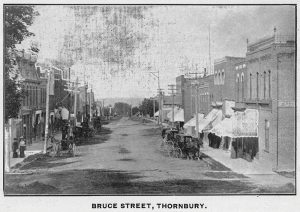 Bruce Street in Thornbury was already a bustling downtown by 1901, when this photo was taken. Looking from south to north towards Georgian Bay, this photo shows the town's many businesses, which included Carr Bros. & Co. General Merchants, C. J. Lougheed Bakery, Charles E. Keast's tailor shop, and Thomas W. Eastland's store, where groceries were displayed on one side and dry goods on the other side while shoes, boots and hardware could be found at the back of the store.
The furniture store shown in the lower right of the photo, on the corner of Bruce and Louisa streets, was owned by T. G. Idle, an undertaker in the area, and George Reekie, one of the township's earliest settlers and a renowned carriage maker (in those days, funeral services were often provided by local carriage makers and furniture makers, as undertakers needed a reliable supply of carriages and coffins). Today, Idle's former furniture store is a hair salon.
Evolving from a backwoods wilderness after first being surveyed in 1833, Thornbury's population had already passed the 1,200 mark by the turn of the century, and a "modern" downtown had grown to serve the local community. The coming of the railroad in 1855 had further expanded trade and made the town a desirable summer resort for the wealthy from Toronto.
Today the entrepreneurial spirit is alive and well in Thornbury, with Bruce Street still bustling with an eclectic mix of shops, restaurants and artisans. ❧
Sources: Thornbury Remembered 1887-1997, Thornbury & District Historical Society.