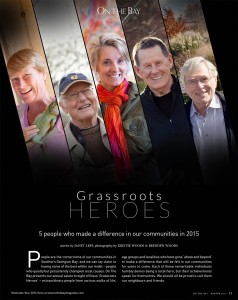 5 people who made a difference in our communities in 2015
stories by Janet Lees, photography by Kristie Woods & Brenden Woods
People are the cornerstone of our communities in Southern Georgian Bay, and we can lay claim to having some of the best within our midst – people who quietly but persistently champion local causes. On The Bay presents our annual salute to five of these Grassroots Heroes – extraordinary people from various walks of life, age groups and localities who have gone 'above and beyond' to make a difference that will be felt in our communities for years to come. Each of these remarkable individuals humbly denies being a local hero, but their achievements speak for themselves. We should all be proud to call them our neighbours and friends.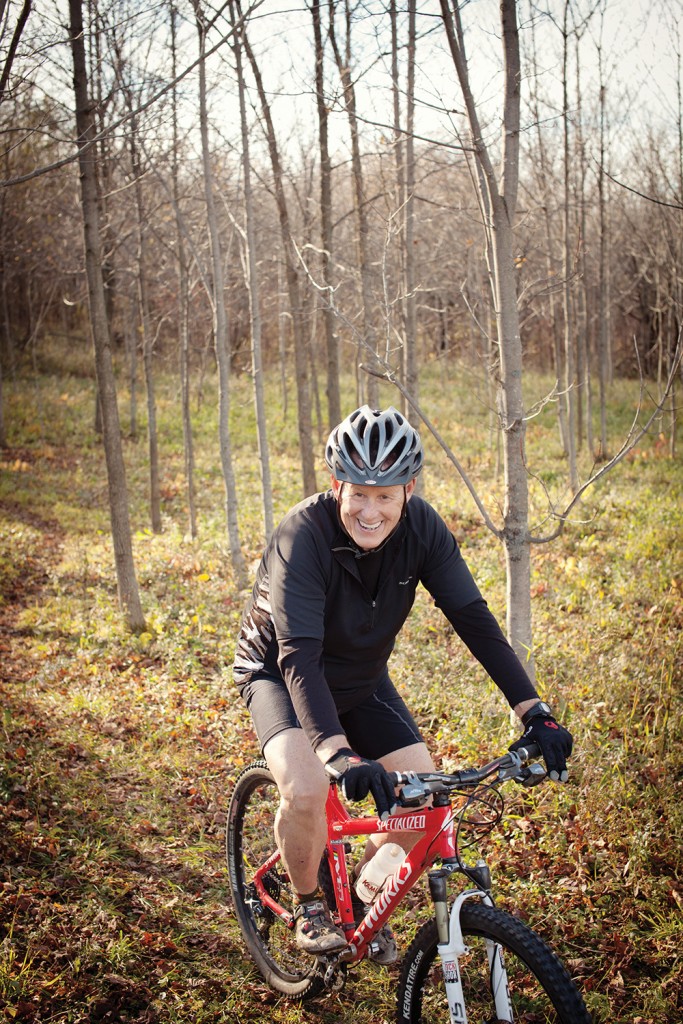 Racing Against Domestic Violence
Ian Sinclair has always thrown himself wholeheartedly into every pursuit. He didn't just start a business – he built five businesses into national and international success stories. He didn't just take up mountain biking – he built 10 kilometres of professionally designed single-track trails on his Gibraltar property. So when his own family was touched by domestic abuse, in characteristic entrepreneurial style, Sinclair got busy building.
"Our eldest daughter, Ashley, was in an abusive relationship. It empowered Ashley to see the courage of [other women who have come through domestic abuse], and we knew we had to get involved." Combining his passion for mountain biking with his newfound mission to help women escape domestic violence, in 2013 Sinclair launched 6 Hours of Gibraltar – a mountain bike race on his own trails that has since raised over $175,000 for My Friend's House women's shelter in Collingwood. The 2015 event attracted 170 riders, who ride for six hours straight in a team relay format, after collecting pledges and paying an entrance fee – all of which goes to support My Friend's House.
Sinclair says the key to the event's wild success is understanding that both élite and recreational riders are looking for a professional-level race and an enjoyable day on the trails. By giving the riders what they want with the added bonus of helping a great cause, everybody wins.
"I'm an old pedlar, and I think the charity business is the toughest business I've ever been in. There's no demand for the product; demand must be created, and the only way to create it is one-on-one selling with a solid value proposition." Not content to stop at raising funds, Sinclair wants to help raise the profile of My Friend's House in the community and raise awareness about domestic violence, which affects one in four women.
"Ultimately I want to put My Friend's House and other shelters out of business; empower women and children and bring an end to this once and for all. We're all about having fun at 6 Hours of Gibraltar, but it boils down to self-respect, respect for the female gender, respect for moms and respect for children. Women and children deserve respect, and anything else is simply unacceptable."
Find out more at: www.myfriendshouse.ca, www.6hrsofgibraltar.com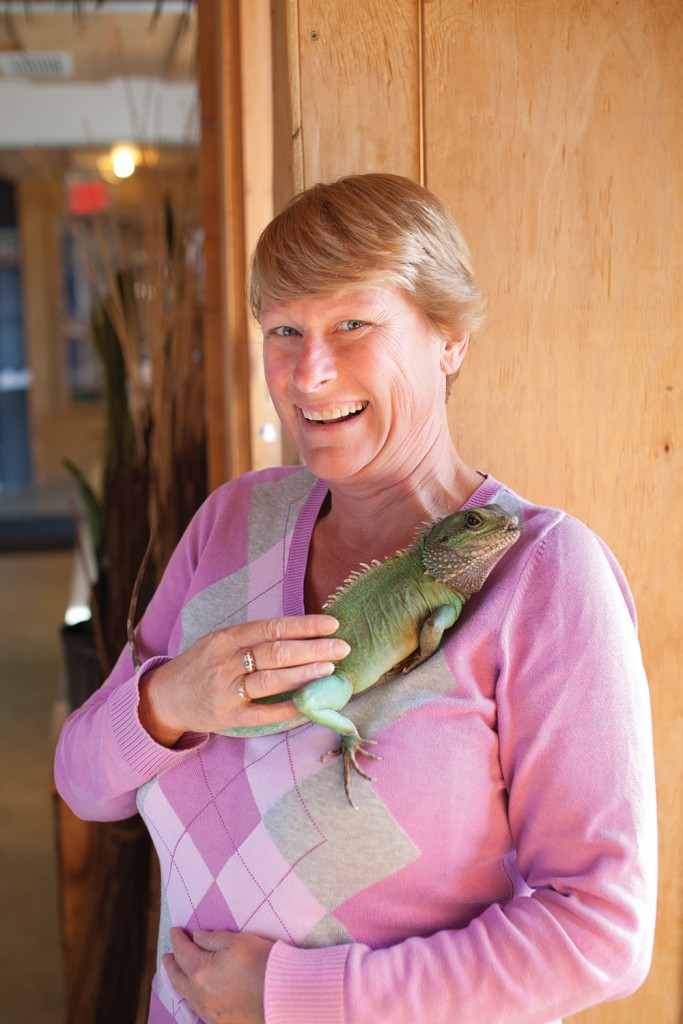 Educating Our Children
Deb Keep was looking for something to do, in between writing grant proposals for any charity that asked, getting a local animal shelter built, forming her own charitable foundation and sitting on the boards of the Georgian Triangle Humane Society, the United Way and My Friend's House. So, in 2002, the volunteer dynamo parlayed her chemistry degree, her MBA and her 16 years in the corporate world into a unique, entrepreneurial, science-based global teaching charity based right here in Southern Georgian Bay. To reflect her goal of "hands-on, minds-on" learning with an environmental focus, she named the new endeavour Elephant Thoughts (ET).
"Elephant Thoughts is a children's educational charity that works to provide quality education regardless of social, geographic or economic boundaries," she explains. "A lot of our programs are science-based, fun, engaging and entertaining. It's all about getting kids interested in science and not being afraid of it." Today, Elephant Thoughts runs professional day camps, March Break and summer camps, and after school programs at its facility in Collingwood, which is part interactive school, part zoo and part educational store. There is also a 'Mentoring for Success' program that helps motivate struggling kids to stay in school.
The camps and educational programs generate revenue from those who can afford them, to offset the cost for those who can't. "Fifty percent of kids attend at no expense," notes Keep. Through the sale of educational programs and toys, Elephant Thoughts also funds its work with schools in 70 First Nations and Inuit communities across Canada (for which it won two Fraser Institute Awards for Excellence in the Delivery of Education), and in third-world countries like Nicaragua, Tanzania, Nepal and India. In all, Elephant Thoughts provides $2.5 million in programs per year and employs over 50 people, most of them teachers.
As she was building Elephant Thoughts, Keep was also a key member of the Georgian Triangle Humane Society's capital campaign to build a local animal shelter. Thanks in part to her untiring efforts, the state-of-the-art, $1.2-million shelter opened its doors in 2010 and is today a model facility for the Ontario Society for the Prevention of Cruelty to Animals (OSPCA). And her own charitable foundation, Keep Family Foundation, has contributed funds to local charities including Theatre Collingwood, Big Brothers Big Sisters and My Friend's House. "I'm not a hero," she demurs. "All I do is give some time, some money, some energy to enable people to do great things. I just feel that I've had so many blessings, sharing them is just the right thing to do."
Find out more at: www.elephantthoughts.com, www.gths.ca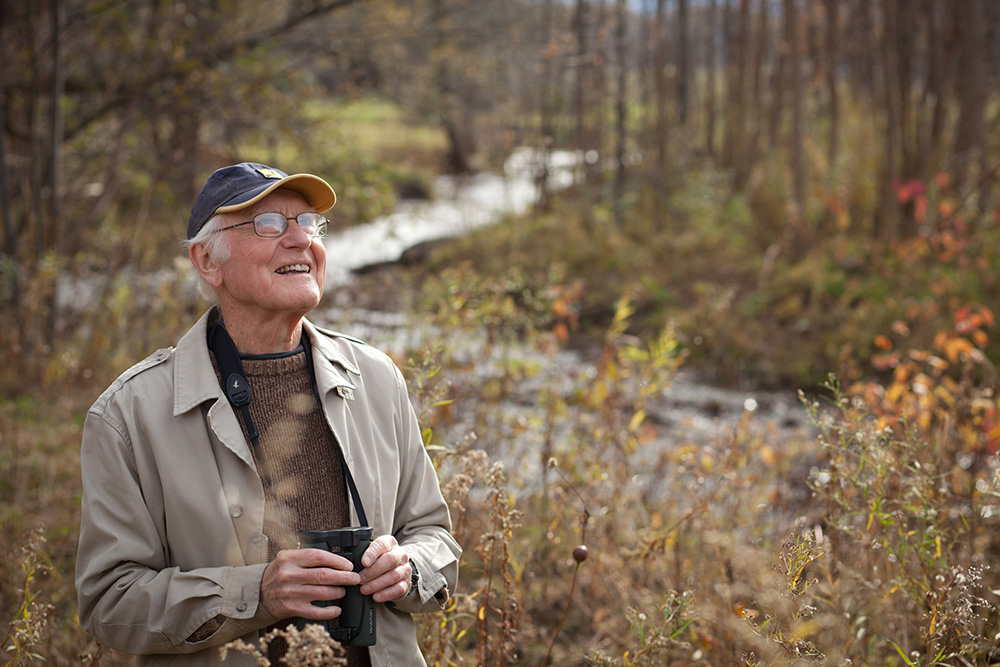 Protecting Our Environment
Don Kerr has a motto: "don't tell me it can't be done; tell me what has to change to make it happen." It's a maxim that has served him well in his 10-year crusade to preserve and protect the Silver Creek Wetland, which he describes as "one of the largest, if not the largest, coastal wetland on southern Georgian Bay." Today, the wetland's future is all but assured, thanks to a change Kerr was instrumental in bringing about.
Covering an area of approximately 166 hectares at its mouth, this Provincially Significant Coastal Wetland stretches along the Nottawasaga Bay shoreline in Collingwood and The Blue Mountains, and plays a vital role as habitat and spawning ground for a diverse variety of birds, fish and plant species, including some that are endangered or threatened. When Kerr joined the Blue Mountain Watershed Trust Foundation shortly after moving to Collingwood in 2003, the Silver Creek Wetland was already a key issue.
Most of the wetland is privately owned, and was in danger of being lost to development. Kerr envisioned and initiated the Silver Creek Vision Project, a strategy for transferring as much as possible of the wetland out of private hands and managing the properties as one unit. He played a key role in securing agreement from both the Collingwood and Blue Mountains councils, and the boards of the Grey Sauble and Nottawasaga Valley Conservation authorities and Niagara Escarpment Commission to adopt this approach.
"When a developer wants to develop something near the wetland, his properties in the wetland are ceded to the town. We have a commitment for about 40 per cent of the total wetland to be ceded, and we are awaiting a final agreement that would bring the total to about 70 per cent."
For his work on the Silver Creek Vision Project, Kerr received the Ian Shenstone Fraser Conservation Award presented by Ontario Nature. But awards and recognition pale in comparison to the satisfaction of knowing that the wetland – and its resident flora and fauna – will survive in perpetuity.
"I consider this the most important thing I've done," says Kerr. "There's a strong feeling of appreciation to know that it will continue to be there, knowing that there's a home for the species that depend on it. The Silver Creek Wetland is one of the most important ecological features in this region, and it's critical that it remain intact and fully protected."
Find out more at: www.watershedtrust.ca/blog/silver-creek-wetland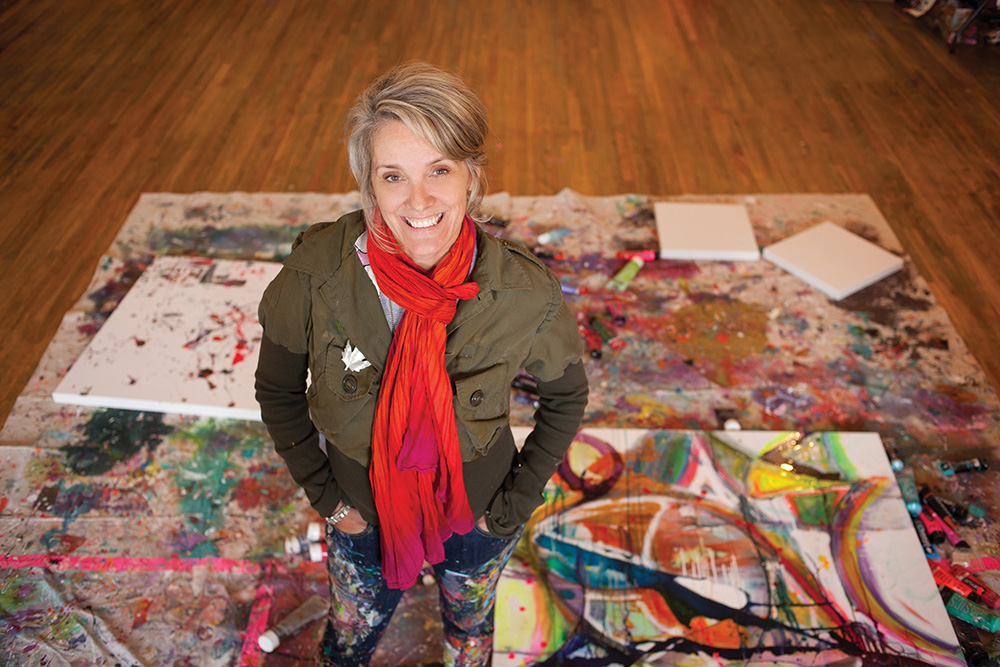 Promoting Arts & Artists
Andrea Rinaldo creates beautiful art, but her true talent lies in creating showcases where other local artists can gain recognition for their work. An abstract painter whose own work is shown in Toronto and internationally, Rinaldo chalks up hundreds of hours each year single-handedly producing the Collingwood Art Crawl, a self-guided free walking tour of downtown venues where area artists can exhibit their art. The first Art Crawl in 2013 attracted about 300 people to view and listen to the work of 50 artists and five musicians in eight different venues. This year, there were 27 venues and five events, with over 200 artists and 20 musicians represented and over 1,000 people taking the tour.
Rinaldo also brought the Art Battle to Collingwood. In this live event held in cities across Canada, 12 local artists compete against each other in front of an audience to create a "masterpiece" within 20 minutes. The audience votes for the winner, and each of the art pieces goes up for auction. The winner of the Collingwood Art Battle goes on to compete at the regional level on the way to the Canadian championships. For the artists, it's a chance to grandstand a little. For the audience, "it's a great opportunity to see the process, which they never get to see; they usually see the end product but never the process." A portion of the ticket price goes to fund post-secondary art bursaries for area high school students.
Why would a successful artist spend so much time and effort to help other artists? For Rinaldo, it's all about community – bringing together the local community of artists and the wider community of art lovers. It's also about inclusion. "Toronto has become so out of touch with being able to provide a working and living environment for artists. We have a thriving artistic community here with a lot of great venues and a four-season lifestyle, so a lot of artists have decided to come into this community. Therefore, we have a lot of young artists and emerging artists who cannot afford to go into shows or they don't have enough body of work to go into a show. The Art Crawl has provided them an opportunity to show their work. I do not exclude anybody. If they only have one piece of artwork to show, I will find a spot for them."
Find out more at: www.collingwoodartcrawl.com, www.artbattle.com, www.artbattle.ca/282-collingwood/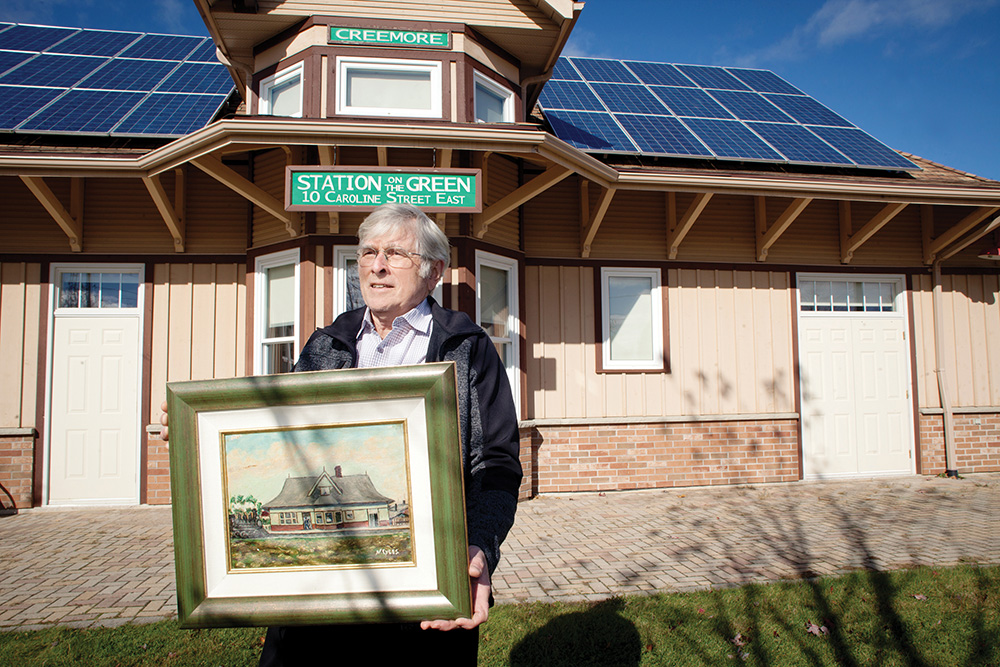 Building a Community Identity
Paul Ruppel moved to Creemore in 1994, when it was known primarily for its beer and quaint shops. Thanks largely to his involvement, the village has morphed into a thriving arts and culture-centred community replete with artists, galleries, festivals, concerts and events.
Standing in the centre of town, you can look in one direction and see the Mad & Noisy Gallery, which Ruppel helped establish and chaired as a non-profit artists' cooperative from 2001-2008. Ruppel was already involved with the Purple Hills Arts & Heritage Society, where he chaired the local artists' studio tour for 10 years, when local booster the late Jim Vandewater approached him with a proposition. "He came to me and said, 'I'm building a building on the main street and I don't want a restaurant, so what can we do with a gallery?' I said, 'Okay, let's have a go at it.'" They named it the Mad & Noisy Gallery after the river that runs through town. As president of the board, Ruppel ran the gallery, applying for and receiving several Trillium grants that kept it operating as a non-profit cooperative showing the works of up to 40 artists until it was sold in 2013.
A slight turn of the head reveals the Station on the Green, the town's cultural hub, which hosts everything from fundraisers and concerts to private functions like weddings and memorial services. Hatched as a Millennium project in 1999, the Station project required its proponents to raise $500,000 within a specific timeframe. With Ruppel taking the lead, the group raised the necessary funds on schedule, with over 495 individuals and businesses contributing. He then acted as facilitator between the architect, the contractor and the township during the building process. "It was a real community effort, and it was really exciting to see everyone support it," he says. "Every contractor had to agree to contribute something back – time or money or supplies – to the construction. If we had to lay interlocking brick, we'd have 15 people show up to help us."
Today, Ruppel remains on the Station's board of directors and is involved with all aspects of its activities, from running the Creemore Art Auction to maintaining the Station's skating rink. "I just look at the Station as a great centrepiece for this town," he enthuses. "Personally I find it very rewarding to do something for the community that people will be able to enjoy for years to come. I feel blessed to be a part of it."
Find out more at: www.phahs.ca, www.creemorestation.com, www.smallhallsfestival.ca
Nominate your 2016 Grassroots Hero here.