Buyers are busy as they compete for the record-low number of homes available for sale
by Janet Lees
illustration by Shelagh Armstrong-Hodgson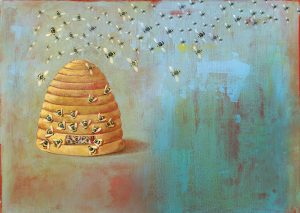 Imagine you're looking to buy a home in Southern Georgian Bay (and maybe you are). You look online or consult a realtor and find out there are only 14 single-family homes on town services for sale in Collingwood, and three of those are sold conditionally. If you need three or more bedrooms, that number drops to 10. Maybe you're looking for a condo at Blue Mountain but outside the Village? You have three to choose from. In Meaford there are 16 single-family homes on town services available, but if you want to buy a detached home in Thornbury? There is one. Just one.
That was the reality at one point in 2017, according to Marg Scheben-Edey of ReMax Four Seasons Realty.
Record-low supply, multiple offers, rising prices and reduced sales numbers continue to be the story in our region's resale home market – a frustrating situation for both prospective buyers and local realtors who could sell homes like crazy if only there were homes to sell.
"The statistics are deceiving but are driven by the lack of homes available for sale; just ask any active buyer in our marketplace today," says Scheben-Edey, adding the number of sales in the Collingwood/Blue Mountain region of Southern Georgian Bay were down in February compared to the previous February by almost half.
"While some may think that means we have turned a corner toward a buyer's market, the reality is far from it," she notes. "We have a supply problem. The number of new listings year-to-date is also down by over 50 per cent compared to one year ago, creating a dilemma for buyers who are very much present in the marketplace. They simply can't find something to buy."
In what some local realtors are calling a crisis, the inventory of homes available for sale has hit an all-time low while demand remains strong. As a result, unit sales across Southern Georgian Bay fell 14 per cent in 2017 over 2016, yet sales volume rose five per cent from 2016's previous record due to higher prices and more homes sold in the $1 million-plus category.
The Western District of the Southern Georgian Bay Association of Realtors (SGBAR), which includes Wasaga Beach, Clearview Township, Collingwood, The Blue Mountains and portions of the Municipality of Meaford and Grey Highlands, remains in seller's market territory with supply running historically low and prices stable at elevated levels, says SGBAR president Matthew Lidbetter.
"Demand has remained strong since September 2017, with seasonally adjusted (SA) home sales up three per cent from December to January," says Lidbetter. "By comparison, SA home sales in the Greater Golden Horseshoe region and elsewhere in Ontario were down more than 20 per cent from December to January.
"Meanwhile, SA new listings surged in January after dropping to an unusually low level in December. Even so, monthly new listings for the region have been trending lower since 2012."
Months of inventory, a measure of the balance between housing supply and demand, represents how long it would take to liquidate inventory given the rate of sales activity during a given month. The SGBAR posted 3.3 months of inventory in January – less than one-quarter of the 10-year average for the month. And almost 100 of the homes available for sale actually sold in January – the third best January on record, according to Lidbetter, but taking a further bite out of an already tight inventory.
"Active listings in January 2018 were down from already-low levels recorded in January 2017," says Lidbetter. "Indeed, they reached the lowest level ever for the month of January. With listings in short supply and sales remaining strong, the number of months of inventory set a new low for the month of January."
Average prices have remained stable at elevated levels since this time last year, with the MLS residential average price for the region coming in at just over $475,000 in January 2018.
"Average price in January 2018 was down nearly 10 per cent from the all-time monthly record reached one year earlier, says Lidbetter. "However, the average price decline needs to be kept in context, since prices can be more volatile in winter months when sales volumes are lower by comparison to spring and summer months."
Homes priced at the higher end have been outperforming those in the mid to lower price ranges, adds Lidbetter. "As a result, higher-priced home sales are supporting elevated average price levels. An ongoing shortage of supply, strong demand (particularly for higher-priced homes), and the relatively short times that listings are spending on the market before being sold are also factors that are keeping home prices elevated."
In addition to shortage of supply, there are some other challenges facing both buyers and sellers in today's market. Buyers are now required to meet newly tightened mortgage qualifications amid rising mortgage interest rates. "Buyers need to have been pre-approved for a mortgage before making an offer," says Lidbetter. "Compromise is everything; in the current market you may not be able to get exactly what you want, so be prepared to have some flexibility."
His advice for sellers: be realistic about pricing. "For sellers, the challenge is to price the home realistically so that it sells in a timely fashion despite an increase in homebuyer uncertainty due to rising interest rates and recently tightened mortgage qualification criteria," says Lidbetter. "An overpriced property may not sell quickly and may ultimately achieve a lower sale price than if it had been priced correctly."
With the tightening mortgage regulations, it is more critical than ever for sellers to ensure any buyer has been pre-approved for a mortgage. "The highest price is not always the best offer," warns Lidbetter.
The forecast for the year ahead is more of the same. Lidbetter notes that the tightened mortgage regulations and qualification criteria have increased uncertainty and caused confusion among some homebuyers, and this could dampen sales activity in the short term as buyers move to the sidelines and/or re-evaluate the price range for which they can successfully obtain a mortgage.
However, he adds, "The fog of uncertainty is expected to dissipate in the second half of 2018 as homebuyers and sellers adapt to recent changes and continue to save a bigger downpayment in the meantime.
"I think all indicators are pointing towards a continuation of the current market conditions, at least through the first half if not all of 2018." ❧
Editor's Note: As this issue of On The Bay was going to press, we received the latest real estate statistics from the SGBAR. Home sales in our region fell 46.5 per cent on a year-over-year basis, down 26.7 per cent from February 2017.
"The story in January was about how the Western Region had bucked the trend of falling sales seen across much of the country, but that seems to have only lasted a month, with activity in the Western Region falling sharply in February," said Matthew Lidbetter, president of the SGBAR. "That said, we're still in the volatile period immediately following the introduction of the new stress test along with a rate hike in mid-January. The picture will become clearer over the next few months as things start to settle down."
He added overall supply remains at near record-lows.