The latest new business openings as well as business transformations including new owners, moves and major renovations. More great reasons to shop local!
Garden Rescue by Heidi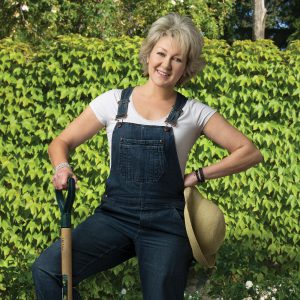 With real estate booming in Southern Georgian Bay, creating a positive first impression of a property for sale is crucial. Garden Rescue by Heidi specializes in garden staging, working with real estate agents to enhance curb appeal and help sell homes quickly and lucratively.
"In the same way that home staging works to enhance the home from the inside, garden staging helps to create an immediate favourable first impression – either on real estate listings or when a potential buyer pulls up to the curb," says owner Heidi Ehlers, who has over 40 years' experience in gardening and property maintenance. "Curb appeal matters – especially in the crazy, fast-moving real estate market we are in. In my experience, any investment made to enhance curb appeal, whether the homeowner is selling now or in the future, increases the value of the property."
Ehlers collaborates with real estate agents, home stagers, homeowners, residential developers, interior designers and decorators to enhance the visual appeal of all types of residential properties. In addition to garden staging, Garden Rescue works with homeowners to revitalize and renovate their gardens, offering patioscaping, plantscaping and garden revitalization services. Ehlers also creates seasonal urns (planters), from contemporary to rustic, designed to complement the architecture and scale of clients' homes.
"My goal is to infuse people with my love of nature by creating spaces that will make them notice how beautiful their garden is again," she says. "I prefer to prune whenever possible, respecting what the plant naturally wants to do while harnessing it to work within the natural beauty abundant in our region."
Tel: Collingwood 705-995-5545; Toronto 416-994-7622
Website: www.gardenrescuebyheidi.com
Hours: Flexible according to client schedules
LM Rourke, CPA – Professional Corporation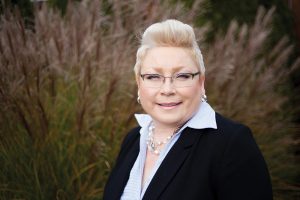 LM Rourke, CPA is a boutique accounting firm in Collingwood that specializes in providing tailored accounting, taxation and advisory services to small to medium-sized businesses, professional practices and residents of Collingwood, Wasaga Beach, Stayner and surrounding areas.
The firm provides the following services: financial statement preparation; corporate and personal income tax returns; tax planning and business reorganization advice; business start-up guidance; bookkeeping and payroll; business advisory, including strategic planning and virtual CFO services; financial software consultation and implementation.
"So many business owners get bogged down in paperwork, trying to make sure they are compliant with government and other regulatory reporting," says owner Lil Rourke. "Our primary objective is to help our clients re-focus back on their passion – the reason they started their business – by providing trustworthy, professional advice and business services they can count on."
Rourke, a longtime resident of Southern Georgian Bay, left the area to pursue professional career opportunities. She brings over 25 years of diverse tax, financial and business consulting experience to her role as a Chartered Professional Accountant. In addition to her financial training, she has gained extensive operations experience through senior executive roles in a variety of industries and sectors.
"Viewing every client relationship like a partnership, we believe that our success is a result of our client's success," says Rourke. "We are committed to providing close, personal attention that extends past tax season. Our continual investment of time and resources in professional continuing education, state-of-the-art technology and extensive business relationships is indicative of our commitment to excellence."

69 First Street, Unit B, Collingwood
Tel: 705-980-0180
Website: www.lmrourkecpa.ca
Hours: Mon.-Fri. 9-5
Properties by HER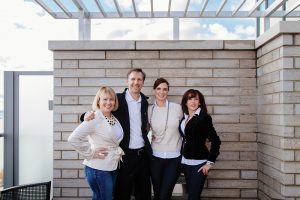 New to the Collingwood/Blue Mountains area but established in Oakville, Properties by HER is a property services company that coordinates and handles the responsibilities of managing primary and investment properties. The company assists with the responsibilities of landlords and/or tenants, supports seniors, snowbirds and frequent travellers, and provides help with routine accountabilities for both first-time and experienced property owners.
Properties by HER is affiliated with a team of cross-discipline specialists in such areas as real estate, interior design/staging and general contracting, who are called upon as needed to support the varying needs of clients. Services include regular home maintenance and inspections, individualized property needs assessments, assistance with organizing regular accountabilities and effective communication.
Company founder Christina Schaden Herauf has managed her own recreational and investment properties as well as those of her elderly parents for many years. She aims to provide peace of mind property services to owners of all ages and experience levels, allowing them to maximize their personal time and other priorities.
"We know from personal experience that some months are busier than others. With our unique fee structure, we offer hourly bundles that give customers the flexibility of using hours when they really need to," says Herauf. "Our clients are busy people and we simply love to assist them. Ultimately, when homeowners don't have time or their investment or recreational property is in a different location, we will coordinate all that needs to be done so they can enjoy their lifestyle."

106 Venture Boulevard, The Blue Mountains
(home office)
Tel: 416-346-6039
Website: www.propertiesbyher.com
Hours: Mon.-Fri. 8:30-5:30; emergency, after hours and weekends also available
TRANSFORMATIONS
Comly Eye Care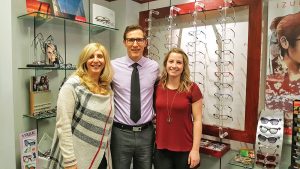 Optometrist Dr. Andrew Comly has recently taken over the Wasaga Beach office of the late Dr. Chris Bernier, who served the eye care needs of Wasaga Beach residents for over 20 years.
Following the sudden passing of Dr. Bernier, Dr. Comly filled in at the Wasaga Beach office, then decided to add the practice to his Collingwood location in order to continue serving Dr. Bernier's patients and offer a convenient second location to existing and new patients.
"Chris Bernier helped me get into the optometry profession and helped me find employment after I moved back into the Southern Georgian Bay area," says Comly. "He will be sadly missed, and I hope to carry on the legacy of his practice."
Comly's Wasaga Beach and Collingwood offices offer full comprehensive eye exams, contact lens fits, Lasik consultations with pre and post care, and a selection of eyewear, sunglasses,
safety glasses and contact lenses. Equipment in the Wasaga Beach office will be updated to provide more thorough eye care.
1470 Mosley Street, Unit 3, Wasaga Beach
Tel: 705-429-2015
Website: www.comlyeyecare.ca
Hours: Varied
Dana Gunn, Arbonne International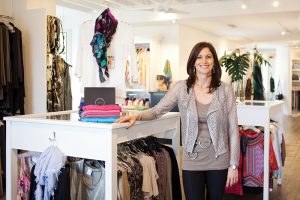 "Change is good" is the mantra of Dana Gunn who, after over 35 years in the fashion business – most recently as owner of Echo Trends in Collingwood – has decided to focus on a new career and enjoy spending more time with her growing family.
Coinciding with running her store, for the past two years Gunn has also been working as an independent consultant with Arbonne International, a multinational organization which offers scientifically tested personal care and wellness products made with pure, botanically-based ingredients.
"It has been an honour and a privilege to help so many women create beautiful wardrobes over the years," says Gunn. "I am grateful for their loyalty and their trust, and I truly appreciate their patronage season after season. My vision for the future is to help build this organization, which allows me to help thousands of people live better lives. I am excited about the opportunity to invest more time in building this new business and I look forward to continuing to network with my existing client base and others."
Effective immediately, Echo Trends is having a store closing sale, with 50 p to 80 per cent off all merchandise. "What a fantastic way to say thank you to my clients, offering to fill their closets with favourite fashions at discounted prices," she says.
Email: danagunn66@gmail.com
Website: www.danagunn.arbonne.ca
Loft Gallery Inc.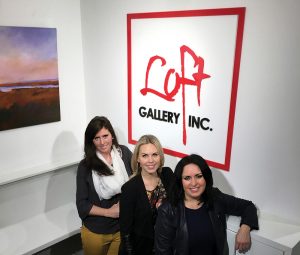 Loft Gallery, a longtime fixture in the Clarksburg arts scene, has made a move to downtown Thornbury, where it now displays the original works of over 20 artists.
According owner Heather Carroll, Loft Gallery made the move in order to update the business and be in a busier location with more exposure. "Our new gallery has a fresh new feel with a more modern, industrial vibe," she says. "We are focusing on growing into the future, building a strong art collection and increasing our online presence in the art world."
With an updated collection of original paintings and a more visible location, Carroll hopes to continue growing the gallery's art collection in a direction that addresses the needs and desires of its loyal clientele. A number of gallery artists will be painting on site from time to time, including resident artist Debra Lynn Carroll (whose studio is also located in the gallery) and, when available, Lorne McDermott, Jennifer Woodburn, Janet Liesemer and Brian Buckrell, to name a few. Painting classes will be offered on site.
"We are very excited to be a part of the vibrant Thornbury community," says Heather Carroll. "And we are thrilled that all of our past customers are coming to visit and see our space."
18 Bruce Street South, Thornbury
Tel: 519-599-5912; Mobile 647-296-9797
Website: www.loftgalleryart.com
Hours: Mon.-Fri. 12-5, Sat. 10-5, Sun. 11-4