The latest new business openings as well as business transformations including new owners, moves and major renovations. More great reasons to shop local!
Balmoral Place Retirement Community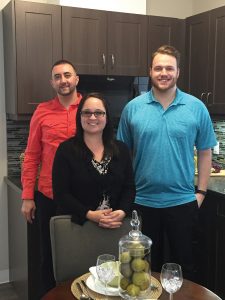 Located on Black Ash Creek in Collingwood's Balmoral Village, Balmoral Place is an innovative age-in-place community that will consist of seniors' apartments and a full-service retirement residence. The retirement residence will offer a variety of suite types and sizes to choose from, along with services to meet individual needs. The monthly rental fee will include senior-friendly accommodations, nutritious meals, housekeeping, activities, wellness services including medication management, and much more. Residents will also have access to the community clubhouse (including a heated saltwater pool) and transportation services.
Apartments at Balmoral Place, located in a natural setting with views of Blue Mountain and Georgian Bay, are designed for active adults, 55 years and over, who are looking for a unique retirement lifestyle. Units will feature full kitchens, in-suite laundry, housekeeping services, the option of home-cooked meals served in a private dining area, plus full access to the Community Clubhouse.
"What separates Balmoral Place from typical 'retirement' communities is its size, choices of housing, quality wellness and recreational services and our local transportation program," says John Woods, CEO of MTCO Holdings Inc., a developer and operator of seniors' housing communities throughout Ontario. "We have many years of collective experience in retirement community living," Woods adds. "Our vision is to offer an outstanding selection of amenities and services at an affordable price, with the finest combination of style and ambience in a caring, supportive community."
8 & 10 Harbour Street West, Collingwood
705-444-9898
www.balmoralplace.ca
Bartel Property Care
This new Meaford-based, family-owned business offers professional lawn maintenance in Meaford, Owen Sound, Thornbury and surrounding areas, with equipment to service large multi-acre properties as well as small town lots. The company's services include lawn rolling, aeration, fertilizing, power raking, troubleshooting and lawn advice. Bartel Property Care also offers complete yard maintenance including care for mulched areas, flowerbeds, hedges and shrubs.
After owning and operating a successful building business in Saskatchewan since 2001, Colin Bartel and his partner decided to move to Southern Georgian Bay in 2016 on the recommendation of close friends in the region. "We fell in love with the area, and it seemed like things just worked out for us to locate here," says Bartel. "Even though we were builders by trade out west, we took care of about 10 acres of property as well. It was something we really had an interest in, so we saw an opportunity here to get more into property care and actually make it a thriving business."
Bartel's business philosophy is simple: "Put in an honest days work, don't promise more than you can deliver, and be easy to communicate with."
519-377-8126
www.bartelpropertycare.com
Gibson & Co.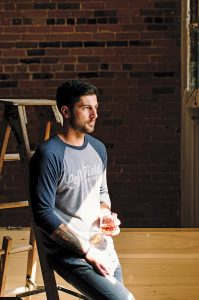 "A place where people can go after work or dinner for a drink, or skip dinner altogether and order a bunch of small plates to share over drinks." That is how owner Luke Anderson describes Gibson & Co., a new restaurant, café and bar in Collingwood. "We wanted to create a place for people to go if they just wanted a drink and some smaller food options to share," says Anderson.
The restaurant will be open mornings and early afternoons for coffee, sandwiches and baked goods, and late afternoons and evenings for drinks and meals for sharing including charcuterie, cheeses and antipasti. "Our evening food menu, created with the help of chef Matt DeMille, formally of Drake Devonshire and Enoteca Sociale, will be aimed at dishes designed for sharing," says Anderson. "We will be relying on the local expertise of Collingwood Bread Company and Dags & Willow to source our food menu options."
A former airplane technician with a penchant for hosting family and friends for meals and drinks, Anderson says Gibson & Co. will serve coffee from a small-batch coffee roaster in Toronto, as well as local craft beer, North American whiskey and bourbon, traditional cocktails and a selection of fine wines.
"It's all about education," he says. "The enjoyment and appreciation of food and drink comes from understanding and learning about what we are consuming and the story behind it. We'll be hosting various guest chefs, brew masters, winemakers and distillers for special events throughout the year. By staying open for longer hours, we hope to make downtown Collingwood more of an evening/night-time destination for locals and visitors alike."
Open Sun. – Thurs. 8 – 12 a.m., Fri. & Sat. 8 – 2 a.m.
93 Hurontario Street, Unit 3, Collingwood
705-293-3500
www.gibsonandcompany.ca
Intersections Wood Gallery & Studio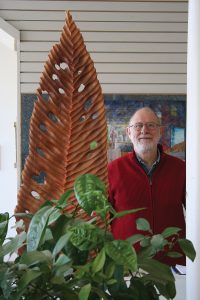 This unique new gallery in Owen Sound brings together an impressive variety of wood, woodworking, art, craft and design. "Our region has a long tradition, [and] Intersections carries this tradition forward with sustainably cut trees made into furniture and sculpture," says owner Stephen Hogbin. "Intersections Gallery presents the finest works in wood and our studio offers classes where woodworking may be experienced."
Hogbin, himself a renowned international wood artist, moved to Southern Georgian Bay in 1979. He has exhibited frequently on three continents while continuing to fulfil commissions for clients in the region. He invites the public to discover wood art, craft and design by visiting the gallery or taking studio classes given by specialists in their fields, including conceptual artist Kevin Yates; Amber Harwood of Georgian Bay Art Conservancy; renowned wood turner Carl Durance; and Pierre Rousseau, a knowledgeable instructor on the fundamentals of all things wood. Evening, one-day, weekend and one-week classes are available.
Artists and would-be artists also have the opportunity to join as members. "People can join our organization through membership or by signing up for studio classes," says Hogbin. "We have a study collection and an extensive library for members, which includes exhibition catalogues and a broad range of literature on trees and woodworking from all disciplines, including architecture. Occasionally, the works of guest artists are also shown."
Open Thurs. – Sat. 10 – 4 or by chance
299 10th Street East, Owen Sound
Tel: 519-371-4998
www.intersectionsstudio.com
Stonewater Studio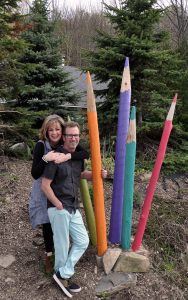 Kim and Walt Blake, originally from London, Ontario, have opened a gallery and wood workshop in Thornbury specializing in crafting one-of-a-kind, handmade and innovative wood décor pieces to beautify indoor and
outdoor spaces.
"Our thought process is new, even though our mediums may not be," says Kim. "Using locally sourced materials and mixed media, we bring wood back to life by enhancing characteristics that others may consider imperfections. We take pride in offering high-quality products – both practical and esthetic – that make a statement and leave clients feeling that much more in touch with nature."
Kim also operates Stonewater Design, an interior and graphic design business. "Drawn to simple beauty, I have a lifelong love for colour, texture and style, and an unbridled passion for producing unique and striking pieces," she says.
After years in the sales business, partner Walt Blake is "taking a dive into his creative side." Combining his handyman skills and attention to detail, he has discovered a talent for transforming raw materials from nature into one-of-a-kind wooden creations that enhance the distinctive beauty that was once hidden.
In addition to its distinctive wood products, Stonewater Studio also sells original acrylic paintings, photography and jewelry. "We're happy to do custom orders and invite folks to just drop in and say hi," says Kim. "We love meeting people!"
Open Fri. – Sun. 10 – 5. Weekdays by appointment.
207138 Hwy 26, RR1, Thornbury
705 718 1968
www.stonewaterstudio.ca
TRANSFORMATIONS
Georgian Hills Vineyards – Ardiel Cider House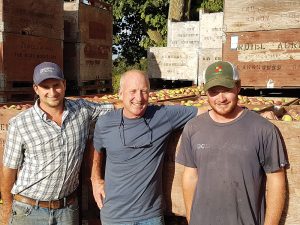 Renowned for its award-winning Southern Georgian Bay wines and premium craft ciders, Georgian Hills Vineyards has now added Ardiel Cider House to its portfolio.
"The recent cider revolution has led us to preserve and nurture the older apple orchards to ensure that Ardiel Cider House continues to produce and craft locally grown, distinct and delicious ciders," says John Ardiel, a partner in Georgian Hills Vineyards. For almost a century, his family has been growing and experimenting with new varieties of apples on their farm in the Beaver Valley.
"All of our ciders are made from unique varieties of heritage apples grown in the Beaver Valley," says Ardiel. "They are the cornerstone of making our distinct and delicious ciders." He describes Ardiel Dry Cider as "a full-bodied beverage with a vibrant mid palate ending in a clean, dry and refreshing finish," while the Big John Hop Cider is "unique in style, with attractive floral hop aromas, citrus and spice mid palate, ending with tangy tart cider notes. Both are premium craft ciders that express tradition and place."
Georgian Hills Vineyards offers daily wine tours at 11 a.m. and 1 p.m. Visitors can also enjoy views of the vineyards while tasting Georgian Hills wines and Ardiel Cider House ciders paired with artisanal cheese and charcuterie, either on the patio or with a prepared basket for a picnic among the vines.
Open daily year round 11 – 5. Wine tours daily 11 a.m. and 1 p.m.
496350 Grey Road 2, The Blue Mountains
519-599-2255
www.georgianhillsvineyards.ca
Lëuk Huis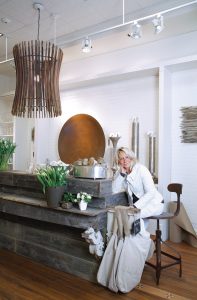 Herma Vegter-Petrie's popular Lëuk Huis store has expanded to three shops in one downtown Collingwood location, featuring distinctive items that cater to customers looking for a true lifestyle brand.
"Our three shops showcase unique items that allow our customers to truly experience Lëuk – through floral and events, fashion and cafe, and home furnishing and decorating services," says Vegter-Petrie. "Each shop offers inspiration and treasures to add to your home."
She adds, "Lëuk Huis was conceived from a sense of European well being, where warmth and comfort merge into a beautiful selection of unique finds from around the world. Here is where vision becomes reality. Enveloped in cozy textures, we offer a layered lifestyle through luxurious linens, and unique new and vintage furniture pieces."
Inspired by leading architecture and new on-trend designs, Lëuk Huis' in-house decorators partner with clients to offer their experience and their vast library of fabrics, accessories, furniture pieces and lighting.
Open Mon. – Thurs. 10 – 5:30, Fri. & Sat. 10 – 6, Sun. 11 – 4
78 Hurontario Street, Collingwood
705-293-2323
www.leukbijhermas.ca
Right at Home Canada, Georgian Triangle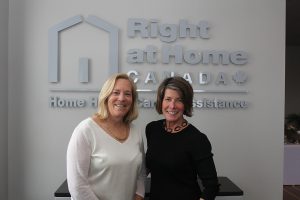 This home healthcare company has moved its location to a new office on Hurontario Street in Collingwood, which offers more space for families, clients and caregivers to meet, community social events and training/information sessions for members of the community.
Right at Home provides medical and non-medical companion home healthcare for seniors and disabled adults, including Personal Support Worker (PSW) care, nursing, physiotherapy, occupational therapy, foot care and other services. "Essentially, our caregivers will provide whatever care the client and family would like – whatever it takes to make them comfortable in their own homes, wherever home is for them," says co-owner Nancy Esson. "It's all about peace of mind for our clients and their loved ones." Adds co-owner and care planner Adrienne Wood, "We want to be the family when family is not able to be there."
Since its inception, Right at Home Canada, Georgian Triangle has helped more than 150 families and created over 75 jobs in Southern Georgian Bay. "We are growing and contributing to our community as both service providers and employers of choice," says Esson.
Available 24/7 by phone. Office open daily 8:30 – 5.
313 Hurontario Street, Collingwood
705-293-5500
www.rightathomecanada.com/georgian-triangle
Tip to Tail Pet Boarding/Grooming & Day Care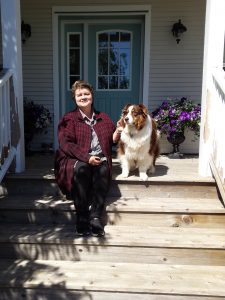 Tip to Tail, a professional full-service grooming, day care & boarding pet spa for dogs and cats serving the Southern Georgian Bay area, has moved from its downtown Meaford location to a 30-acre country retreat near Walters Falls, with many places for pets to relax, enjoy themselves and de-stress.
"The move has allowed for expansion to serve our clients better, with an 8,000-square-foot fenced play area, new fenced puppy playground, enlarged full spa and new large boarding suites for felines," says owner Kelly-Elaine Hunt-Doherty, who has been working with dogs and cats for over 35 years.
Hunt-Doherty says the location offers a safe and serene wooded setting where felines are separated from dogs. Luxurious feline boarding suites feature window views of a creek and woods, individual screened sunrooms and multi-level climbing stations. Tip to Tail also offers non-kennelled boarding and day care for dogs. There is no charge for pickup and drop-off throughout Grey and Bruce counties.
"Your pet will think that they have gone to pet heaven," says Hunt-Doherty. "Our small hobby farm is the perfect place to spoil your pride and joy. We treat your pet like family!"
637254 St. Vincent/Sydenham Town Line, Meaford
519-477-0812 or 519-379-5862
www.tiptotail.ca
Tremont Café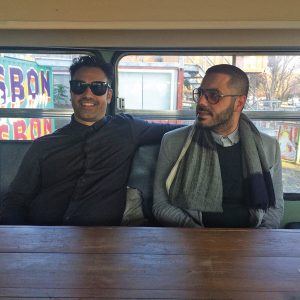 Collingwood's popular Tremont Café, in the heart of the downtown arts and culture district, has been sold to two entrepreneurs with 30 years' combined experience in the hospitality industry. Billy Vastis has managed cafes, lounges, nightclubs, restaurants and boutique hotels. His partner Imad Abou-Chalha comes from a business background, attending culinary management school in New York and managing establishments in Manhattan and Brooklyn. The Tremont's bar manager, Stefano brings Tremont 10 years of bartending experience in some of Toronto's most prestigious restaurants.
"The previous owners created an amazing place with a great reputation," says Vastis. "After a year of researching Collingwood, we felt that the current demographic and ongoing transition is a perfect fit for our vision for the Tremont – a place of inspired hospitality where guests can share our love for authentic food, complex coffee and well-crafted cocktails, and are consistently welcomed with open arms and treated like family. We're here to give love, and hope to get some in return."
Open Wed. – Sun. 11 – 12 a.m.
80 Simcoe Street, Collingwood
705-293-6000
www.thetremontcafe.com