The past gets a modern twist in this custom-built Creemore home designed to resemble an old mill
by Judy Ross
photography by Derek Trask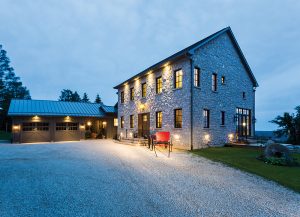 For one Oakville couple, the search for a retirement home was long, difficult and frustrating. Their quest ultimately led them to the hills of Creemore, and the end result was exactly what they were looking for thanks to a local design and build team.
For almost nine years the couple, who both worked in the financial field, spent weekends looking for their dream home. They travelled much of Southern Ontario in pursuit of a romantic fantasy: an old stone mill ideally surrounded by rural acreage. Their search expanded to stone houses in general as they covered the countryside from Kingston to Guelph hoping to find the perfect home. After countless disappointments they decided the best solution was to build a custom stone house designed to look and feel like a historic mill, which would include everything on their wish lists.
After finding a dreamy piece of land – a 50-acre farm in a river valley south of Creemore – they contacted Thornbury designer Jacqueline Van Strien. "We had seen a house in On The Bay magazine designed by Jacqueline and sensed that she would be perfect for our needs," says the owner, "and that certainly turned out to be the case."
Van Strien, who owns the custom design-build firm Van Strien Developments Inc., got to work. "It took a full year of planning," she recalls. "All of us bought books and were researching old mills and stone buildings looking for ideas and design concepts. We wanted to keep the industrial feel of a grist mill, but make it warm and liveable, too."
Today, the completed house – aptly named Black Bank Mill – stands on the crest of a gentle hill overlooking the valley. Apart from not being connected to water, it could easily be mistaken for a historic stone mill. The boxy structure built with Manitoulin limestone has an unembellished façade with symmetrical black-framed windows and a simple stone stoop leading to the wooden doorway.
Over the door is a large industrial-looking coach lamp. "We had the fixture custom forged to look primitive, as if it has been there for a long time," notes Van Strien. "If you look closely, it is purposely a bit imperfect – just one example of the attention to detail here."
As is typical in a country home, the front door is rarely used and most people enter via the covered carriageway, which opens to a mudroom housed in a board-and-batten addition. The rustic addition was designed to resemble a shed attached to the main stone building, and the carriageway with its cobblestone floor and industrial black metal stairs could easily be from the horse and buggy days, even though it is used mainly for the Gator all-terrain vehicle that makes trips back and forth to the vegetable garden.
But it's the interior of Black Bank Mill that is such a stunning example of industrial residential design. Although there are plenty of nods to the age of water power and hand forging, the house is also brimming with organic and natural textures that give it warmth. The solidity of the stone walls and metal framing is balanced and softened by plenty of wood, antique carpets, colourful artwork, built-in bookshelves and the abundant natural light that floods in from huge south-facing windows.
Van Strien likes to inject old-world ambiance into her contemporary designs and it is these elements that make the house so comfortable and inviting. "It's the details in this house that I love," she enthuses. "They are organic but also hip and a little edgy."
One example is the small room off the kitchen, which the owners call The Snug. Van Strien designed a metal archway that separates the room from the kitchen. This bit of industrial edginess helps define the cosy room, which is, according to the owner, "the most used room in our house. Even when we have friends over everyone crowds into it. We really didn't need the rest of the house!"
Nevertheless, the rest of the house offers plenty of space: 5,000 square feet on three floors. At the top of the floating metal staircase is a mezzanine that overlooks the sitting room. The master bedroom suite is on this floor as well and features a small balcony that captures the morning sun.
The house was positioned after a great deal of consideration so that the main living areas and the master bedroom would have south-facing views over the valley. The formal dining room and office on the main level face north since, as the owner explains, "we only use the dining room at night, so it doesn't need a view." On the lower level there's a media room, kitchenette and extra bedrooms for guests and visiting adult children.
Because they were building from scratch, the couple was able to incorporate everything on their retirement wish list and include elements that accommodate their diverse interests. Foremost in the husband's mind was creating a clean, energy-neutral home using geothermal heating and solar energy. He also loves restoring and rebuilding old cars, so his workshop (designed and built by Van Strien Developments on the site of the original farmhouse) is his winter hangout and can hold three cars at a time.
His wife has become a self-taught hobby farmer and an enthusiastic gardener with newly planted perennial beds and a large (70 by 50 feet) vegetable garden surrounded by an eight-foot deer-proof fence. She also tends an orchard full of fruit trees (plums, apples, pears) and grows grape vines. Everything gets harvested and turned into jams, jellies, pickles and preserves. The mudroom was meticulously planned with a sink for washing the freshly picked fruits and vegetables and the large pantry also has a sink and plenty of shelving. However, she laughs when she recounts that her favourite room in the entire house is the 'cold room' on the lower level where she stores the products of her labour.
For designer and builder Van Strien, the project was such a success that she is already planning the next house she would like to build for herself and her family. "I love the industrial-inspired accents, the organic details, and the bold light fixtures," says Van Strien. "It was such fun working with these owners because they went along with all my edgy ideas. I definitely want to incorporate a lot of them in my own next build." ❧
Source Guide
Design Build
House and 3-car Garage, Van Strien Developments Inc., Thornbury
Exterior
Solar Installation, Panasonic Eco Solutions Canada, Toronto
Geothermal System, Airstar Mechanical, Meaford
Landscape Design, Enviroscape, Mulmur
Landscaping (earth shaping, boulders and stepping stone placement, pathways patios & deck construction)
Janalco Ltd., Thornbury
Home Automation, Sound, Light, Audio and Security, Red Brick Group Inc., Thornbury
Interior & Exterior Stonework and Fireplace, Colonial Brick and Stone Inc., Brunner
Windows, Loewen Windows, Oakville
Doors, Desboro Doors, Desboro
Retractable Mosquito Screens, Don't Bug Me, Motorized Bug Screens
Interior
Tile Work, Collingwood Tile Installation, Collingwood
Kitchen Cabinetry, Benchmade Furniture Co., Oro
Soapstone Counters & Range Backsplash, Greensville Soapstone Co., Burlington
Sitting Room Fireplace Surround & Range Hood, Stainless Outfitters, Barrie
Steel Stairs, Outside Steps & Railings, Old Tymer Welding, Orillia
Living Room Chandelier, Exterior Coach Lamps & Pendants, Matt Church of The Artisans' Gallery, Severn Bridge
All Other Chandeliers, Pendants & Sconce Lighting
Concept Lighting Group, Oakville