Summer adventures offer breathtaking views and exhilarating experiences
story by Laurie Stephens, photos by Kristie & Brenden Woods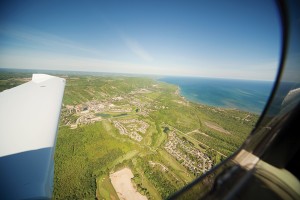 Whether it is exhilaration or relaxation you are seeking, Southern Georgian Bay offers a number of unique adventures – on land, in the air and on the water – for local residents and tourists alike. Writer Laurie Stephens has tried out a few, and gives them all an enthusiastic thumbs-up. She describes her experiences below.
~ LAND ~
Six small, grated-metal steps jutt off a cliff; then nothing. The steps stop; the hand-rail stops. I stare down at the ground 45 metres below, fighting off dizziness as my heart starts to pound fast and hard.
Slowly, I descend to the fourth step and stop to gain another ounce of courage. I avoid looking down again, choosing instead to glance 300 metres away to the landing zone where capable staff wait to stop my descent.
"Just a couple more steps," says our guide, Gord Salt. After another hesitation, I descend one more step. My brain tells me, "you can do this," so I take a deep breath and lower myself to the final step. Sweaty hands clench the safety rope secured to the overhead cable and I lean back, allowing the climbing harness around my hips to take my weight. And then I am off.
No screams of terror. Just pure exhilaration as I whiz down the zip line, the wind whistling in my ears and twisting me around for a 360-degree view of the Escarpment and Georgian Bay. My Scenic Caves Eco Adventure Tour ends with a hard stop at the bottom, adrenaline coursing through my body, hands trembling from nerves and exhaustion, and a feeling of having accomplished something incredible: I confronted my fear of heights.
The Eco Adventure Tour is about more than just heights. In addition to sheer enjoyment, the tour is designed to be a learning experience.
"If you come on our tours, you're going to learn something over and above getting excited by the adventure," says owner Rob Thorburn. "That's very important to us, that you go away knowing more than when you arrived about history, heritage, flora, fauna, trees, geology and the view of Georgian Bay."
Thorburn bought the bankrupt Scenic Caves in 1993, delaying his retirement to develop a much broader and unique tourism experience for the area. The caves that were the home of the Petun native people in the early 1600s had already become a well-established attraction, but Thorburn saw opportunity for more.
After renaming the experience Scenic Caves Nature Adventures in 2000, he set about developing inter-connected activities, or "clusters of tourism importance." The Eco Adventure activities include a stroll across a suspension bridge that overlooks Georgian Bay, a walk among the tree tops, wagon rides along bumpy paths (which double as cross-country ski trails in the winter), a tour of the caves and, for an added thrill, a ride down the zip lines.
The Eco Adventure Tour caters to young and old, the only restrictions being height and weight – you must be over 1.4 metres (4'8") tall and weigh between 70 and 250 pounds. A certain level of fitness comes in handy, as the tour can be physically demanding at times.
Thorburn says his customers run the gamut from moms and dads with a couple of teenagers to retired couples, people who are dating, and groups celebrating special occasions such as an upcoming wedding or milestone birthday.
My three-hour guided tour begins at the Eco Adventure office, where Salt gives instructions to our group of 13, which includes three generations of a family, a tourist from Israel and two brothers. All of us wiggle into our harnesses, strap on helmets, heft a backpack with heavy zip line brakes over our shoulders, then get weighed with our gear to make sure we are within the weight restriction.
Once outside, a slight drizzle on a warm spring afternoon doesn't dampen our enthusiasm.
We climb aboard a wagon that takes us to our first stop: a 126-metre suspension bridge – the longest footbridge in southern Ontario – that rattles the nerves a bit as it swings slightly with our combined weight. The footbridge affords a stunning view of Georgian Bay, and Thorburn says it has been the site of a number of marriage proposals, "to the delight of everybody."
It opened in 2003, after years spent in the approval process because the area is one of Canada's 16 UNESCO biosphere reserves. In the end, construction was approved – with a price tag as high as the bridge itself.
"It cost a million dollars to build, and it's a million-dollar view," says Salt.
From the bridge our group travels again by wagon through a moist, spring forest to the treetop canopy walk, a 600-metre-long exercise that also tests your fear of heights. Our guides demonstrate clipping and unclipping our safety ropes to the wire cables overhead, then we practise under their watchful eyes before we're given the go-ahead to begin.
The adventure looks surprisingly benign – until I take my first steps on a two-by-10-inch wooden plank. Supported by ropes that connect to a thin railing, the narrow plank sways side-to-side, forcing me to walk gingerly, one foot in front of the other. Fortunately, I am securely tethered with two ropes from my harness clipped to two different cables above my head.
The most stressful act is transferring the security ropes from one span of the walk to the next, and I quickly realize why tour participants must meet the minimum height requirement. Wobbling on a shaky plank, I reach behind to unhook one clip at a time from the overhead cable and then stretch again to clip onto the cable on the next span in front of me.
At times, the reach is too much, and I gratefully accept help from my adventure buddy Karen Hall. I am trembling and sweating, and it isn't from physical effort.
At one point our group reaches a platform attached to a large sugar maple, and Hall tells me, "This is the highest point – we are 55 feet off the ground." Digesting that piece of information, I dare to look down to the forest floor and spy a raccoon foraging for food. A few minutes later we reach the 100-metre zip line that marks the end of the canopy walk. One of the young boys, despite coaxing from the group, declines to make the trip via zip. No problem; a friendly guide helps him find an easy way to reach the ground.
Then we're off to the caves themselves. There is still too much ice in the crevices to safely descend, so our guides give us a geology and history lesson from various scenic lookouts and point out baby ravens in a nest on a rock ledge sheltered by a stand of white cedars.
The adventure ends where this story begins – with metal steps that stop in mid-air, and the 300-metre zip line ride back to base. At the bottom, breathless, we reflect on the day and realize we've had a rare experience. As Thorburn says, other tourism attractions in Ontario have tried to duplicate his model, "but you can't copy our forest, you can't copy our views, you can't copy the combination of the Eco Adventure tour and the zip lines on the tour. It's unique."
The Scenic Caves Eco Adventure Tour runs seven days a week, rain or shine, from May to October. Business peaks in the summer with six-to-eight tours a day. The cost is $85 per person for adults; $75 per person for seniors and youths aged 10-17. Eco adventure guests can also ride on the 2,550-foot Thunderbird Twin Zip Line for $8.85.
~ SEA ~
It's a hot, hazy day, already 29 degrees at 11 a.m., making it the perfect time to go for a relaxing cruise in Collingwood Harbour.
I step aboard the Huronic, a 65-foot passenger boat that weighs 60 tonnes and is 23 feet wide – an ideal venue to entertain as many as 70 guests for sight-seeing tours, sunset cruises or wine-tasting events.
Lauren Matthews, owner-operator of Collingwood Charters, is celebrating one year in operation and is an enthusiastic guide. Lauren's father, David Matthews, is our captain, piloting the boat for today's cruise.
Before we head out, Lauren gives me a quick tour of the 15-year-old vessel.
"The Huronic has a wide beam and is designed to be stable on the Great Lakes," she says, adding with a chuckle, "I didn't spill a drop of wine when I was doing the wine tastings last year."
The lower, enclosed deck has guest seating and a fully licensed bar featuring beverages from a local brewery, Side Launch, the name commemorating how ships used to be launched in the now-closed Collingwood Shipyards.
Up a few steps to the upper deck, I am greeted by a cool breeze and an unobstructed view of the water. The deck has additional seating and removable tables, as well as roll-down window shades if bad weather rolls in.
Lauren points out features that make the cruise appropriate for all ages, including the high bulwarks on the sides of the boat to keep small children safe, and a wide on-off ramp that accommodates people in wheelchairs.
Then we are under way, Dave slowly turning the boat away from the dock and out towards the open water. Speakers blare a song by Great Big Sea to get us in the mood. I start to unwind as we slowly make our way out into Collingwood Harbour. The ride is so smooth, I barely feel like I am on a boat. The fresh breeze blunts the humidity of the day, and I watch as swans, geese, cormorants and gulls swim or fly by.
The music is interrupted from time to time by Dave's recorded voice, first for a safety lesson, telling passengers where the life jackets and two life rafts can be found. Later, we are treated to mini history lessons about the Collingwood Grain Terminals, the Shipyards and the Nottawasaga Island Lighthouse.
I hear that during the peak of Collingwood ship-building in the 1900s, people used to come from miles around to see "seven seconds of drama" as new ships – some as long as 730 feet – slid sideways down a ramp of timbers into the water.
As we motor past the historic Grain Terminals, Dave's voice tells me the operation handled 128 million bushels of grain over its 85-year lifespan, starting in 1929. Collingwood was once dubbed "Chicago of the North" because of the volume of shipments it handled. The Terminals were made with one continuous pour of cement over 13 days – "a massive feat of engineering by today's standards," says Dave. I step up to the flybridge, the highest point on the bow, as we cruise past the harbour breakwall and towards Nottawasaga Island Lighthouse.
The lighthouse is best described as dilapidated: a large section of the northeast wall is severely damaged by weather and neglect. Opened in 1858 to warn sailors of the offshore reefs, it was officially decommissioned in 2003 due to its unsafe condition. A local fund-raising effort to restore the lighthouse is now underway. But most striking about it on this day is that the island on which it sits is covered end-to-end with nesting seabirds whose squawks carry over the waves.
Straight ahead, Christian Island and other landmasses across Georgian Bay are hazy outlines in the distance. Off to my left, I get a sprawling view of Blue Mountain Resort and the other ski runs carved into the Escarpment.
Lauren developed a love of boats at a young age, having grown up in Port Dover with her father, who built tugboats. She worked for the Canadian Coast Guard for five years prior to starting Collingwood Charters. Personal reasons brought her to the Collingwood area, where she saw a business opportunity in dinner cruises. So she bought the boat in the fall of 2014 and talked to town officials about launching the business.
"I love going out on the Bay, so I looked into it and started talking to the town and it all worked out," she says. "It's always been kind of a dream of mine. What could be better than to be able to work out on the water?"
Her customers for sightseeing tours are generally local residents, retirees and tourists, while dinner tours tend to cater to couples and party groups. She also books group charters for corporate events, birthdays, weddings and bachelor or bachelorette parties. In the evenings, she hosts wine-tastings and pub nights.
As we make our way back toward the dock, Dave offers me a chance to be captain, and it's not as easy as it looks. The Huronic is big and heavy, and my efforts have us fish-tailing in slow motion as I try to figure out how to keep the vessel on course.
After a few minutes I hand the wheel back to Dave, who assures me I did "just fine" as he pilots us back to the dock, ending my tranquil respite from the heat.
Collingwood is also home to Summerbound Tours, owned and operated by Peter DeVries, who was inspired to start the company nine years ago by his wife Iris, who passed away last year.
DeVries says his guests come from all over the world, attracted by Blue Mountain and the many time-share accommodations in the area. He also hosts many East Indian and Chinese families from Toronto, who are so overwhelmed by the size of Georgian Bay, they often ask, "Is this salt water?"
Summerbound offers a narrated cruise of Collingwood Harbour that celebrates the town's maritime history, as well as other types of tours. The company's 25-foot pontoon boat serves as a 360-degree platform to view the Escarpment and the Bay.
"Our tours are very intimate and allow a dialogue and interaction with our guests," he says. "People are the best part of our business."
Collingwood Charters is open from May 24 to Thanksgiving weekend. Ninety-minute tours of Collingwood Harbour run daily and cost $29.95 for adults, $27.95 for seniors, $24.95 for students/youth and $14.95 for children 4-12. Children under 3 are free. Other charters or tours are available. Reservations are recommended.
Summerbound is open weekends until mid-June, then Friday – Sunday until Labour Day. A one-hour narrated tour of the Historic Collingwood Harbour is $25 per person. Ninety-minute sunset cruises are $35 per person. Reservations are required.
~ AIR ~
It's love at first sight.
The plane, a Diamond DA40, is tiny – white and blue with long, graceful wings that spread out forever. It's a four-seater and seems to be all windows, promising incredible sightlines once we are in the air.
David Gascoine, pilot and president of Genesis Flight Centre, walks around the aircraft, checking off items on the safety checklist. After a few minutes, we're ready to fly. We climb in – it's a tight fit. I ask him how often he flies.
"Never enough," he says, explaining that he's too busy looking after the business he started in 2013. "A day when I get to fly is always a good day."
It's steamy outside – 30 degrees – and the cabin starts to heat up as Gascoine goes through more of his checklist. There's no air conditioner because a compressor weighs over 100 pounds and having one aboard would mean sacrificing passenger space.
"We'll be fine once we're in the air; there are plenty of air vents," says Gascoine, before starting. It roars to life, and the small plane shudders as the propeller on the nose starts to whir.
We put on noise-cancelling Bose headphones, and the sound of the engine is gone, replaced by airport chatter on the radio and Gascoine's voice as he points to the instrument screens and gauges in front of us: altitude, attitude, speed, compass, GPS, map, oil and fuel, RPMs.
Then we taxi to the end of the runway, turn around and start back down the same runway, this time picking up speed as we prepare to lift off into the wind. There's no big thrust that pushes me back in my seat; just a ride so smooth, I barely realize when we leave the tarmac.
As we rise to our cruising altitude, my ears plug and we experience turbulence that buffets the plane a bit. It's a strange, weightless sensation. A wing dips slightly and the nose bumps up a bit, like the aircraft is a puppet being lightly manipulated by the wind. Yet I feel completely safe.
Soon we're cruising at 200 kilometres per hour 1,300 feet above the ground and taking in a stunning view of the Niagara Escarpment. This is Genesis' one-hour tour and it is the company's most popular.
"We can cover a lot of ground in an hour," says Gascoine. "In an hour we will typically fly along the Beaver Valley, with stunning views of Lake Eugenia and the many quaint villages in the Creemore area. The tour includes some spectacular Georgian Bay shoreline from Thornbury to Collingwood. But exactly where we go is up to the customer." He banks a turn to the left to give us a better view of the ski runs of Blue Mountain and to let me feel the sensation of G-forces exerting stress on my body. To our right is Georgian Bay: aqua-coloured in deeper waters, more emerald in the shallows.
Gascoine asks if I want to take a turn flying the plane, and my sense of calm disappears, replaced by outright terror. Heart beating fast, I struggle to steady my nerves as he gives me a lesson in how to make turns and keep the plane level.
Genesis's primary weekday business is flight training for both recreational and career pilots through its college program. The scenic flights, usually on weekends, allow the general public a chance to experience the thrill of flying … in more ways than one.
"The really cool thing about these flights is that, because we are a flight school, we can turn any scenic flight into an introductory flight lesson where the person in the front seat actually gets to fly the plane," he says. "Not everyone wants to fly; some just want to enjoy the view. But during the pre-flight briefing, the pilot will ask if you have any interest in doing some of the flying. If so, then we give a brief lesson in the air."
Hands trembling, I take hold of what looks like a video game joystick and move it to the right to have the plane bank over the Bay. After a few manoeuvres, I start to get the hang of it and Gascoine tells me to bank left so that we can head towards the Beaver Valley. Still, I am more comfortable with him at the controls and I soon relinquish the joystick.
Gascoine says my nervous reaction is fairly typical: "It depends on whether you want to be a pilot or not. If you're in that zone and you want to do this, there's more excitement than fear."
Genesis flies standard scenic routes in the Georgian Triangle and Barrie areas, running 30 minutes for $150 to two hours for $600, no matter whether there is one passenger or the maximum three. It also offers custom tours that could be a trip to Tobermory or a longer flight to Toronto to "do a few laps" of the CN Tower, says Gascoine. The experience is suitable for all ages – Gascoine's oldest customer was a man in his mid-90s – although Genesis recommends that children be at least five years old so the noise-reducing headset fits.
The tours fly year-round, with customers celebrating birthdays, anniversaries and other special occasions. "We've even had a few marriage proposals," he says.
As we begin heading back to the Collingwood Airport, Gascoine asks if I want to try the "roller coaster" – a manoeuvre that is just as the name implies. He nudges the nose up and then back down, and I feel my head spin, like it's trying to catch up to the rest of my body. It's so much fun, I ask for a second go-round.
Too soon, we are done. We come in for a landing that is a bit bumpy in the wind. I feel the puppet sensation again as we bounce slightly, drifting a little from side to side before Gascoine eases the plane to an easy touchdown. I climb out onto the sweltering tarmac wishing the flight could have lasted forever.
For a different experience in the air, tourists may want to try Big Blue Air, a helicopter charter company that flies out of Collingwood Airport.
"For people who haven't been in a helicopter before, it's quite different from any other type of aircraft they've been in," says Marcus Vogel, the company's chief pilot. "There's no rolling or takeoff; you're just in the air, so you get that magic carpet sensation. And obviously the view is a big thrill for a lot of people. With so much glass, you can see absolutely everything."
Vogel's passengers range in age from five to 80, including locals who've never seen Collingwood from the sky, tourists who want a unique experience, or VIPs who want to get to and from Toronto quickly. Specialty excursions include fly-and-dine packages and golf trips. Vogel says a wine tour of Georgian Bay Vineyards is very popular, as is a Collingwood-Blue Mountains tour.
Big Blue Air's helicopter, a Robinson R66, can fit four passengers at a time. Tours range from 10 minutes to a few hours, depending on the destination and activity, and cost $99 per person and up.
Genesis flight tours run year-round, weather permitting. Tours start at $150 per tour and can accommodate 1-3 passengers. Big Blue Air tours run year-round, weather permitting. Tours start at $99 per person and can accommodate 1-4 passengers.
Not every area can lay claim to such a wide array of adventures. Ours can, and that makes Southern Georgian Bay even more special. Whether you fancy a tree-top nature walk with thrilling zip lines, a scenic flight over the Escarpment, or a relaxing cruise on the Bay, those experiences and more are right in our own backyard just a few minutes' drive away. So this summer – or any season – get out and make some once-in-a-lifetime memories! ❧