A pioneer homestead preserved and updated
by Judy Ross
photography by Derek Trask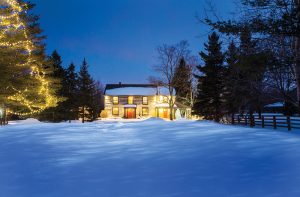 Of all the treasured artworks and artifacts that fill this heritage log house, the most meaningful is a small watercolour that hangs next to the fireplace in the living room. It's a painting of the house, done in the 1960s by well-known local artist Robert Kemp, given as a gift by the former owners when the home changed hands. "It was such a kind gesture," says current owner Marie-Claude Park.
"They loved this old house and thought that the painting should remain here."
The two-storey house does indeed have a rich history, built as a homestead around 1846 by George Lunan, one of the first settlers in Grey County. In those days it was a substantial structure and, over time, served as both an inn and a licensed tavern. The original hand-hewn, square-cut logs are still in place, but today they are enhanced by a contemporary makeover that includes a two-storey addition and new, modern mechanicals.
For Marie-Claude and Jason Park and their three children, it serves as a year-round weekend home. In summer, the two-acre wooded property is like a private resort, complete with a swimming pool, outdoor kitchen and fire pit, basketball court, and a creek running along the far edges of the lot. But in winter the house conveys its pioneer spirit and takes on a wonderfully nostalgic glow.
"Christmas here is really special because it feels so old fashioned," enthuses Marie-Claude. "There's so much history here, and with the beauty in the walls and beams you don't really need much else. I like to keep things natural and earthy and really all I add is a little red plaid for colour."
Back in 2007, the Park family was renting a chalet every season and skiing at Alpine Ski Club. Enthused about their winter weekend life, they began thinking of buying a place of their own. Marie-Claude vividly recalls the day she first saw this heritage house. "I had noticed an MLS ad and arranged to see it with an agent. My daughter Béatrice was just a baby then, and I remember walking in with her and knowing instantly that this was the house for us. It felt so right, so special. So I called my husband, who was at work in the city, and said, "This is it!" He said, "okay" on the phone. We put in an offer without him even seeing it."
As much as they loved the house, the Parks needed more space and storage. So they contracted Legendary Group of Collingwood to build a separate two-car garage. As Marie-Claude explains, "We were so impressed with Legendary and their work that, years later, when we decided to update, renovate and build an extension, we hired them to do that job, too."
That job involved a complete gutting of the original log structure. All the electrical heating was removed and replaced with propane. Carpets were stripped off and the old pine floors either refurbished or replaced. The Parks kept the original wood-burning fireplace in the living room but converted the family room fireplace to gas for easier use. All the latest technology was put in place, including heated floors, air conditioning, new wiring and plumbing, and up-to-date electronics.
Contractor Ralph Spadafora works with Legendary Group and was involved in both building projects at the Park residence. "Legendary Group builds contemporary homes, log houses, and post and beam houses, but they also build pre-fabricated custom homes," he explains. "The key to the success is being able to manufacture everything at the Collingwood facility and then transport the components to the building site."
Spadafora built the foundations for both the garage and the addition at the Park house, then once the prefab components and mechanicals were in place, he completed all the finishing work. "An old log house like this is particularly challenging," he notes. "When you open it up you always get surprises, and you have to be careful because things have shifted and settled over time. As an example, we had to redo all the chinking the old-fashioned way, and fitting the new windows into the old openings in the logs was not at all easy."
Spadafora gives credit to Marie-Claude for having both the overall vision as well as some great ideas about blending the new addition with the old log structure. "You can never match old logs," he says, "so for the exterior facing on the new addition she chose to use local stone that looked old, as if it had always been there."
Although she insists she's an amateur, Marie-Claude masterminded the renovation without the help of an architect or a designer. Her plans for the addition included a master bedroom with ensuite bathroom and office on the second floor, and a mudroom/laundry room and guest bathroom on the ground floor. She also sketched out the layout for the new kitchen, which features an island, all-new cabinetry and a dining nook with built-in window benches.
Marie-Claude also pitched in on the tough jobs. "After the drywall was removed to reveal the interior logs in the bathroom, we had to scrub the logs with a wire brush to get rid of the drywall remnants," she recalls. On another occasion she tore out a cabinet in the living room without realizing it was a support piece holding up the house. After having a steel beam installed, she encased it in wood siding and stained it with coffee to make it look original. "It was an unplanned weekend DIY job!" she laughs.
Marie-Claude's style often includes flea market finds that she refinishes, but many of the antiques come from France. Her brother-in-law lives in Aix-en-Provence where they visited during the summer after purchasing the house. "I found so many perfect things for this house that I ended up shipping home a container full of purchases," she says. "I guess that's why I refer to this as a 'log house with a French Country twist.'"
There may be French flair inside the Park house, but the outside is strictly old Ontario. With the look of the conservative log structure little has changed since Robert Kemp painted his watercolour in the 1960s, nor, in fact, since George Lunan built it as a homestead in the 1800s.
Marie-Claude hopes he would be proud to see his pioneering efforts so lovingly preserved and enjoyed. ❧
Source Guide
Builder (garage, addition and renovation)
Legendary Group, Collingwood
Contractor
Ralph Spadafora, Legendary Group, Collingwood
Windows
Cedarport Window & Door Centre Inc., Thornbury
Floors
Floorcrafters, Thornbury
Barn Doors
Legendary Group, Collingwood
Heating System
Airstar Mechanical, Meaford
Family Room Fireplace
Newhouse Home Comfort, Duntroon
Appliances (kitchen, laundry)
Macdonald's BrandSource Home Furnishings, Meaford
Bathroom & Kitchen Sinks & Taps
Taps Bath Centre, Toronto