15 ways to get the most from your garden
by Judy Ross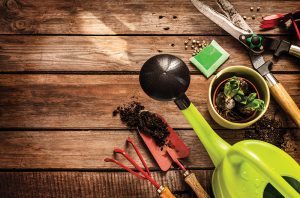 We all want to enjoy our gardens, but it seems that nobody wants to spend time taking care of them. At least that's the view of Ken Ormsby, who has been in the business for over 30 years, and owns Ormsby's Garden Center on Hwy. 26 west of Thornbury. "It used to be that people would happily spend all day working in their gardens," he says, "but now all my clients want a wonderful-looking garden that is 'maintenance free.' I tell them there's no such thing!"
That may be true, but there are many ways to cut down on chores and still have a great-looking garden. The following 15 tips, gathered from gardening professionals in the area, will help you achieve the goal of a garden that is 'almost' maintenance free, leaving you time to stretch out on a deck chair and enjoy the beauty.
1. PINCH BACK ANNUALS
"People hate to do this," says Charlotte Vostermans, a master gardener who lives and gardens in Creemore, "because it has to be done when annuals are at their fullest bloom in early to mid-July." But, she maintains, it will pay off. If you cut back all the straggly branches of annuals like petunias, you will have blooms till frost. Vostermans recommends staggering the process so you still have some bloom left on every planter. And don't wait too late; the plants need time to fill out again.
2. GET A RAIN GAUGE
Even if you have an irrigation system, most plants (especially new ones) need supplemental water. "We see this all the time. People put in irrigation and think they don't need to do anything else," says Rhonda Green, owner of Greentree Gardens & Emporium on Hwy. 26 in Collingwood. She suggests buying a simple rain gauge or just using an old soup can to see how much rain has fallen. It may be raining in one place but not another. A good thorough soaking once a week is better than watering too often or not enough.
3. CONTAIN INVASIVE PLANTS
Any plant that wants more than its allotted space – mint, for instance – can be contained by planting it in a large plastic pot and cutting off the bottom before putting it into the ground. This will keep the roots from spreading.
4. PLANT TREES
There are so many reasons to plant trees: for shade, to provide natural habitat for birds and wildlife, to create interest. And today you don't have to wait years for trees to grow. In one garden project Ken Ormsby planted ten 25-foot tall oaks and maples. The owners wanted their property to look instantly established. "You pay a hefty pricetag," says Ormsby, "but the results are impressive."
5. USE VEGETABLE WATER
After boiling vegetables, save the water and use it when cool to water plants. This 'master gardener' trick works for houseplants, too. "You'll get great results," says Charlotte Vostermans.
6. DON'T OVERWATER CONTAINERS
"The biggest error with containers is overwatering," says Jessica Ladly, manager of Riverside Greenhouses in Heathcote, a nursery famous locally for its hanging baskets and container plants. "It's important to check the soil before watering and make sure the drainage is working."
7. FERTILIZE CONTAINERS A LOT
Jessica Ladly also recommends fertilizing container plants almost every time you water with an all-purpose 20/20/20 mix. "A lot of new varieties of container plants are vigorous growers that only perform at high feed," she says. "They require way more food than the older plant varieties."
8. CREATE TRELLISES WITH BRANCHES
After pruning your trees, save the branches (ones at least three feet long with lots of limbs) and use them to make trellises. You can use these for climbing plants like clematis and sweet pea. Rhonda Green says her husband Doug edges the vegetable garden with these broken twigs after the peas and beans have sprouted. "It looks great and the vegetables love it."
9. USE EGGSHELLS AS FERTILIZER
Crush eggshells on a cookie sheet using a rolling pin and put around the base of plants. This protects from insects and nourishes the plants with calcium. Coffee grounds work, too.
10. SOAK SEEDS
Before planting seeds, rinse them thoroughly and then soak them in a clean bowl of warm water for 24 hours. This will help seeds take root quickly.
11. STORE LARGE CLAY POTS
Charlotte Vostermans has dozens of clay planters in her gardens, including many large ones. She leaves them outside all winter and claims that they never crack. Her secret? She empties them, turns them over and places a brick or rock over the drainage hole.
12. USE MULCH EVERYWHERE
Mulch (shredded cedar bark is best) helps retain moisture, encourages earthworms, and helps reduce weeding. Layer it on all your garden beds, but be careful not to pile it too thickly close to perennials. Every couple of years, add another thin layer. One caveat, according to Rhonda Green, is to avoid using new wood chips from a freshly fallen tree. These need to sit for a year before being put on flowerbeds. It's okay to use new chips on pathways, however.
13. GET RID OF PESTS
If slugs are getting into your planters or eating your hostas, buy some copper mesh (comes in a roll at stores like Lee Valley) and stake it in the pots or around the hosta. Slugs won't crawl over copper. Another common garden pest is the red lily beetle. To get rid of them, mix one part ammonia with 10 parts water and spray early in the spring around the plants. Reapply after a rain.
14. SPRAY TOOLS
Use a silicone spray on shovels, edgers, pitchforks, etc. to keep soil from caking on them. For smaller hand tools, 'plant' them in a clay pot filled with a mixture of sand and mineral oil. The sand keeps them sharp and the mineral oil keeps them from rusting.
15. KEEP LARGE PLANTERS FROM BEING TOO HEAVY
Fill planters half full of packing peanuts (choose eco-friendly ones). Layer a piece of landscape fabric over top, then add potting mix.
By using some of these strategies and tips, you'll have splendid-looking gardens and more time for summer enjoyment. You can take it easy in the fall, too. Instead of doing a major cleanup, "just leave everything as is," advises Charlotte Vostermans, who never cuts her plants back before winter.
"I leave all the stalks, leaves and seed heads because it creates winter interest, and more importantly, provides nutrients for the soil and food for the birds," she offers. "I'd rather feed the birds in the winter and then do a big cleanup in the spring." ❧