Wasaga Beach artist Brian Porter merges street art potency with fine art sensibility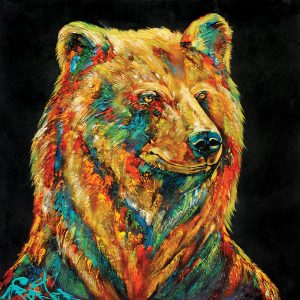 After 15 years working as a graffiti artist in major cities like Toronto, Tokyo and L.A., Brian Porter seamlessly transitioned into the realm of fine art with his captivating style of animal and pop icon portraiture. His keen use and combination of colour invests his paintings with vibrancy and power that make his work instantly recognizable.
Potent and proud, with internal depth and outward magnificence, each of the animal subjects is illuminated against a black backdrop, creating a stage upon which to showcase their unique natural prowess. Porter's work represents an intersection between street art – known for its approachability, immediacy and stylistic edge – and gallery artwork, which is often characterized by a polished sensibility and intimate gaze. The fusion of pop cultural elements, vivacious colour and intelligent reflection on the forces of nature that animate Canadian wildlife place Porter's paintings in a class of their own.
Porter's work can be found in galleries and private collections in Canada, Great Britain and the USA, and is available locally at Brights Gallery in Blue Mountain Village. ❧