Strawberries and raspberries and blackberries, oh my!
by emily Worts
photography by Kristie and Brenden Woods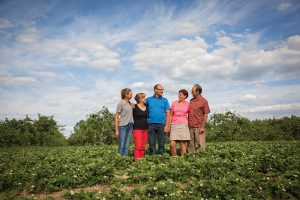 When asked to name Ontario's fruits, our minds immediately turn to apples, pears, peaches and plums. The flavourful little morsels we call berries, found on farms and in the wild across our region, are often overshadowed by their grander counterparts. Berries may be small, but they're mighty, packing a healthy punch with their sweet, tangy goodness. Nothing says summer better than berries.
It seems that each type of local berry is available only for a fleeting moment, but when we add them together our berry season is a long one. Strawberries can come on as early as the first week of June with raspberries following close behind, and many farms are still picking blueberries into October.
Kevin Ward, a second-generation Clearview farmer and owner of Fernwood Farms and Market in Stayner, has expanded the operation from the asparagus farm his parents, Roy and Linda, started in the 1970s to include dozens of varieties of strawberries, raspberries, high-bush blueberries and red and black currants.
"It's a long season of different fruits coming on," says Ward, "and it all depends on the weather."
For many farmers, the temperamental growing conditions of our area mean farm survival depends on diversification. Pair that with our short growing season and berries fill in some of the necessary gaps.
"Strawberries helped fill out the season when they were short on cash," says Karen Dykstra of Dykstra Orchards, recalling why her father-in-law started planting strawberries in the Thornbury area in the 1970s. The Dykstra farm was originally an apple operation, but strawberries brought in much-needed spring and early summer income and helped keep farm workers employed longer. The Dykstra sons, Roger and Sid, increased their father's strawberry patch to five acres (which translates to 30,000 quarts of berries) and today strawberries are a significant part of the family business.
For others, like Roy Ward, the decision to diversify was based less on economics and more on his love for all things sweet, remembers his son Kevin, who shares his father's passion for berries. Today Fernwood Farms is 50 per cent fruit, with six acres devoted to strawberries, two acres to raspberries, three-and-a-half to high bush blueberries and a couple of 100-foot rows to red and black currants.
Fernwood's strawberry season begins with the Wendy variety, usually around the 10th of June if the weather cooperates (warm days and cool nights). The Annapolis variety comes on seven days later, followed by Summer Rose. The appropriately named Valley Sunset closes the strawberry season in late June or early July.
"We plant many different varieties," says Ward. "Each one has a slightly different flavour and shape, and they come on at different times."
Ward does plant a few fall varieties of strawberries, but admits different insects, which can be very aggressive, make growing a challenge and besides, by the fall our taste buds have moved on.
Canadians love their fruit seasons and they stay true to them, says Mary-Lynn Sheridan of the Farmer's Pantry in Clarksburg.
"We like local, seasonal and fresh," she says. "We are so used to the seasons that it doesn't seem right to eat strawberries in July. We like our strawberries, then our raspberries, then our peaches, then apples. I'm telling you, by the end of the season we are on to other things. It's the pattern I see."
The Farmer's Pantry began as a roadside market tent on Hwy. 26 between Thornbury and Meaford. It was Mary-Lynn and Mike Sheridan's eldest daughter who convinced her parents to move operations somewhere more "fun." "She thought it was boring, standing by the roadside," recalls Mary-Lynn.
So the family bought the farm where the current Farmer's Pantry resides and started something fun not only for their three children but for all visitors: a pick-your-own orchard including apples and raspberries. The Farmer's Pantry has 5,500 canes of raspberries. but you won't find them lined up row after row.
"We don't want people to feel like they're at Canada's Wonderland, in a line-up," explains Mary-Lynn.
At the Farmer's Pantry, visitors are encouraged to walk around the farm, where raspberry canes are interspersed with orchard trees and pumpkin patches.
"Visitors can see a lot of the farm and see different plantings at different stages," says Mary-Lynn. "There is a lot of education going on."
Most of the raspberry canes at the Farmer's Pantry are of the Boyne variety. According to the Sheridans, these work well in the area's soil and they don't have sharp thorns like other varieties, so they are picker friendly. Raspberry varieties are planted with the soil in mind but also for flavour, colour (the Sheridans plant red, black and white varieties) and for size, as larger ones tend to crumble.
The Sheridans don't plant strawberries; they leave that to their nearby neighbours, the Dykstras, who are considered strawberry royalty in the area. Large grocery stores from Owen Sound to Alliston carry Dykstra berries and you can also find them at local farm markets such as Goldsmith's and Grandma Lambe's or even better, at the Dykstra Orchards farm itself, located on Clark Street in Clarksburg.
Nothing beats the freshness of the berries at the farm gate, says Karen Dykstra. "We have people who come every day for their fresh basket for breakfast or to buy their flats for jam."
The Dykstras recently had to close their pick-your-own operation due to increased demand on the ready-pick side of the business. Karen admits she misses the camaraderie, but she still interacts with customers at the farm gate and enjoys hearing what people are doing with their berries. She has noticed a resurgence in jam and pie making, with the younger generation wanting to share the experience of cooking and preserving berries with their children.
Fresh, local berries have never been so popular. Touted as a great-tasting super food, berries of all colours and varieties are packed with fibre (a nutrient necessary for a healthy digestive system), phytochemicals (naturally occurring nutrients that protect cells from damage), and loads of antioxidants, among other things.
Kevin Ward agrees the demand for berries is growing along with the area's population. "Nothing has changed – the berries are still the same – but there is more information out there and more people to feed."
Looking to the future, there's no doubt local berries of all varieties will continue to line the spring, summer and fall shelves of local grocery stores, farmer's stalls and market stands.
We might even catch a glimpse of new varieties. Ward sees a market for Goji berries (which are already being grown in Ontario in limited supply) and Haskaps, which Ward describes as a refined berry, "looking like a blueberry, tasting like a cross between a blueberry and a raspberry with a champagne flavour." Haskaps aren't bothered by frost and they are native to North America, he adds.
We only have a couple of weeks to enjoy the sweetness of a strawberry, the tartness of a raspberry or the juiciness of a blueberry. Make sure you stop to pick, or pick up, your farm-fresh berries early and often, because they'll be gone before you know it. Each of our local berries is here and gone in a flash, so eat them with abandon, preserve them whenever and however you can, and always keep an eye out for the roadside stand or farmer's field that is offering up bountiful berries in season. ❧
Wild Things
Planting berries at home and finding them in the woods
Local garden centres have embraced the trend toward growing our own food and also recognize the flavour and health benefits of fresh berries. In most local garden centres you will find a wide variety of berries that can thrive in your own backyard. Berry bushes are easy to incorporate into existing edible and ornamental gardens, or gardens designated especially for fruit. With a little bit of sun and well-drained soil, you can enjoy fresh fruit from your own personal berry patch. Strawberries, raspberries, red and black currants, gooseberries and blackberries are some of the plants you might want to consider.
There are also dozens of varieties of wild berries that can be foraged across Ontario. In our area, easily recognizable are wild strawberries, wild raspberries and high bush blackberries. Some varieties that are not as well-known but have benefits of their own including false Solomon's seal and service berries. A little farther north, be on the lookout for wild blueberries and cranberries in abundance. You have to know where to look, what to look for and when to look; there are books dedicated to the wild berries of Ontario to help you on your search. It's also important to remember that while many berries are edible, some are poisonous to humans, while others are toxic when unripe, so make sure you know what you're eating.
Recipe
Berry Vodka
Cocktails accented with the fresh flavours of summer are an amazing way to infuse a little sunshine into a long, dark winter. Berry vodka is a pretty fun alternative to jam when preserving the flavours of the season and just like jam, it stands the test of time.
Making berry vodka is also much less of an undertaking than those daunting canning projects that prevent many of us from even getting started. It's a quick way to make sure those berries that are melting on the vine in the heat of the summer don't go to waste.
You can get as fancy as you like, combining different fruits and spices as you would in a pie or jam. I prefer to keep it simple with a single berry variety (I particularly love the ruby red colour strawberries or raspberries produce in fruit-infused vodka).
The fruit will be the dominant flavour here, so you don't need to use pricey artisanal vodkas. On the other hand, if you have a favourite, hey, why not? We are also lucky enough to have locally distilled vodkas, so take advantage and make a truly local brew.
Ingredients
2 cups strawberries or raspberries
2-3 cups vodka
Optional accents could include lemon zest, herbs and whole spices like cinnamon sticks, chopped ginger or sliced vanilla beans
Instructions
Wash and pat the fruit dry.
Trim away any stems.
Chop or crumble berries into small pieces (raspberries and small fruits can be left whole.
Transfer the berries to a canning jar, along with any extra herbs or spices you are using and any juice from the cutting board.
Muddle the berries with a wooden spoon to break them up and release their juices.
Pour the vodka over the berries. Use enough to completely cover the berries and fill the jar, about 2 to 3 cups.
Seal the jar tightly and place it out of direct sunlight.
Shake the mixture daily. You'll see the vodka gradually take on the colour of the berries.
Taste it after three days and continue infusing to your liking. It should be finished in three to five days, but you can infuse the vodka longer.
When the vodka is to your liking, line a strainer with cheesecloth and strain into a measuring cup.
Discard the fruit after straining.
Pour the vodka into clean glass bottles (if you have a small funnel, use it).
Seal the bottles or the vodka will evaporate.
Store the vodka out of direct sunlight; it will keep indefinitely.