Which magazine offers the best chance of your ad being read?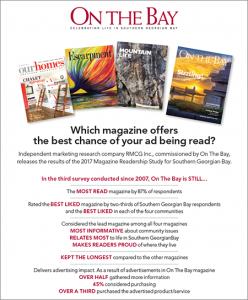 Independent marketing research company RMCG Inc., commissioned by On The Bay, releases the results of the 2017 Magazine Readership Study for Southern Georgian Bay.
In the third survey conducted since 2007, On The Bay is still the MOST READ magazine by 87% of respondents. Rated the BEST LIKED magazine by two-thirds of Southern Georgian Bay respondents and the BEST LIKED in each of the four communities.
• Considered the lead magazine among all four magazines
• MOST INFORMATIVE about community issues
• RELATES MOST to life in Southern GeorgianBay
• MAKES READERS PROUD of where they live
• KEPT THE LONGEST compared to the other magazines
• Delivers advertising impact. As a result of advertisements in On The Bay magazine OVER HALF gathered more information 45% considered purchasing
• OVER A THIRD purchased the advertised product/service
Want the answers behind the questions?
Contact a sales manager.
Telephone: 705.444.9192
Toll-free: 1.888.282.2014
Fax: 705.444.5658
186 Hurontario St., Suite 201Collingwood, OntarioL9Y 4T4

Eastern Ad
Sales Manager

Shauna Burke

Western Ad
Sales Manager

Patti Bowden