Behind the scenes of the merger between On The Bay and
The New Classical 102.9 FM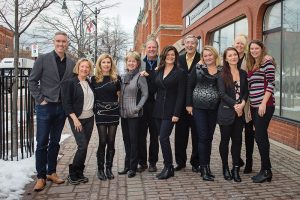 The On The Bay Magazine / New Classical 102.9 FM team, l-r: Holger Meiche, Art Director • Anita Hunter, Proofreader • Patti Bowden, Sales Account Manager, Print • Shauna Burke, Sales Account Manager, Print • Jeff Shearer, Publisher and General Manager • Janet Lees, Editor and Social Media/Interview Coordinator • Bill Anderson, Host, Bill's Classical Jukebox • Susan Holden, Sales Account Manager, Radio • Sarah Rea, Sales Account Manager, Radio • Kelly Gale, Arts & Business Reporter, Radio • Cindy Caines, Operations Manager.
If we had ever wondered how well the merger of On The Bay and The New Classical 102.9 FM radio station would work, with all of us under one roof and one ownership, any doubt quickly disappeared during the first few weeks of our new relationship.
On November 1, Bill Anderson and his popular program, Bill's Classical Jukebox, started broadcasting "Beautiful Music For A Crazy World" live from Collingwood to much of Ontario – a first for any Collingwood station to be heard in Eastern and Central Ontario as well as the massive GTA.
Because we are broadcasting locally from our own studio in the centre of downtown Collingwood, we invited arts and cultural leaders to join Bill for a live on-air interview. Among his first guests were some of the very leaders we profiled in our Fall issue of On The Bay as the Visionaries of our region.
It was a perfect marriage of On The Bay's chosen Visionaries for the magazine being featured on radio. One of the first interviewees was Anke Lex – a Visionary who graced our last issue cover with her husband, Richard – talking about the exciting evolution of downtown Collingwood's arts and culture district. This is just the beginning of ways the superb content of On The Bay will be transformed into radio. Kelly Gale, our new arts and business reporter for 102.9 FM, is now repurposing On The Bay's last page history feature, "Looking Back," into local spotlights to inform our radio audience about the rich history of Southern Georgian Bay. And soon our "Openings and Transformations" articles from On The Bay will also find their way into radio, dramatically increasing the profile of new businesses and services coming to our region.
Why is this important for our readers, listeners and advertisers? Our merger ensures a stronger voice for our community in a time when major changes are happening in the media world. It means that On The Bay and The New Classical 102.9 FM remain committed to Southern Georgian Bay, with an integrated media approach that will stand the test of time.
And as you can see from the photo on this page, we have also integrated our talented staff from both the magazine and the radio station into one great team. There is a positive buzz in the air at our new offices as we learn how, together, we can be more than the sum of our parts for our growing community. Beyond the good news of our merger, this is our 11th Annual Grassroots Heroes issue saluting the true heroes that make Southern Georgian Bay such an amazing community. This year we have chosen six groups of volunteers who have made a difference in our region.
Enjoy our Winter issue and the wonders of the season! Here's looking toward a spectacular 2018 for all of us who celebrate life in this place we so proudly call home. ❧
Jeffrey Shearer
Publisher, On the Bay Magazine &
General Manager, The New Classical 102.9 FM