At home amidst the vines of The Creemore Hills Winery
by Judy Ross
by photography by Derek Trask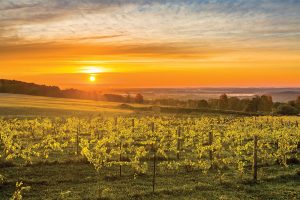 A decade or so ago, Catherine Morrissey was looking for land to plant a vineyard in Argentina. She had become interested in wine making and believed Argentina offered the best potential. Morrissey, who lives and works in Toronto, was familiar with Creemore, but it never struck her as a wine-producing region. Then she found this 49-acre farm property with a landscape that reminded her of Tuscany and thought, "maybe this land will work."
She and her partner, Stephen Loewy, contacted a professor of viticulture from Brock University who examined the property and suggested they could grow a hybrid grape recently developed through the University of Minnesota, which can tolerate winter temperatures well below zero. That was the green light and since then they haven't looked back. Their goal is to produce 5,000 cases a year under their label, "The Creemore Hills Winery." In 2015 they produced their first 300 bottles of Marquette, a premium red, which will become their signature wine.
Over the past 10 years they have invested in all the expensive machinery required to clear out the tangle of hawthorn bush that spread throughout the property. To put in drainage, they dug four feet down and laid tiles to prepare the land for planting grapes. They renovated the two-storey house, which had been chopped up into two apartments, and also built a 9,000-square-foot barn. The front entrance was given a face-lift and the main floor opened up to focus on the views. Next, they built an addition onto the house that includes a tasting room and a garage with a spectacular terrace spread across its rooftop.
The lower floor now features a movie theatre where they can host a dozen people on movie nights. A large screen pulls down over the picture window and a row of reclining leather seats faces the screen. Behind those, another row of vintage theatre seats is draped in old mink coats – just one of many quirky elements found throughout this house and property. As Morrissey explains, "Steve is an auction junkie. Almost everything we have here has come from country auctions or been shipped from his homeland in South Africa."
Also on the lower floor is a hot yoga room with mirrored walls and an infrared sauna outside its door. As Morrissey explains, most of the spaces in the house serve dual purposes because "we have no rules about what room is what. I tend to start out with plans and they turn into something else."
The yoga room, used less than she had hoped, now has a bed. The tasting room, which was built specifically with walls made of stone from the property and a glass garage door opening to an outdoor patio, was intended to be the perfect place for wine tastings. But because the couple frequently hosts large parties and sleepover guests, it also now has a bed and was even converted to a bridal suite for a family wedding that took place last September.
The huge barn is further proof that everything here is constantly evolving. The building has many purposes beyond storage for the heavy machinery and wine-making equipment. The second floor was designed to be used for large events such as weddings. At one end of the vast, high-ceilinged space is an authentic bar complete with brass railings that came from Hemingway's, a well-known pub and restaurant owned by a friend in Toronto.
The outdoor terrace at Hemingway's was also the inspiration for the roof deck that Morrissey says is "our favorite place to sit. We relax here by looking out at the beautiful countryside and thinking how lucky we are to be here."
The awning that partly covers the terrace was designed to be used for most of the year. Retractable canvas panels operate by remote control and can be raised or lowered to create a shady sitting area in the daytime. At night, when the propane fire pit is burning, the heat rises and is contained by the awning, thus extending their use of the outdoor space. Also on the deck are large red fibreglass containers that change with the seasons, adding lovely bursts of colour from spring until fall.
Besides planting 6,000 grapevines and putting in two paddocks for Morrissey's horses, the property is now lush with perennial gardens and apple orchards that have been completely rejuvenated. Edging the paths to the vineyard are thick clumps of roses and lavender that create a heavenly scent in summer, and the couple has planted masses of milkweed to attract monarch butterflies.
Stephen Loewy, ever the recycler, kept all the rocks and stones that were dug up for the vineyards and used them to create rock beds for a stream, two ponds and a waterfall, all of which he installed himself. In the summer of 2015, over 300 people toured the property during the Purple Hills Garden Tour.
It is this willingness to share their lovely country retreat and their budding winery with friends and neighbours that makes The Creemore Hills Winery so special. Every year the couple holds a Vintner's Dinner – a 10-course feast – for a group of locals who have made a commitment to growing wine in the area and the friends who have helped with harvesting the grapes.
But for Morrissey, who has been in the brokerage business for 30 years, the best thing about her home in the Creemore hills is the peace and quiet. "My Bay Street job is so filled with stress that I love getting up here, such a short distance really from downtown Toronto, and yet this is the complete opposite of stress!"
Stress-free perhaps, but still a place where things are in constant motion and brimming with plans and visions for the future. Not content to have the view remain unchanging, Morrissey is looking into planting some cypress trees on the hillside that would make it look even more like Tuscany. As she concedes with a smile, "it will always be a work in progress." ❧