On the Mitchell Family Farm, raising Berkshire pigs is a lesson in sustainability
by Emily Worts
by photography by Kristie & Brenden Woods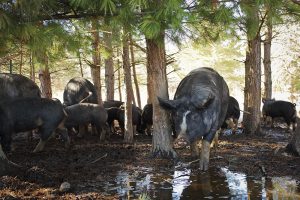 Trading in an established urban life for an unchartered rural adventure complete with acreage, animals, farm equipment, market stalls and late night pig deliveries is worth recognition, especially when those choices impact the local food scene in positive ways. Taking the risk and mustering the courage to exchange the known for the unknown is often talked about but rarely acted upon. Yet that's what Sara Sniderhan and Peter Mitchell, two working artists from Toronto, along with their young children, Jackson and Isobel, did when they purchased 22 acres south of Avening.
It was not without sweat and tears that the family transformed the land (almost entirely on their own) into a mixed-use, off-the-grid farm. And it was not without the aid of YouTube videos and the wisdom of local elders that they learned how to sustainably raise one boar, five breeding sows, 37 young piglets, 60 laying hens, 30 Muscovy ducks and 50 white rock chickens, who together make up the Mitchell Family Farm.
Like so many 21st century learners, the Mitchells began their quest for knowledge on the Internet; more specifically on YouTube. Before moving north they watched videos on everything from pig rearing to cheese making. It was the heritage breed of pig, Berkshire, that caught their attention.
Not only were the videos of young Berkshire piglets extremely appealing to their children, but Sniderhan and Mitchell soon realized the breed was a perfect match for their budget and their land. Berkshire pigs thrive outdoors, unlike other more conventional breeds, and building a barn wasn't in the family's immediate building budget. Pigs are also proficient at digging up soil, turning it over, and adding organic nutrients to it – much-needed tasks on land that had been in a decades-long cycle of soy, corn and oats, leaving the soil devoid of much-needed nutrients.
"We needed as much organic material as we could add to it," says Mitchell. "The pigs helped us with that."
Another added bonus of the Berkshire breed is that their meat is exceptionally tasty. My own family bought our first 25-pound pork bundle from the Mitchell Farm last year and we were struck by the flavour and the colour of the meat. The pigs are about twice as old as conventional breeds when sent to slaughter. This means more exercise, resulting in leaner meat. It also means more days outside, eating fallen apples from the farm's heritage orchard, which add wonderful flavour to the variety of cuts offered in a bundle.
Raising Berkshire pigs doesn't just mean meat on the family table and money in the coffers (the farm had over 100 customers last year, including individuals and restaurants) but nutrient-rich soil that is ready to be worked. The family – and I say family because all four of them help out – planted 3,000 cloves of garlic last fall in an area the pigs had diligently turned over and enriched during their first three years on the farm.
This garlic is another focus of the mixed-use family farm. It takes four years for garlic to acclimate to the soil and the family planned ahead. So passionate are they about growing and providing food, they prioritized their garlic patch over their own shelter. The garlic went in before the foundation for their home and four years later they still haven't sold a bulb.
"Last year we had a good buyer who said he would buy all our garlic in one go," says Mitchell. It was a tempting offer for a young family starting out in a financially risky life of farming, but the Mitchells took a longer view. "We said 'no' and kept it to build up our seed stock. We hope to plant 30,000 cloves next year."
This type of planning and commitment is evident in the quality of their products and the success the family has had on the farm to date. Last summer the Mitchell Family Farm ran a bustling business at the Creemore Farmer's Market selling breakfast sandwiches made with their own eggs and bacon. They sold pulled pork and smoked sausages to the lunch crowd and frozen tourtière and garlic scape pesto made by Sniderhan. They had to close up shop for the last four weeks of the market because they ran out of stock.
In the midst of my conversation with Mitchell and Sniderhan, I can't help but wonder what motivates people to pack up one life and trade it in for another? What compels them to invest everything into something they know so little about? And how does one harness the courage to think outside the box and follow the calling of the land?
As young artists, Mitchell and Sniderhan have always needed to supplement their income. Sniderhan still teaches fine arts part-time in Toronto, at OCAD and St. Stephens, and runs painting workshops from her studio in Creemore.
"I wanted to bring it home," says Sniderhan of making part of her living locally. "From the get-go our plan was to be art farmers. This is it!"
To add to the farm's diversity, the family introduced 1,000 strawberry plants, 250 raspberry canes, 250 crowns of asparagus and a ton of horseradish last spring. Mitchell makes prosciutto and confit from the Muscovy ducks, while eggs contribute to farm gate sales. This summer 300 meat birds and maybe some bees will be added to the growing mélange of critters on the farm.
Days spent researching on YouTube aren't completely over – Sniderhan still has aspirations to make cheese – but the family is settling in, literally putting down roots and now also feels comfortable asking local elders to share their expertise. "There is a willingness to ask and to look foolish," says Mitchell. "Locals are so willing to help if you're willing to help yourself."
They have sought advice from octogenarian Maurice Weatherall, who is a bit of a farming legend in these parts; from tenant farmer John Elder, who had been working their land prior to their purchase; and from their neighbour, Henn Kurvitz. From these rich sources of knowledge they have learned about birthing and delivering piglets, pig temperament, local soil, and even bee keeping. For now the Mitchell Family Farm sells its wares at the Creemore Farmer's Market and supplies restaurants locally and in Toronto that share the family's food philosophy.
In a time of food waste and increasing food costs, the Mitchells supports a 'nose to tail' approach to preparing their food. They prefer to sell whole pigs to restaurants that will use every last bit of the pig for everything from head cheese and proscuitto to pork belly and terrines made from organs.
"It's a good match with our ethics," says Mitchell. "It makes sure every piece is appreciated and it helps us keep our farm small and sustainable."
Accessibility is important for the Mitchells as well. They keep their costs down by doing most of the work themselves (from planting and tilling to fixing tractors and building their own home), and by focusing on what they are passionate about and what makes sense.
"I want to be able to afford my own meat," says Sniderhan. "I can't afford my own paintings and I want some part of my life to be accessible!"
In talking to Sniderhan and Mitchell, I have come to learn that farming is driven by a number of factors: a love of the land, the environment and tradition; respect for the past and a vision for the future; concerns for food accessibility, scarcity and quality; and, most of all, passion.
Living where I do, in Southern Georgian Bay, I am so thankful to be surrounded by friends and community members who inspire me every day in every way to live my life authentically, reflecting my values and beliefs, including those relating to food and sustainability. Sniderhan and Mitchell are two of the most passionate people I have ever met, and I consider myself very fortunate to call them friends – 'friends with benefits,' in fact, as they contribute to keeping my family healthy and well fed. ❧